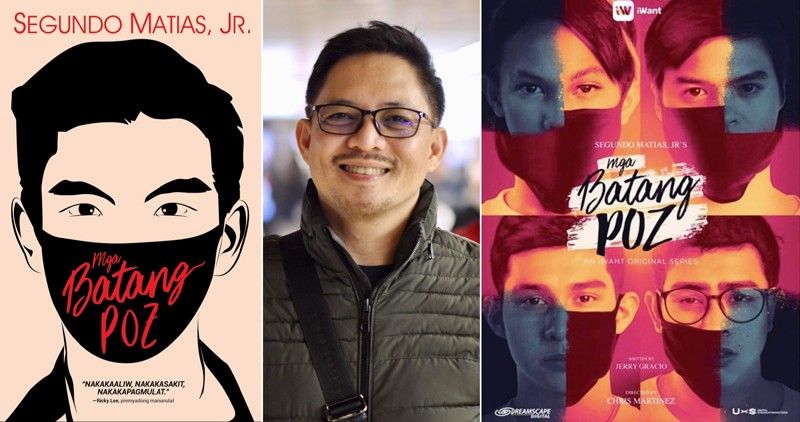 Segundo Matias Jr.'s controversial book Mga Batang Poz is now an iWant series. The series started streaming on July 26. 'Poz' refers to a person who is HIV-positive.
Poz author donates 100% royalty rights to org for HIV-AIDS awareness
FUNFARE
-
Ricky Lo
(The Philippine Star) - July 29, 2019 - 12:00am
The controversial book Mga Batang Poz is now an iWant series. Less than a week after it started airing, the trailer has hit more than three million views, days before the series began streaming on Friday, July 26. "Poz" refers to a person who is HIV-positive.
"It's a stylized, shortened form of the word 'positive'," said Segundo "Jun" Matias Jr. "It can also be a verb…as in 'I'm scared of pozzing someone.' The number of 'Poz' is increasing, especially among the young. It's alarming. We have to do something…fast!"
One hundred percent (100 percent) of the royalties that will be derived from the returns generated by subscriptions to the streaming of Mga Batang Poz has been pledged to a non-government organization (NGO) involved in HIV-AIDS awareness by Jun, author of the best-selling young adult novel of the same title and on which the digital film was based.
The recipient of the donation is a Metro Manila-based organization of volunteers that has been reaching out to people by providing HIV screening, testing, counseling, treatment and education to prevent the spread of the epidemic among the youth and key affected populations. This is done through HIV-AIDS awareness campaigns and education seminars in schools, companies and regional communities. The org has five community centers in the greater Manila area and one in Cebu.
This is the first time that such a donation from a print media personality is being made in support of HIV-AIDS awareness in the Philippines.
Mga Batang Poz is a six-part digital series produced by Dreamscape Digital and directed by award-winning Chris Martinez from a script by Jerry Gracio, based on Jun's ground-breaking novel. It stars Awra Briguela, Mark Neumann, Gino Herrera and Paolo Gumabao.
The series tells the story of four Filipino teenagers afflicted with the human immunodeficiency syndrome (HIV) who embark on a journey in search of a missing friend, likewise HIV-poz.
Anyone who has read the novel, uploaded on Booklat several months after its initial release in book form last year, is already familiar with the four unforgettable characters: Chuchay, Luis, Enzo, and Gab, all coming from different social backgrounds, as each one confronts and is being confronted by his sexuality, wants and needs, and, ultimately, as each of them deals with the consequences of his decisions and actions.
According to direk Chris, Mga Batang Poz is targeted towards young adults and hopefully, it will set a "positive" and "hopeful" tone.
A Palanca award-winning author of this first-of-its-kind novel, Jun said the book aims to promote HIV awareness, help young people understand the disease, and give hope to "Poz." The novel was cited by CNN Philippines as one of the best books to emerge in the country in 2018.
iWant is an over-the-top content platform owned and operated by ABS-CBN. Exclusively available in the Philippines, the streaming service allows users who registered to the service to watch either a live video streaming or on-demand contents of ABS-CBN on any screen and device.
Said Jun, "With the continuing spread of the virus, this is just the right time for the novel to shape-shift into its film edition and to further increase awareness, hence the connection with and support to the aforementioned NGO."
(E-mail reactions at rickylophilstar@gmail.com. For more updates, photos and videos, visit www.philstar.com/funfare or follow me on Instagram @therealrickylo.)