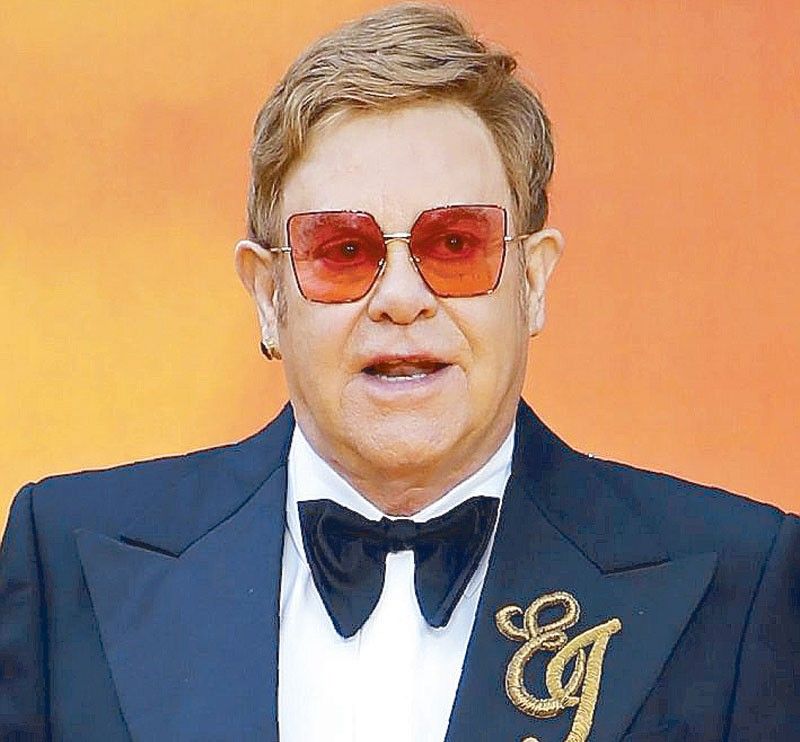 Elton John (with Tim Rice) came up with a new song titled Never Too Late.
AFP photo
Beyoncé, Elton John in the new Lion King
It was no surprise at all that Disney decided to do live-action remakes of its early animated films like Cinderella, The Jungle Book and Dumbo. The old titles could use refurbishing. After all, it has been so long ago since the films were first made, think over 60 years or so. Well, Beauty and the Beast was quite recent, but ever the trendsetter, this one once more set a very high bar as far as Disney remakes are concerned.
Then, there is modern technology, which certainly made the fantasy settings and characters now possible in live action and actually seem very real. Admittedly, the remakes did not really capture the enduring charm of the originals in some instances. Still it cannot be denied that the new versions brought the much-loved titles to the attention of younger audiences and with the huge box-office returns, opened the possibility to more live-action remakes. And that is why we now have a new The Lion King.
But how does one improve on something that is fairly recent, The Lion King was released in 1994, that is only 25 years or one generation ago. How do you make a movie that was almost perfect, better? Besides although director Jon Favreau did a great job with The Jungle Book, computerized animal characters have to be presented as real and not as cute fairy tale figures. How would a lion act? Would a hyena or a meerkat be frightful or cute?
Aside from that obvious problem, the first Lion King had an original story that was easy to relate to, an all-star cast of voice actors, James Earl Jones, Jeremy Irons, Matthew Broderick, Whoopi Goldberg, Rowan Atkinson, etc., a superb Academy Award-winning score by Hans Zimmer that blended African rhythms with pop melodies and new songs by Elton John on his first animated flick outing and musical veteran Tim Rice. Their Can You Feel The Love Tonight was named Best Original Song at the Academy Awards, the Golden Globes and the Grammys.
I have a feeling that the answer that everybody agreed on at the Disney lot was to make The Lion King, which was big at the onset, even bigger. Not a problem with Favreau who is used to bigger and biggest as an actor and director at the Marvel Cinematic Universe. He can make a Lion King that is gargantuan. With that in mind, the new all-star cast was rounded up. Donald Glover is Simba, Beyoncé is Nala, Chiwetel Ejiofor is Scar and James Earl Jones is back as Mufasa.
Huge attention was paid to the music. Don't forget, a big part of the success of the live-action Aladdin remake was the music and particularly the theme song A Whole New World. Zimmer returned to do the score, Elton John and Rice came back for a new song and Glover, who earlier said that he had retired his singing persona Childish Gambino of the No. 1 selling This Is America fame returned to singing. He does well, an alternately playful and soulful voice for the well-remembered melodies.
Then, there is Beyoncé. Anybody could have played the brave, level-headed Nala but Beyoncé brought a unique combination of beauty, talent, sensuality and fantastic singing chops to the role. Besides, she is Beyoncé. It is hard to get any bigger than that. Her duet of Can You Feel The Love Tonight with Glover is so heartfelt that it made the lions seem so in love.
And please know that Beyoncé brought more than her voice and personality to the picture. She even wrote an inspirational tune titled Spirit for Nala to sing. Spirit, co-written with Ilya Salmanzadeh and Labrinth, is also part of a companion album to The Lion King that Beyoncé produced and curated. Titled The Lion King: The Gift, the album is made up of songs of assorted rhythms inspired by the story and performed by various artists.
Like Beyoncé, returnees Elton John and Rice also came up with a new song titled Never Too Late. This was sung by Elton John for the soundtrack, which also has a big star producer in Pharrell Williams. Also included are Circle Of Life/Nants' Ingonyama by Brown Lindiwe Mkhize and Lebo M; I Just Can't Wait To Be King by JD McCrary, Shahadi Wright, Joseph and John Oliver; Be Prepared by Chiwetel Ejiofor; Hakuna Matata by Billy Eichner, Seth Rogen, JD McCrary and Donald Glover; He Lives In You and Mbube by Lebo M; and for the Ensemble led by Lebo M. at the finale, a medley of Remember, King of Pride Rock and Circle Of Life.