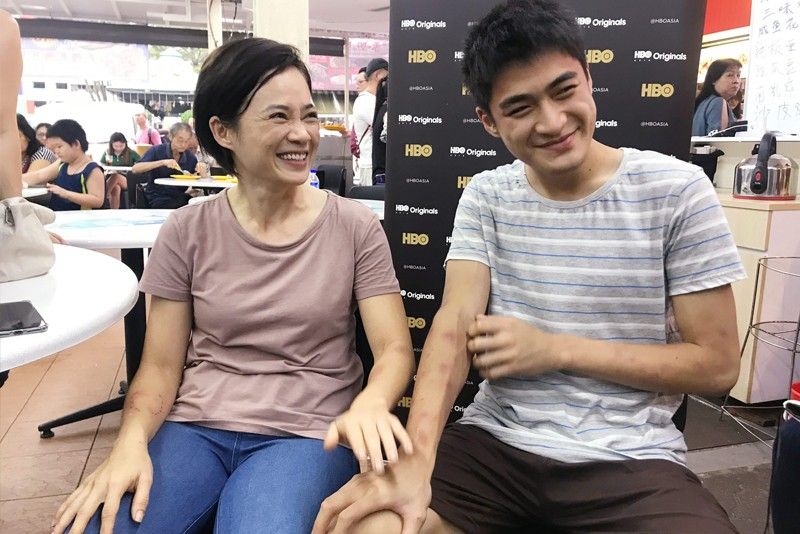 Everything is visible on the Singapore set of Invisible Stories, the HBO Asia Original series where The STAR catches lead stars Yeo Yann Yann and Devin Pan as a single mom and her autistic son
Photos by Ricky Lo
CONVERSATIONS
-
Ricky Lo
(The Philippine Star) - July 14, 2019 - 12:00am
SINGAPORE — The arms and legs of the mother and son seated before us were marked with bruises and small cuts obviously inflicted by fingernails mostly on the mom's limbs. As they talked, they gently touched the partially damaged parts of their body to detect any pain. There's a bit but not much. With a smile, the mother admitted that the night before, she and her son engaged in a violent struggle. The son, an autistic, had experienced a meltdown so she had to pacify him singlehandedly.
No, it didn't happen in real life but in a heavily-dramatic scene in the first of the six-episode half-hour drama series Invisible Stories, an HBO Asia Original slated for airing toward the end of the year. Directed by Singaporean Ler Jiyuan who also wrote the series with a team of writers, Invisible Stories brings to life the stories of everyday people (their joy, their struggles, their sacrifice and their diurnal routine) with each episode following one neighbor as he or she navigates through everyday life and its challenges.
It was Monday and we journalists (from Taiwan, Indonesia, Malaysia, Singapore and the Philippines) were on the coffee shop set, talking between takes to Malaysian actress Yeo Yann Yann and Taiwanese actor Devin Pan who are cast in the challenging roles as mother and son. Twenty minutes earlier, director Ler told us that Yann Yann initially turned down the role and he was greatly relieved when she changed her mind after all, according to Ler, "I wrote the role for her, she's the face of the character in my story and I'm a big fan of hers."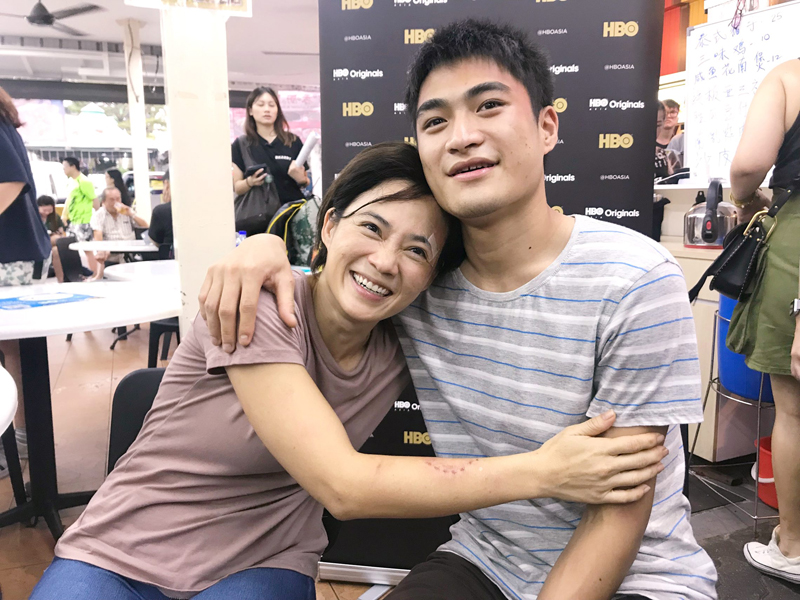 It's true, confirmed Yann Yann, "When I read the script, I found the role to be very heavy, too emotionally intense. At first, I found it scary because in real life, I struggle between my work and my only child, a daughter now six years old who was in my tummy when I was doing Ilo-Ilo."
Oh, yes, Ilo-Ilo. I told her that she gives an excellent performance in the 2013 drama as the kind-hearted working mom of a naughty boy who gives his Filipino nanny (played by Angeli Bayani) a tough time. The movie touched a sensitive nerve in the heart of Filipinos because its director, Singaporean Anthony Chen, based the story on his own experience and he even paid his Filipino nanny a sentimental visit in her hometown in Iloilo when he was in Manila for the movie's premiere. The movie won a Camera d'Or award in Cannes and Golden Horse Best Feature Film in Taiwan.
"I've seen Yann Yann's films," said Ler. "She's a great actress. Invisible Stories won't be the same without her."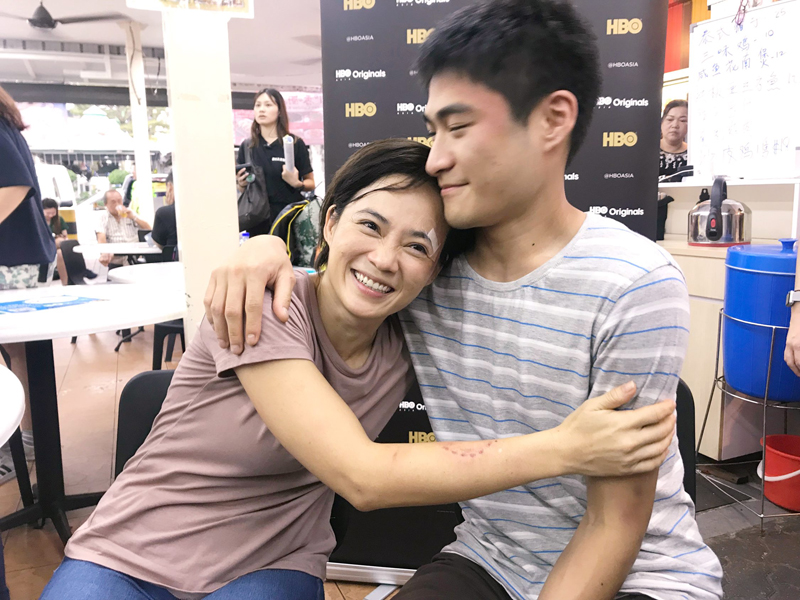 In that struggle scene, Yann Yann said she had difficulty because she is "small" compared to her big 23-year-old "son." Thus the bruises (actually, make-up).
For the role of the autistic child, Ler had to conduct auditions among actors from Singapore, Taiwan and Malaysia. He exclaimed "Eureka!" after he watched the audition piece of Devin, an upcoming actor from Taiwan involved in theater productions including at the prestigious Taipei National University of the Arts and whose works cover a wide gamut, from Youth Travels to Mountain & Sea as well as poetry and dance. A graduate of Taiwan National Normal University, Devin was also featured in three videos of the Taiwanese indie band EggPlantEgg.
"Devin is a good actor," said Ler. "The autistic is a tough role to pull off but Devin acquitted himself very well. He's a natural actor, he forgets himself and gets so into the role. I would say that he's a force of nature."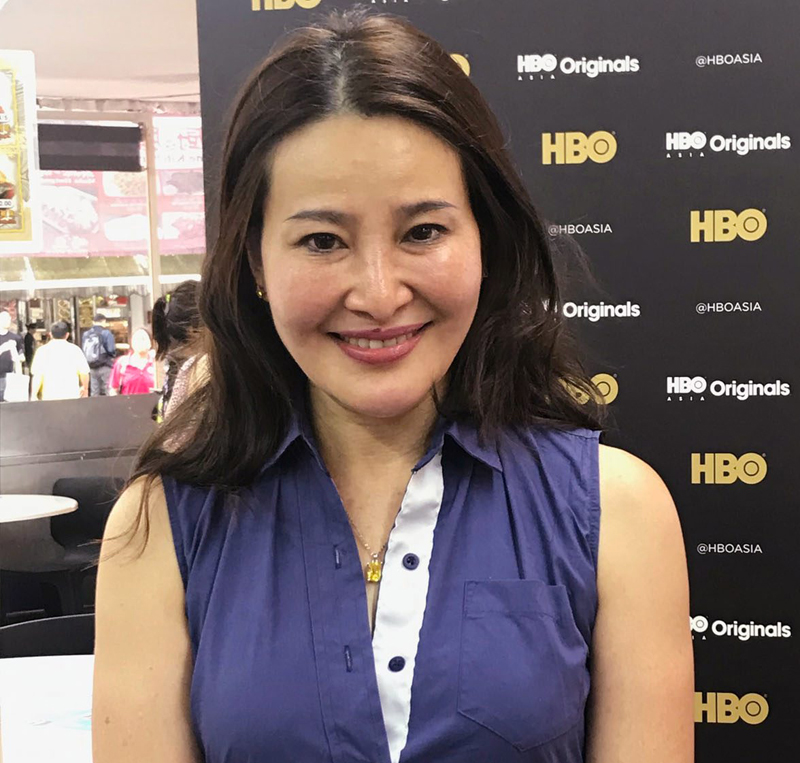 Jessica Kam, senior vice president of HBO Asia Original Productions.
Asked how he prepared for the role, Devin (who spoke no English) replied through a translator, "I studied the script. I have also played other difficult roles so playing an autistic is just one of them. To be able to feel the environment where the autistic boy and his mom live, I surveyed the house in one of the high-rises around the city."
Earlier that same day, our group took a quick look of that house in the Toa Payoh residential town in the northern part of the Central Region in Singapore…a two-bedroom/small sala/small kitchen affair where majority of Singapore's working class lives. We were told that the flat was made to look old so it needed to be "re-invented" as per the requirement of the story. Residents own the flats for decades (99 years?) until it's time to turn them over to the government.
"There's the so-called American Dream," the HBO lady who served as tour guide informed us. "The Singaporean Dream is to own a house."
From there, we were driven to the set…a coffee shop where the autistic's mom is supposed to be working. The shop is located in a busy area of the city, worlds apart from the elite places where the city's rich live behind gated mansions.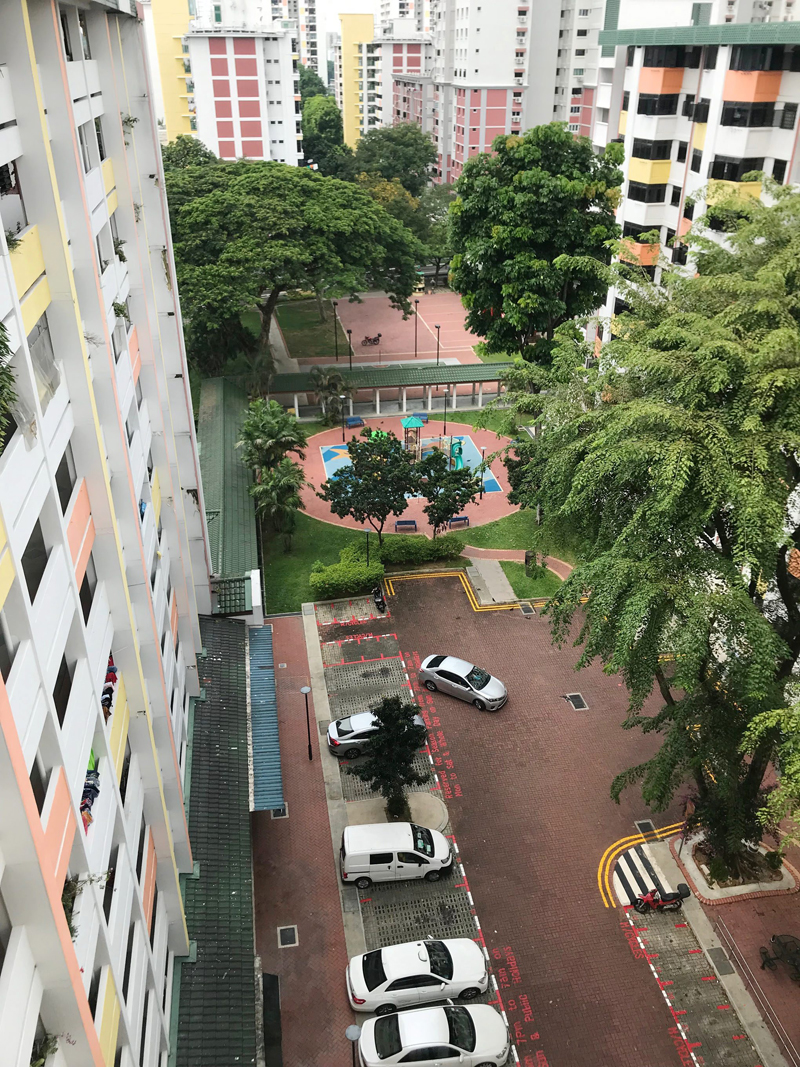 The government housing which serves as the place where the mother and her autistic son live.
"Crazy Rich Asians shows one side of Singapore," pointed out Jessica Kam, senior vice president of HBO Asia Original Productions. "Invisible Stories will show the other side."
A senior TV executive and film producer with over 20 years of experience in film, TV, music, news and digital media, Kam brings with her a wealth of media experience that spans across three continents. She joined HBO Asia with a deep understanding of the industry in Asia. At HBO Asia, she is responsible for all aspects of the network's productions of all HBO Asian Originals. Under her leadership, the network aims to elevate their offerings and presence in Asia through the creation of more Asian content.
"The stories in the Invisible Stories are inspired and based on real people," added Kam. "They have a universal appeal. They will resonate among people anywhere in the world who find themselves in the same situation."
True, seconded Ler.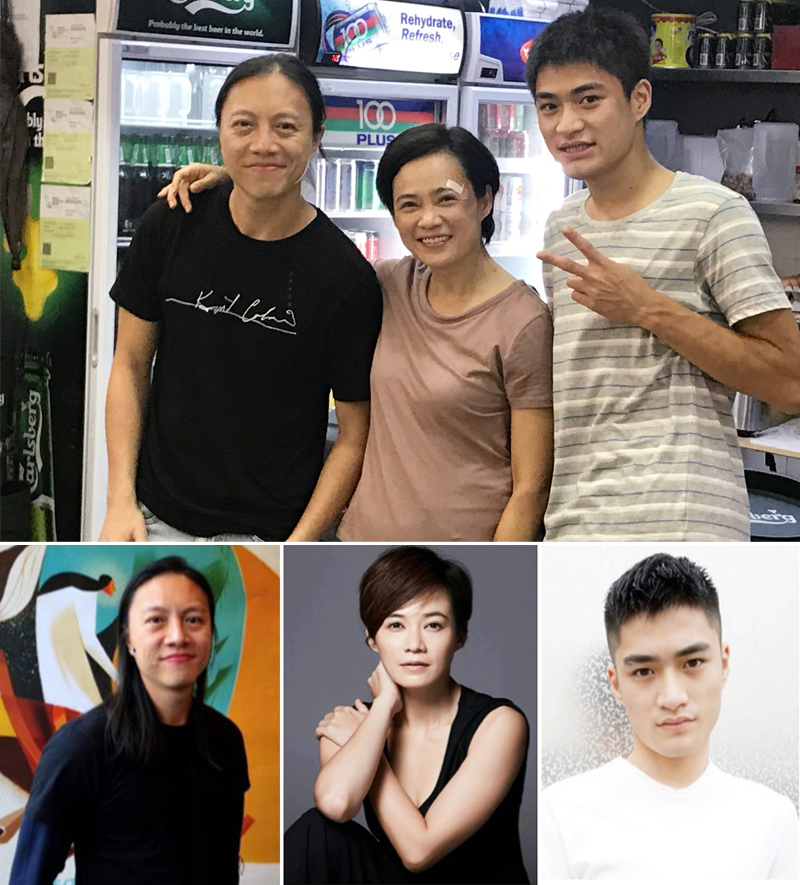 Director Ler Jiyuan on the set with Yann Yann and Devin: Invisible Stories tells my own personal stories.
"My dad was a taxi driver and my mom a factory worker," he shared. "I can easily identify with the people in the stories because our family also lived in the same place where 80 percent of Singaporeans live. I would say that Invisible Stories tell my own personal story."
Yann Yann saw a parallel between her roles in Ilo-Ilo and Invisible Stories.
"I'm a mother in real life, that's why," said Yann Yann. "I'm glad that I accepted the role so I would be able to give a voice for autistic children. There is pain in doing the character, I must admit, but there's also joy."
She felt the same way for her role in Ilo-Ilo.
"I hope that movie served as a wake-up call to the fact that Filipino nannies should be considered part of the family," she added and waved (at my celfone's videocam) at Angeli Bayani who became her good friend. "Hi, Angeli. I miss you! Come to Singapore. Hope to see you soon!"
(E-mail reactions at rickylophilstar@gmail.com. For more updates, photos and videos, visit www.philstar.com/funfare or follow me on Instagram @therealrickylo.)