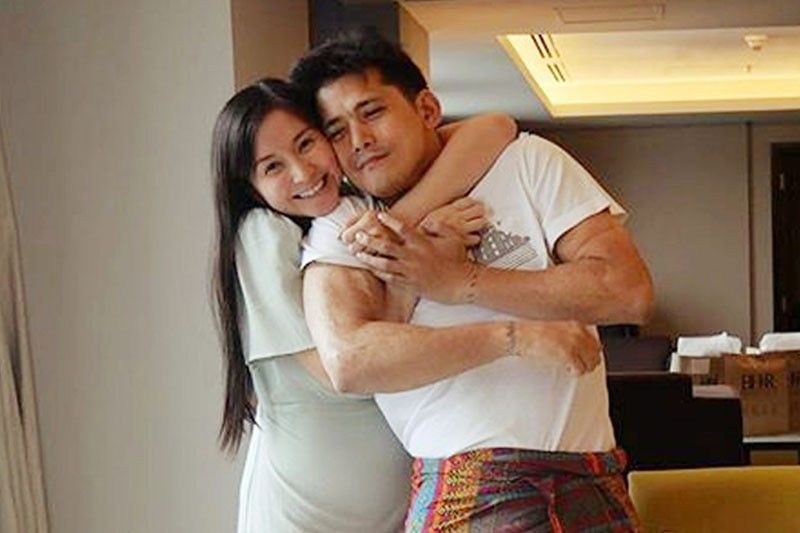 Mariel Rodriguez (with husband Robin Padilla): Family is always top priority
Another child for Mariel & Robin
Motherhood becomes Mariel Rodriguez-Padilla. Playing her real-life role as mother is one portrayal Mariel wants to be highly recognized for. In fact, she aspires to become an award-winning mom. She considers motherhood as one of the greatest gifts she has received from God.
Mariel looks radiant. She is a picture of a blissfully contented wife and mother. I only want her to be happy in life. I have known Mariel since she started in showbiz, having trained her in hosting together with Bianca Gonzalez and Drew Arellano. All three are now under my management at the Asian Artists Agency.
Mariel has embraced motherhood with love and courage. She and husband Robin Padilla are now expecting another baby girl. The couple happily shared the good news in a gender reveal party which was attended by their families and close friends.
According to Mariel, Robin was not aware of their baby's gender before the party. This was the biggest secret she had kept from Robin because she doesn't hide anything from him. "There were times na madudulas na ako pero ginalingan ko talaga na i-surprise siya sa gender ng aming baby No. 2," she shared in her vlog where she uploaded snippets of the party and her pregnancy photo-shoot. Mariel is rising up to the millennium's digital challenge with her online posts and videos. She is now active in the vlogging universe.
The TV host said she wanted a boy for Robin but also wanted a girl for her daughter Isabella. She explained in her vlog, "I have a sister and my sister and I are the closest ever. In life, you need that person, a sister, and they will be sisters forever, best friends forever. When I found out that she's a baby girl, I cried because I was so happy. God really knows what my Isabella needs and baby surprise is exactly what she needs."
Mariel wants to be the best mom for her daughters. I remember her telling me the joys of motherhood in one of our previous conversations, "Motherhood is a lifetime commitment. I make sure to spend quality time with my Isabella. I'm a hands-on mom. I see to it that Isabella has everything she needs before I go to work. My family is always my top priority even if I'm busy with my career."
Now, another bundle of joy is on her way and everyone is very excited to meet her soon. Like what I always say, a baby is always a blessing.
To Robin and Mariel, congratulations!
Julie Anne sings the divas
Julie Anne San Jose will celebrate her 10th anniversary in the entertainment industry with a major concert special titled Julie Sings the Divas on July 20 at The Theatre at Solaire Resort & Casino.
Her repertoire will include all-time favorites and timeless hits of the most loved music icons such as Barbra Streisand, Mariah Carey, Whitney Houston, Celine Dion, Lady Gaga, Adele, Beyoncé, to name a few.
Joining her concert as special guests are Arnel Pineda, the UP Concert Chorus, the UP Arco String Orchestra together with the country's top musicians under the baton of Danny Tan.
Directed by Louie Ignacio, Julie Sings the Divas is produced by Sunny Side Up Productions and GMA Network, Inc. in cooperation with Solaire Resort & Casino, together with Alternative Vision Cinema and Aficionado.
Tickets are available at www.ticketworld.com.ph. For inquiries, call 891-9999.