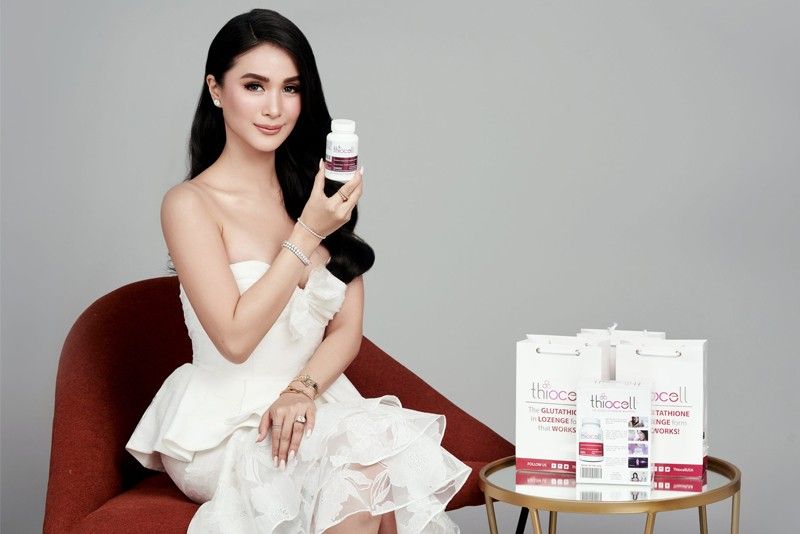 Heart Evangelista (as Thiocell endorser and, below, with husband, outgoing Sen./Sorsogon Governor-elect Chiz Escudero): If I do get pregnant again, I want to keep it private. As much as possible, I want to keep everything very quiet.
Chiz keeps his promise to make Heart 'first lady'
FUNFARE
-
Ricky Lo
(The Philippine Star) - June 18, 2019 - 12:00am
Remember how Sen. Chiz Escudero was reported to have promised (perhaps in jest?) his then girlfriend (and now wife) Heart Evangelista that he would make her "first lady" (take note: in quotation marks)?
Well, Chiz didn't say "first lady" of what but with his election as governor of Sorsogon in the recent mid-terms elections, he did keep his promise. Meet Heart Evangelista-Escudero, First Lady of Sorsogon.
How will Chiz's new position affect Heart's life? Will she be spending more time in Sorsogon?
"It really affects my life because when you're in the province it's more of an intimate relationship but more than anything," admitted Heart in an exclusive interview with The STAR. "Of course, I will be in Sorsogon if not every other week, every week if I can. But I think what's nice about the people of Sorsogon is that they actually appreciate what I'm doing for them. Definitely, Sorsogon is one of my priorities."
Heart has just finished the shoot (in China)for an international but since there's some kind of an "embargo," she cannot yet talk lengthily about it.
"It's an action movie where I did a lot of my 'firsts'," was all that Heart could share at the moment. "I was very surprised that I got the lead role and I worked so hard for it. I really trained and it's something I've never really done before. I'm very excited to share more about it…soon!"
She's happy to be one of the councils in StarStruck (together with Cherie Gil and Jose Manalo). What memories will the aspirants evoke about her start in showbiz? What kind of judge will she be, harsh or kind?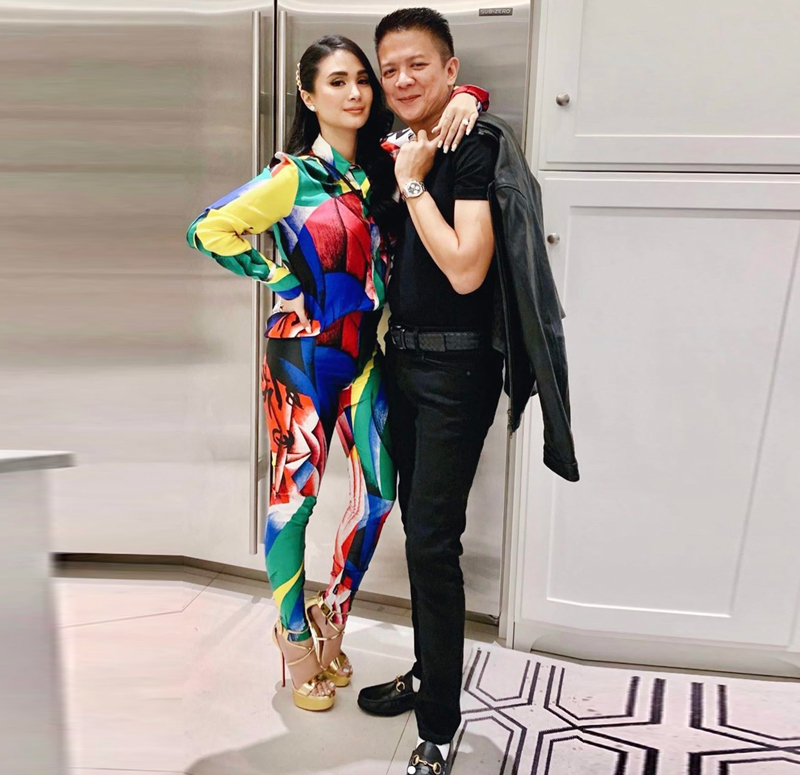 — Photo from Heart Evangelista's Instagram
"I've been through a lot of ups and downs in my career. I think I've had my fair share of major trials and controversies and it really made me the person I am today. I will definitely apply everything I've learned and one thing is for sure…you don't judge right away with what you see. You really have to know the person and remove the layers until you see the real being."
What else keeps you busy?
"I work on my businesses and I do a lot of work for Kamiseta. I am also doing a lot of painting in preparation for my 2020 art show exhibit. I'm also working on a few more collaborations with different brands. I'm also traveling a lot this year for fashion week and other projects abroad."
And there's her new endorsement, Thiocell. (Thiocell is the first and only glutathione supplement in lozenge form that can be taken like candy. It was developed by Dr. Theodore Hersh, a renowned professor of the Emory University School of Medicine, for Pharma, Inc. It's available at all Watsons and Mercury Dugs outlets nationwide, and online through Lazada.)
"I've been using Thiocell since the start of last year. I really liked it because my friends were telling me about it. And whenever I choose something that I drink, I really check the reputation of the brand and that it's really prescribed by doctors because there are so many medicines now in the market that's just very commercial."
Meanwhile, with Gov. Chiz having more spare time, will he and Heart try having a baby again?
"We talk about it," confessed Heart, "but I've learned from the past. Having a baby is not just like having another career. It's a private thing and as much as possible when I do get pregnant, I like to keep everything very quiet."
* * *
DonKiss: When it's over, it's over!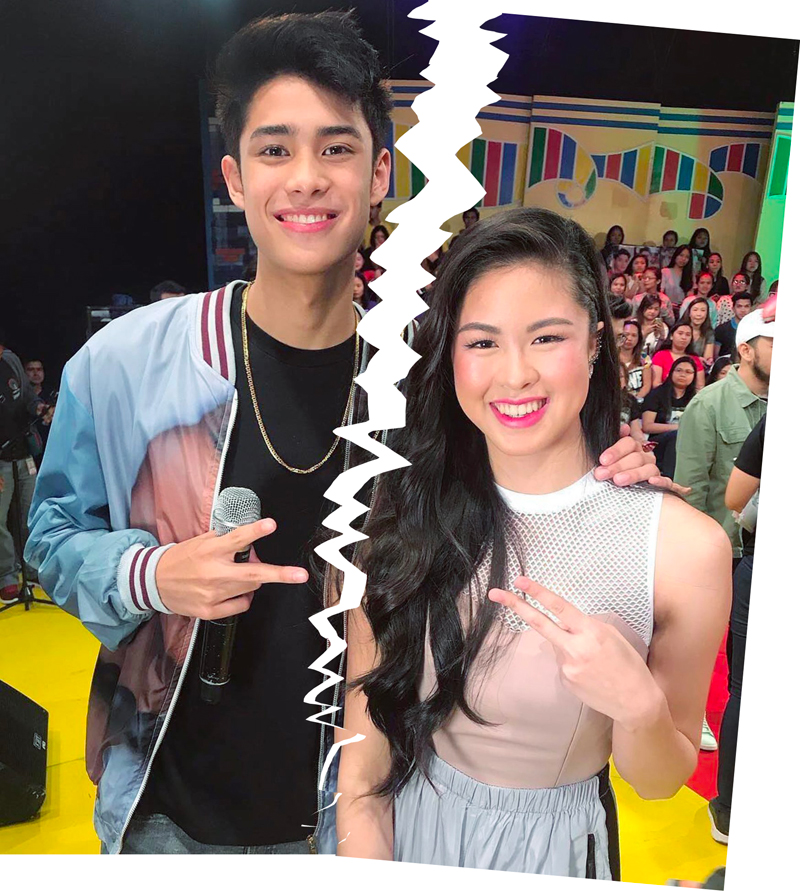 The break-up of the DonKiss tandem of Donny Pangilinan and Kisses Delavin is making their supporters cry, 'threatening' to stage a rally to make ABS-CBN make their idols 'reconsider.'
Even if the supporters of DonKiss, the short-lived team-up of Donny Pangilinan and Kisses Delavin, hold a rally in front of ABS-CBN, the tandem is irretrievably gone. You know, when it's over, it's over!
Here's Kisses' post on her Instagram (unedited) over the weekend:
I apologize for my social media blackout. I believe that my supporters have the right to know that the "DonKiss" partnership has long been over. There has been an ongoing plan from my DonKiss supporters to assemble at ABS-CBN today, 26th June 2019, to appeal for this on-screen partnership. I was notified of this news because they, my DonKiss supporters, are encouraging my solid supporters to join their appeal. (Actually, Kisses said she was sleepy and she wrongly typed "26th" when she meant "16th." --- RFL)
I felt how strongly they want to fight for this big ship despite the despites, as it is not just because of the ship itself but what the families found (out) about each neither. I respect their feelings. However, as much as I understand the bleeding hearts of my supporters, I am NOT in favor of this fandom war of my DonKiss supporters against the other ship of my former on-screen partner to go on any farther. I shall not permit myself to be involved in a situation wherein two girls are to suffer being pitted against each other, a war they may not even want to be in, just to earn the "victory" of being a guy's loveteam
Thank you to everyone who fought side by side with us on this journey. Thank you for the memories. It was good while it lasted.
Meanwhile, Kisses has gone back to school, resuming her Accountancy studies at La Salle. But since she cannot take a full load, she has been advised to shift to another course. Since May 21, she has been attending classes only on Tuesdays and Thursdays, sometimes with a special class on Fridays.
A Funfare DPA said that Donny's mom Maricel Laxa (who is the navigator of her son's career path) frowns on Donny being in a loveteam. Maricel is a "strict navigator" who screens questions for Donny who makes an interviewer wait forever because, according to Maricel, "he is pressed for time," too busy to answer questions.
* * *
(E-mail reactions at rickylophilstar@gmail.com. For more updates, photos and videos, visit www.philstar.com/funfare or follow me on Instagram @therealrickylo.)