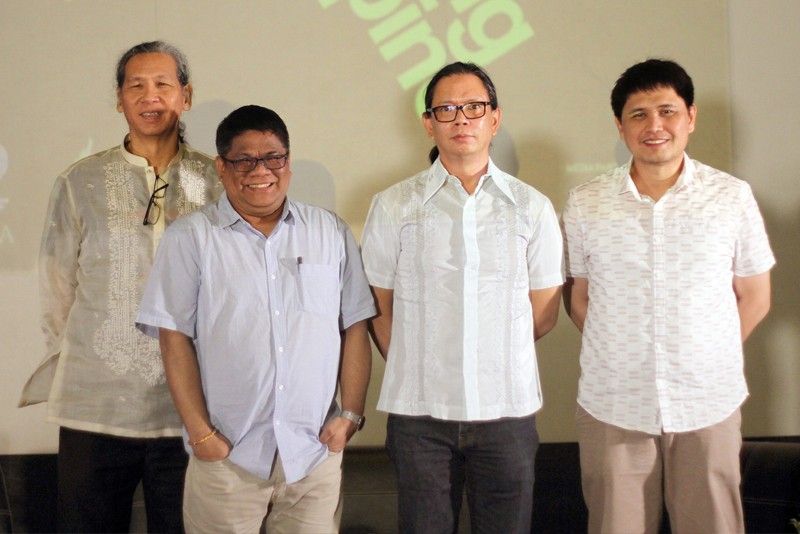 Speakers include (from left) NCCA commissioner for the arts Teddy Co, Gary Devilles, Roland Tolentino, Neil Martial Santillan...
Interseksiyon celebrates Pinoy cinema, literature & language
The conference, mounted by the National Commission for Culture and the Arts (NCCA) and UP Film Institute (UPFI), reminds the public of the country's rich movie-making and literary history.
MANILA, Philippines — Retrospective and reflective are the words that describe Interseksiyon. The recently-concluded conference on cinema, literature and language, mounted by the National Commission for Culture and the Arts (NCCA) and UP Film Institute (UPFI), reminded the public of the country's rich movie-making and literary history — and the interrelationship between them.
"We thought of this idea to intersect cinema and literature, kaya interseksiyon — panitikan, pelikula at wikang Filipino," said Teddy Co, NCCA commissioner for the arts and chair of NCCA national committee on cinema, in an interview with The STAR. "We combined these three topics and this is the result of that (fusion). We need more of this (type of) interdisciplinary forum." So, everyone can appreciate cinema, literature and language as one that speaks of the Filipino identity.
"It is in the intersections that a lot of new things happen because there's some kind of convergence, there's synergy and new ideas are born and (there are) new combinations," he added. "At the same time, we celebrate two things: The National Literature Month and the centennial (year) of Philippine cinema."
For professor and filmmaker Sari Lluch Dalena, Interseksiyon served as a platform "for students and film workers to understand the origins of early (Philippine) films, that they came from literature like poems, comics, graphic novels and all that. It's good that the public will have the awareness of and be enlightened (about) it." She said that there's "ugnayan" (connection) that binds movies and literary works for the latter have become the source narratives of the former and have been adapted for this art form. "We're trying to mediate, by doing this conference, that hopefully students, teachers and artists will have the appreciation (of cinema and literature). We need to (plant the seeds)," she said.
"We have to remember the past and celebrate it, if there's anything left," added Teddy. "That's why it is important to archive things… the past... We have to archive our memories because cinema and literature represent our culture, and the language. That's us. That's us, Filipinos."
As Sari put it, the public should not forget the hard work and the body of work of Pinoy artists. Along this line, the people behind Interseksiyon curated topics that encompassed From Print to Stage to Film and Back with Nicanor Tiongson and Soledad Reyes as speakers; Searching for a National Language/Subject, Roland Tolentino, Neil Martial Santillan and Gary Devilles; Songs, Komiks and Popular Sources, Jose Buenconsejo, Joyce Arriola and Tito Genova Valiente; Remembering Auters and Litterateurs, Clodualdo del Mundo Jr. and Teddy; Artistic Cross-Pollination, Sari, Joanna Oliquino and Kristian Cordero; and Alternative Approaches, Nick Deocampo, Patrick Campos and Joseph Palis. National Artist Bienvenido Lumbera graced the event to deliver his keynote address.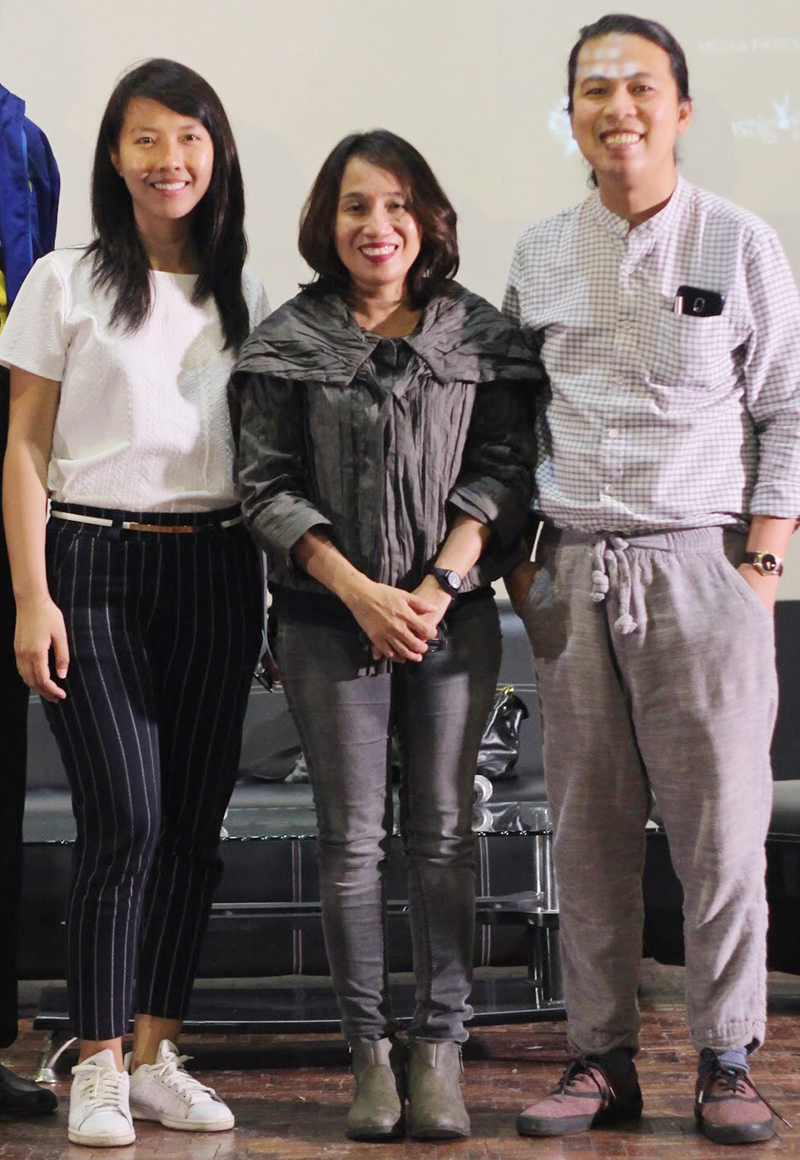 ...(from left) Joanna Oliquino, Sari Dalena and Kristian Cordero.
Teddy shared that Nicanor dissected the Filipino cinema and indicated the historical markers that identify the DNA of a Filipino film. "We are seeing some of these qualities in our films being made today," he added. "It is more of coming to an understanding why our films became like that, that's because of who we are." Teddy also showed the first book on Philippine movies titled Motion Pictures in the Philippines (1952). Featured, among personalities, is Carmen Concha, who came from the lineage of pioneering women directors. "The Philippines was actually far ahead of other Asian countries. We were the first to have women making films, even ahead of Japan, China and India," he said.
Day 1 and the early part of Day 2 explained the past, while the latter part reflected on the local cinema's present and future. The recent cinema developments, said Teddy, are "not yet in the history books," and the directors bring Philippine cinema to a new path, "which is becoming more inclusive and more innovative."
Part of the current movement is Sari, whose narratives fall under cultural and political.
"Not all movies are made to entertain viewers," she said. "They are also part of cultural development, education, preservation. Maganda rin na makita nila na hindi lahat ng pelikula ay para kiligin ka, matakot ka. There are movies that deepen your understanding about your culture." In her works like Ka Oryang, Sari's subjects are historical and placed against a political backdrop. They are women such as political detainees during Martial Law, a milieu that has been explored by master filmmakers Mike de Leon and Lino Brocka. Sari's feminist perspective to show women struggles (like experiences of physical violence) marks the difference. Directors like Sari claim spaces to bring their narratives to cinemas.
Asked about the state of play of Philippine cinema, Teddy answered: "There is a more multiplicity of voices now, like more women are heard now, LGBT, those things are no longer issues. They are out in the open." The landscape also captures the vibrant scenes in such genres as documentary and animation. "This has enriched Philippine cinema, it becomes not just one monolithic industry like it used to be before. When you say Philippine cinema, there's only one Philippine cinema. Now there are Philippine cinemas, not just Tagalog," he said. "…we are no longer, let's say, Manila-centric, where everything is just one size fits all. Now we are recognizing the diversity of voices across the country." With that, the presence of vernacular cinemas should be felt even more.
Philippine cultural products are dominating the entertainment scene with works from their Western and Asian counterparts. Interseksiyon informs Pinoys to value and love their own.
"It's good to be entertained by all of these foreign culture(s). I have no problem with that," said Teddy. "Let's not forget our own, let's not leave it aside. This is very important because we are still Filipinos at the end of the day. We can appreciate the rest of the world."