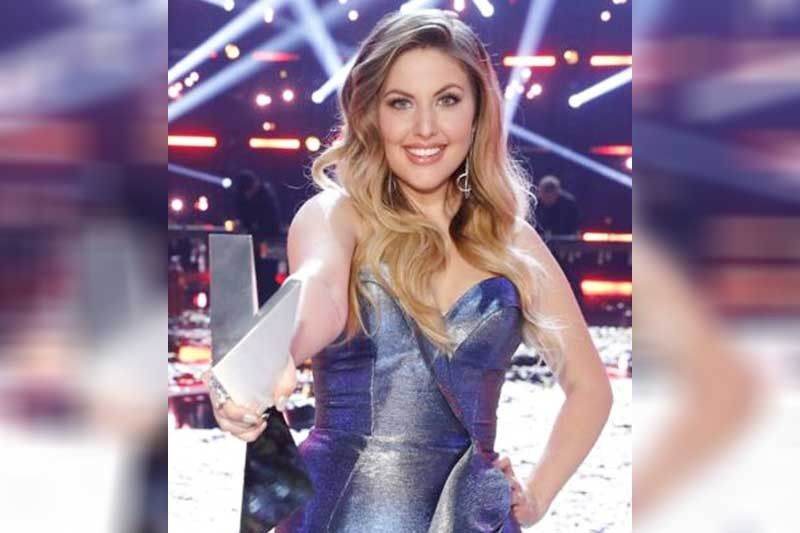 The 26-year-old New Yorker Maelyn Jarmon of Team John Legend strongly bested the three other male finalists — all country artists from Team Blake Shelton.
Photo from NBC
Beginner's luck works for The Voice winner
MANILA, Philippines — As if John Legend's prestigious EGOT (Emmy, Grammy, Oscar, Tony) trophies are not enough, the artist recently added The Voice to his enviable stash of awards. John is the most recent coach to win Season 16 of the popular reality singing competition.
Call it beginner's luck, but definitely, it was more than that for John, who beamed with his first winning talent, 26-year-old New Yorker Maelyn Jarmon. The first four-chair turner in the Blind Auditions was the only rose among the thorns in this season's finalists.
Maelyn strongly bested the three other male finalists — all country artists from Team Blake Shelton. Second place went to Gyth Rigdon, third place was Dexter Roberts and fourth was Andrew Sevener.
John broke coach Kelly Clarkson's winning streak, after consecutive victories in Seasons 14 and 15, respectively. Kelly failed to enter any of her talents in the finals this season. Same with Coach Adam Levine.
Kelly was a first-time coach in Season 14, but she scored her first victory with then 14-year-old Brynn Cartelli, the youngest talent to win The Voice. Kelly won again in Season 15, with 16-year-old country singer Chevel Shepherd.
Another first-time coach was Usher, whose talent, soul singer Josh Kaufman, was the champion in Season 6. Also with Pharrell Williams, who helped his soul-rock bet, Sawyer Fredericks, win Season 8.
Thankfully, there were no dramatic Steals for Season 16, unlike in Season 13 when Chloe Kohanski of Team Miley Cyrus went to Team Blake by virtue of a Steal. Chloe went on to win the championship that season and sealed Blake's sixth victory as coach.
The finale of Season 16 featured a number of celebrity guest performers. Sarah McLachlan sang the haunting Angel with Maelyn, Hootie and the Blowfish performed with Gyth, the Jonas Brothers, Taylor Swift, One Republic and BTS added star power to the show.
A night before the winner was named, the Top 4 contestants were given the chance to display their vocal edge over one another. They had to perform a solo, an original song and a duet with their coach. Expectedly, Blake mounted the stage three times with his talents.
Maelyn rendered her original single, Wait for You, a song she lovingly dedicated to her boyfriend, Johnny Murrell, in Texas. With Coach John, Maelyn did a haunting duet of Unforgettable and later sang Leonard Cohen's Hallelujah, a song very close to her heart. She used to sing it with her dad in karaoke, when she was still waiting tables.
Meanwhile, 27-year-old Dexter from Fayette, Alabama joined The Voice armed with a strong fan base. He joined American Idol Season 13, where he apparently started and built his fan base, impressively finishing seventh.
In The Voice, the country singer rendered Randy Houser's Anything Goes, that gave him a standing ovation from the coaches. For Dexter's original song, Looking Back, made its debut performance, while Blake and Dexter did a duet of Hard Workin' Man.
Thanks to Instant Save, Andrew from Alvarado, Texas even landed on the finals. He sang Rural Route Raising as his original song, did a duet of All Right Now with Coach Blake and rendered Lips of An Angel as his solo.
Louisiana native Gyth crooned Earl Thomas Conley's Once in a Blue Moon and touched many hearts with his solo, since the country singer passed away barely two months ago.
The other coaches praised Gyth's performance. With Blake, Gyth did a duet of The Eagles' Take It Easy. He displayed his talent all the more when he took on an original ballad he wrote, Proof I've Always Loved You, a song for his wife. That made him the only finalist to sing an original song.
For the second time, The Voice added a fifth coach, singer-songwriter Bebe Rexha, who selected contestants for The Comeback Stage. Once eliminated after the Blind Auditions, contestants got the chance to try their luck anew onstage.