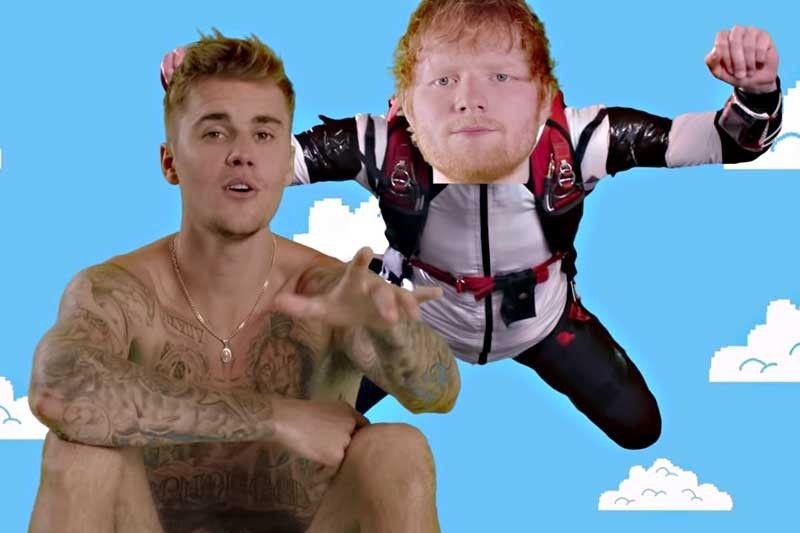 Ed Sheeran and Justin Bieber in a funny shot from their music video for their joint single I Don't Care.
Sheeran & Bieber in powerhouse collab
I love it that Justin Bieber is an unpredictable marketing genius. Just think these past few months, he had been ranting on and on about giving up the music because of undisclosed personal issues. So I thought, nice of him to concentrate on his personal life, most notably to his life with his lovely bride, Hayley Baldwin.
Then the two were the very chic cover story in the magazine Vogue. Maybe Justin did that for Hayley. A few weeks later, Bieber teased about a project for YouTube. What can that be? Then he was suddenly singing Sorry on stage with Ariana Grande at the Coachella Music Festival. And from that, I drew the conclusion that Bieber is not really leaving music.
He must have been kidding when he said that or like any human, he just changed his mind. This is not the first time. Remember how he said he was retiring from performing and then he was suddenly in a remix of the Latin hit Despacito with Luis Fonsi and Daddy Yankee. Why? Because he heard the song, liked it and thought it would be fun to join the singing and even attempt a few lines in Spanish.
So, the joint single, a triumphant declaration of love, titled I Don't Care is now out and available for streaming on Spotify. Of course, with these two powerful hitmakers working together, there is no way that this single will not be another big seller. Check out, too, the fun video with the superstar duo in a goofy mood, clowning around in various animal costumes. Kids will love it, too. Just like the first time when Bieber and Sheeran collaborated on a song. That was in the monster hit Love Yourself for Bieber's PURPOSE: The Movement album from four years ago.
This is also not the first time for either Sheeran or Bieber to work with other artists. Sheeran had a duet with Beyoncé for Perfect. He sang Perfect Symphony with Andrea Bocelli. His Shape Of You featured Nyla and Kranium, and was remixed by Major Lazer and again by Brit rapper Stormzy. His Photograph has a Felix Jaehn remix.
As for Bieber, he did Beauty And A Beat with Nicki Minaj, As Long As You Love Me with Big Sean, Friends with Bloodpop, No Brainer with Chance the Rapper, DJ Khaled and Quavo. Maybe he did not really collaborate with Fonsi and Daddy Yankee in Despacito but I will also add it to the list. Bieber's presence in the special single made the song one of the biggest sellers of all time.
I Don't Care is already No. 1 in the United Kingdom, while the U.S. of A. is expected to follow suit soon. The video was streamed 150 million times on its first day of release and the number is expected to increase more and more. And now, without really doing much, Bieber is on top once more. Truth to tell, I have become curious about him again. I wonder, what can that project that he said he was cooking out with YouTube be?
* * *
Laine Hardy, the 19-year-old country rocker from Livingston, Louisiana, is the new American Idol. I had a feeling he would really get the most votes. Laine is all Southern charm and killer smile and most important, has a knack for picking out songs that are right for him. His choices for the final round were perfect crowd pleasers that earned him the votes. Home by Marc Broussard, Jambalaya (On The Bayou) by Hank Williams and in his last lap, Bring It Home To Me, by Sam Cooke.
Hardy's rival was singer-songwriter Alejandro Aranda, who may have been the superior vocalist but who opted to sing his original compositions. That was a wrong move because when you are courting votes it is always best to give the public the songs that they are familiar with. Aranda should not worry though. I see him as an American Sheeran and should have a successful career. Remember Idol loser Chris Daughtry?
As for Hardy, it was time for American Idol to finally have a true teen idol who rocks. This kid is the total package. There are now too many rappers and hip hoppers in the charts, it would be nice to have an American Idol who echoes the old days among them. Why, he might even get into the movies.