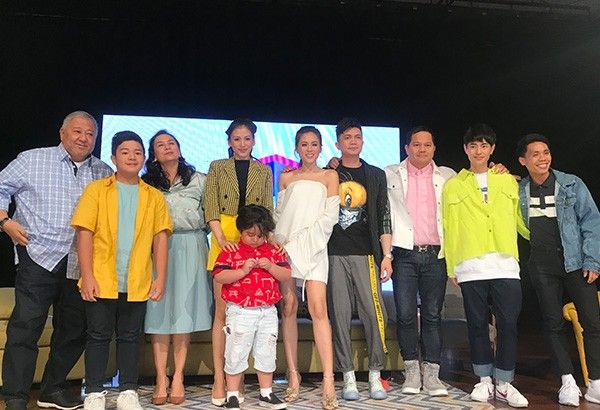 "Home Sweetie Home: Extra Sweet" cast
ABS-CBN/Released
'Home Sweetie Home' stars want John Lloyd Cruz back
MANILA, Philippines — "Our house is open for everyone, including John Lloyd Cruz."
Such was the assurance of the new cast of one of the country's longest-running sitcoms, "Home Sweetie Home," in a press conference on Thursday.
Director Bobot Mortiz, one of the show's latest additions who plays Barangay Captain Frank, confessed that he would like John Lloyd to be a guest in the show.
"S'yempre si John Lloyd pa rin. Hindi matatawaran ang galing n'ya sa pag-arte. At saka parang 'di pa tapos 'yung kwento nila ni Julie," Bobot shared.
Likewise, Alex Gonzaga, also a newcomer to the cast, said that if there is one person she would like to visit in their new "Home Sweetie Home," it would be John Lloyd.
"Siguro para sa'kin, tama si Direk, gusto ko rin makasama si John Lloyd," asserted Alex, who plays as her sister Toni Gonzaga's half sister in the show, Mikee.
According to Alex, Bobot gave the new cast their names. For example, Bayani Agbayani has been given his real-life name Edwin, while Vhong Navarro has been called Ferdi, short for his real name, Ferdinand.
Alex's name in the show, Mikee, came from her boyfriend, Mikee Morada, who recently won as Lipa City, Batangas councilor.
It can be recalled that the show began in 2014 with John Lloyd as one of the original cast members, playing Romeo Valentino, husband of Julie, portrayed by Toni.
In June 2018, John Lloyd took an indefinite leave from showbiz, including "Home Sweetie Home," to focus on his personal life and other passion, as an artist. He now lives with former "Home Sweetie Home" co-star, Ellen Adarna.
He was then replaced by his good friend, Piolo Pascual, in the show. But Piolo also recently left to pursue studies in Italy, which the actor has been planning to do for a long time, said the cast.
Toni's character, Julie, moves on with life and finds a "new family" in "Home Sweetie Home: Extra Sweet."

After her house got burned down, Julie starts again with the entry of the new characters played by Vhong, Alex, Bayani and Luis Manzano.

"We are living in one house but from different backgrounds. I came from a tragedy meanwhile, Vhong, Bayani, Luis, are the ones living here, while Alex is my half-sister," explained Toni.

In the new chapter of "Home Sweetie Home", Julie, with her sister Gigi (Miles Ocampo) and brother, Rence (Clarence Delgado), moved in to the apartment of their Tita Oya (Rio Locsin) after they lost their house to a fire. Here, they met their half-sister Mikee (Alex), plus Pip (Luis), Ferdie (Vhong) and Edwin (Bayani).

In the barangay, they will be joined by exchange student Hiro (Fumiya), and a caretaker of a pawnshop, Bogs (Yamyam), and their baranggay captain, Captain Frank played by Bobot Mortiz.

Toni also expressed her happiness with Vhong, Alex, Bayani and Luis joining her in the show.

"Just thinking that I will be joined by my close friends and my sister, this is the best Home Sweetie Home setting that I can dream of," she added.

Vhong, Bayani, and Luis are likewise excited to be in the show since it has been a while since their last sitcom and they are reuniting with Toni. Meanwhile, it's their first time to be with Alex in a comedy show.

Meanwhile, Vhong, who last worked with Toni on a project almost 10 years ago, said he is excited with the reunion and to work with the new cast.

Apart from the four veteran comedians, the tandem of Fumiya Sankai and Yamyam Gucong gets tested in their first comedy stint.

According to them, they are thankful but at the same time nervous in their first show. Fumiya added that Toni guided them in their first taping day.

"It was my first time acting and it was in Tagalog. Toni came to me and said that it was fine to make mistakes so I was relieved," shared Fumiya.

The cast also happily announced that their pilot episode last May 11 won in the ratings game, garnering 27.3 percent in viewership share, according to Kantar Media.

"Home Sweetie Home: Extra Sweet" airs every Saturday at 6:45 p.m. right after "TV Patrol."