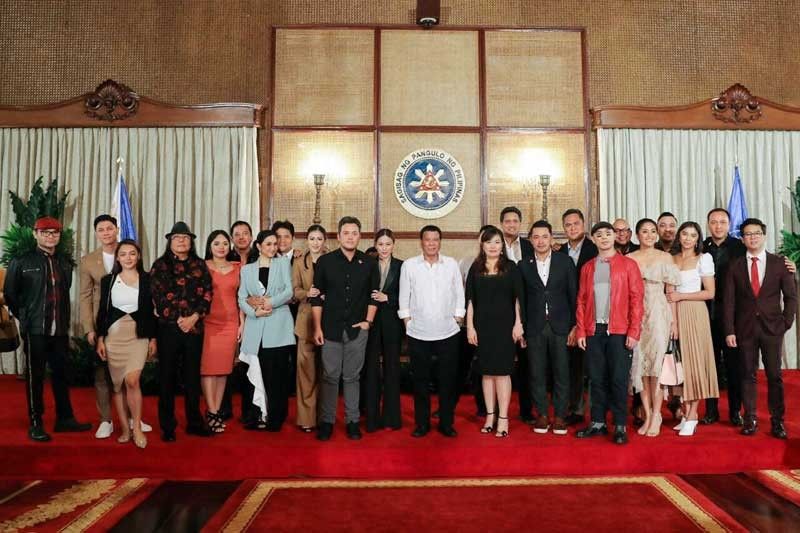 ALL ACCOUNTED FOR Pres. DU30 and First Lady Honeylet Avanceña with their starry guests at a thanksgiving dinner in Malacañang, among them: Wency Cornejo, Joseph Marco, Meg Imperial, Freddie Aguilar and wife Jovie, Phillip Salvador, Mariel Rodriguez and husband Robin Padilla, Alex and sister Toni Gonzaga sandwiching Toni's husband Paul Soriano, Richard Gomez, Cesar Montano, Sec. Martin Andanar (of the Presidential Communications Operations Office), Njel de Mesa, Luke Mejares, Gretchen Ho, volleyball star Fille Cainglet-Cayetano and husband Lino Cayetano, and PAGCOR official Jimmy Bondoc.
Photos courtesy of PCOO Sec. Martin Adnanar
Starry, starry night with Pres. Duterte
FUNFARE
-
Ricky Lo
(The Philippine Star) - May 16, 2019 - 12:00am
Tuesday (May 7) could be Malacañang's most star-studded night in memory when more than two dozen stars broke bread with and engaged the hosts, Pres. DU30 and First Lady Honeylet Avanceña, in shooting the summer breeze.
The President told his starry guests in the vernacular, "Magtatatlong taon na akong presidente ngayon lang ako maka-pagpapasalamat sa inyo."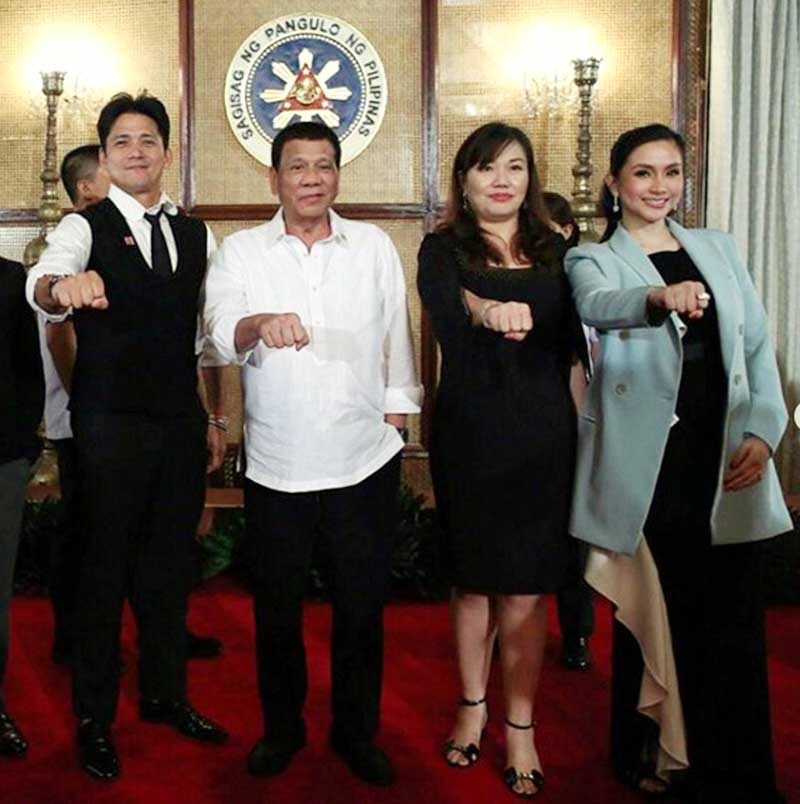 Robin and Mariel flashing the 'Duterte fist bump' sign with Pres. DU30 and Honeylet. Photos courtesy of Mariel Rodriguez
That was how Mariel Rodriguez quoted the President verbatim as he personally thanked them. Mariel came with husband Robin Padilla, the actor closest to the President, openly supporting him with no strings attached.
"The room was filled with celebrities who supported (the President) both silently and openly," wrote Mariel in her Facebook page (three days after, she would announce that she's pregnant with her and Robin's second child to be delivered probably in November, the birth month of their first child Maria Isabella who's turning three years old). "It was a memorable evening for me courtesy of President Rodrigo Roa Duterte (PRRD) and First Lady Honeylet. PRRD is not the first President that I campaigned for but he is the first President to invite me to the Palace."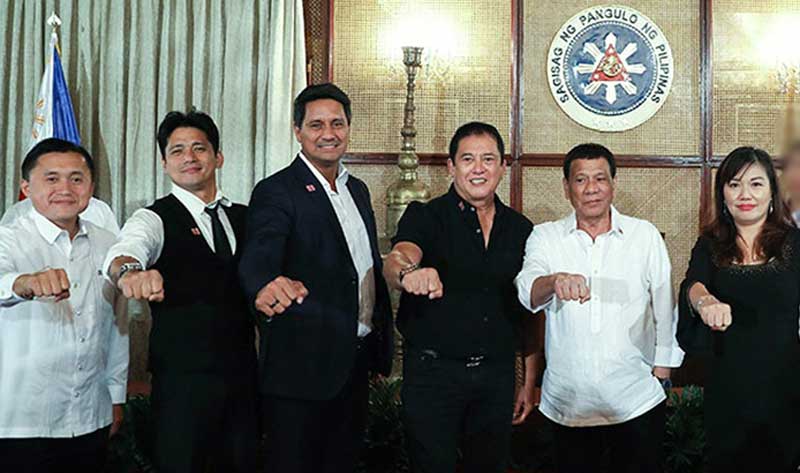 From left: Senator-elect Bong Go, Robin, Richard, Philip, Pres. DU30 and Honeylet.
Honeylet flew from Davao for the party and flew right back the next day. In her welcome speech, she mentioned that she and the President were not fond of hosting parties — "So," added Mariel, "I knew that it was a special night," noting that the menu, said to have been requested by the President himself, consisted of Salad, Mushroom Soup, Filet Mignon and Strawberry Cheesecake.
The President was quoted as saying, again in the vernacular, "Sabi ko, ibahin naman ang pagkain kasi ang pagkain talaga dito ay isang ulam, kanin at sabaw. Sabi ko gawin espesyal."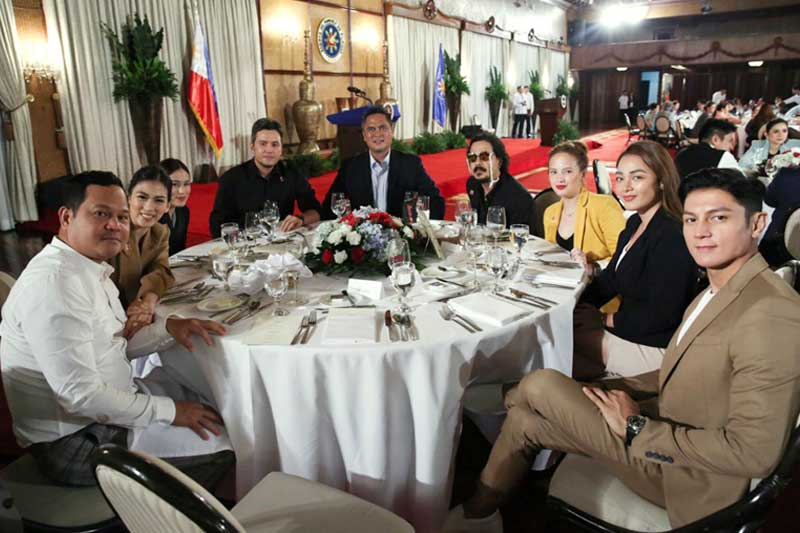 From left: Bayani Agbayani, Alex, Toni, Paul, Martin, John Lloyd Cruz and wife Ellen Adarna, Meg and Joseph.
Being a Muslim, Robin stayed away from the Filet Mignon which was wrapped in bacon, so the kitchen staff prepared fish for him and Mariel. When the fish was served, senatorial candidate Freddie Aguilar said he and his wife Jovie were also Muslims and they requested for fish as well. Being a gentleman, Robin gave his fish to Jovie and told her to eat ahead.
"Those on our table started to eat except Robin, Ka Freddie and PRRD," noted Mariel. "PRRD said, 'Sige, kumain na kayo. Hintayin ko si Robin.' It was a small thing, I know, but it's the small things that matter, right? Super-nakakatuwa. I was so touched! Robin's loyalty to PRRD is not sayang because it is reciprocated with kindness. I also have Bong Go to thank for such a memorable evening."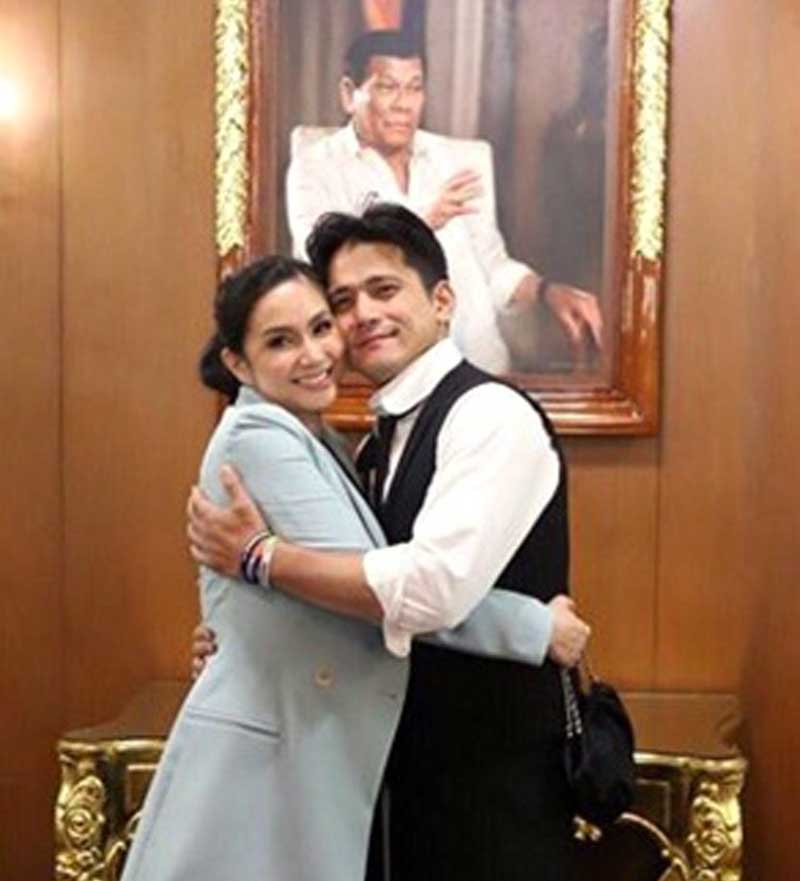 A sweet embrace with Pres. DU30's portrait in the background. Photos courtesy of Mariel Rodriguez
Mariel didn't know that wearing a sleeveless dress is a no-no in such an affair. "So I had to get my blazer from the car to cover my Carolina Herrera dress, hehehe!!!"
Incidentally, guess who was the long-haired unshaven (with beard and moustache) guest who "hid" behind dark glasses throughout the evening — yes, John Lloyd Cruz who came with his wife Ellen Adarna!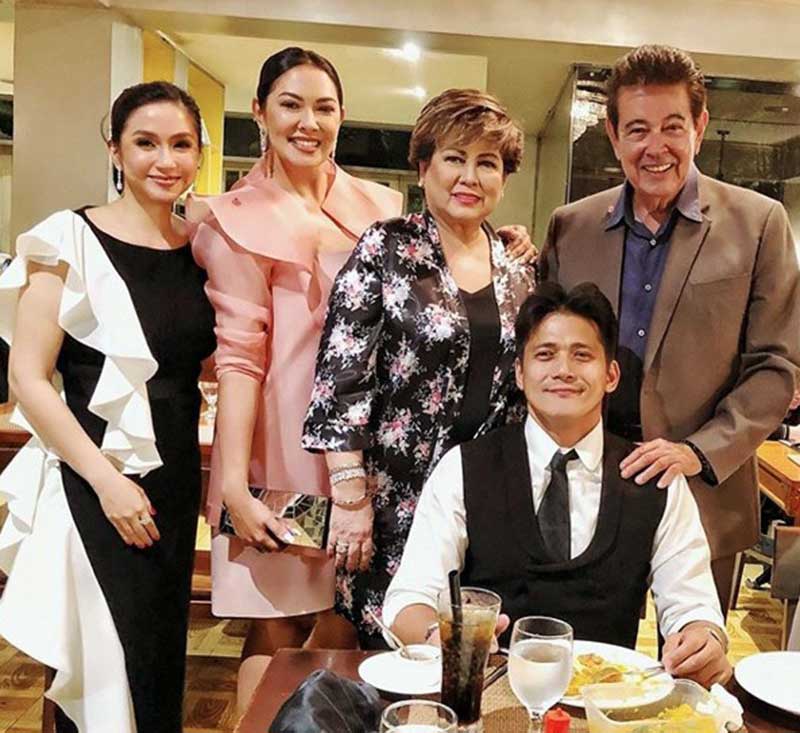 ...and in a pre-Malacañang dinner at nearby Casa Roces with Annabelle Rama and Eddie Gutierrez and daughter Ruffa.
(E-mail reactions at rickylophilstar@gmail.com. For more updates, photos and videos, visit www.philstar.com/funfare or follow me on Instagram @therealrickylo.)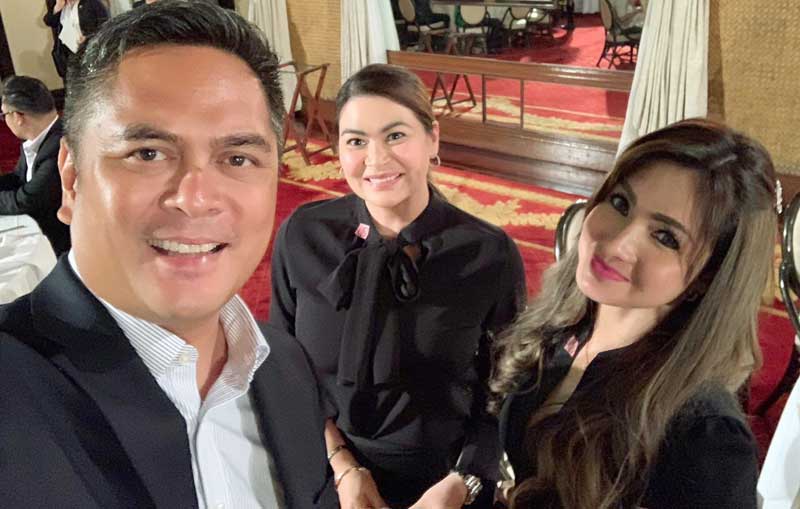 Martin with Aiko Melendez and Ynez Veneracion.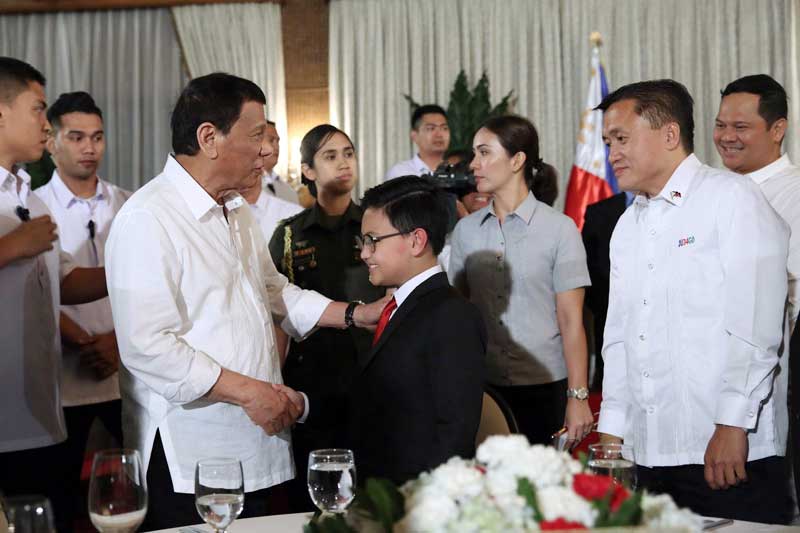 Pres. DU30 welcomes child actor Alonzo Muhlach while Senator-elect Bong looks on.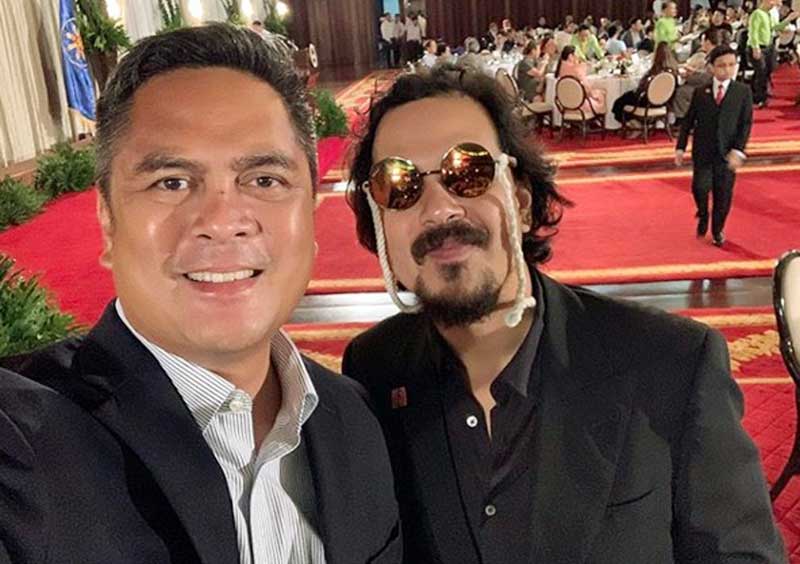 Martin with unshaven John Lloyd.