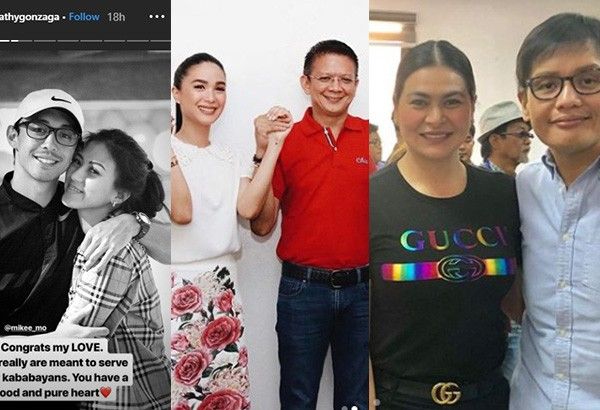 From left: Alex Gonzaga and Mikee Morada; Heart Evangelista and Chiz Escudero; Aiko Melendez and Jay Khonghun
Instagram/Alex Gonzaga, Heart Evangelista, Aiko Melendez
Alex Gonzaga, Heart Evangelista, Aiko Melendez congratulate partners for winning elections
MANILA, Philippines — Kapuso actress Heart Evangelista congratulated her husband Chiz Escudero for winning the gubernatorial race in Sorsogon province.
In her Instagram account, Heart wrote: "Congratulations to my Governor Chiz Escudero! You've worked in the senate for such a long time, but now, it's time for you to concentrate in your beloved Sorsogon, the place which you and your family have loved for years."
She added that she cannot wait to see her husband's plan come to life in Sorsogon. ?
"For the past few months, you've told me endlessly about your plans for Sorsogon - developing their tourism, sports programs, health programs, and agricultural industry. I cannot wait to see your visions come to life. Sorsogon, it's your time to shine!" Heart wrote. ?
"My love, I'll always be here for you, cheering you on forever," she added.
Heart also documented the proclamation of Chiz in her Instagram story, saying she has been a fan of her husband since 2007.
Chiz was proclaimed winner in the elections early Tuesday after getting 303,960 votes against rival Bladi Frivaldo, who only got 31,867 votes.
Likewise, actress and TV host Alex Gonzaga celebrated the victory of her boyfriend Mikee Morada as new Lipa City, Batangas councilor.
"Congrats my love. You are really meant to serve your kababayans. You have a good and pure heart," Alex told Mikee in her Instagram story.
Meanwhile, Jay Khonghun, boyfriend of actress Aiko Melendez, was also proclaimed the newly elected vice governor of Zambales.
"Sweetest victory for all of us!" Aiko said on Instagram.
"Hardwork really paid off!! Khonghun's Might Ruled the Polls! To God be the Glory!"
RELATED: LIST: Celebrities who won in 2019 midterm elections