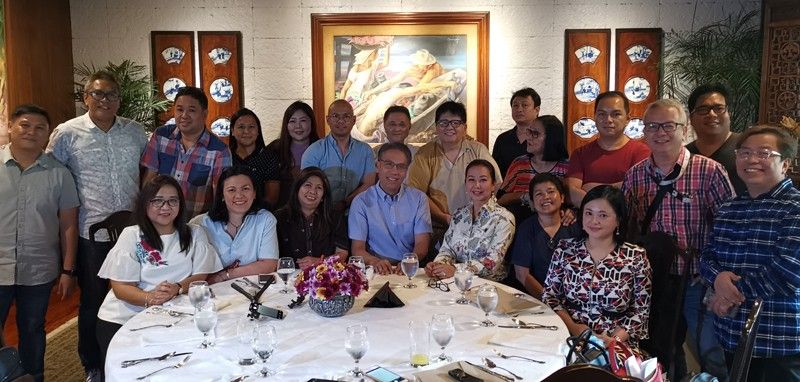 Former DILG Secretary/Senatoriable Mar Roxas and his wife Korina Sanchez share anecdotes about their twins Pepe and Pilar (below) during a free-wheeling thanksgiving lunch on Monday at their residence in the 'White House' compound in Quezon City. There was no mention about politics.
Mar feels like a first-time dad
FUNFARE
-
Ricky Lo
(The Philippine Star) - May 8, 2019 - 12:00am
Did you know that former DILG Secretary/Senatoriable Mar Roxas and his wife Korina Sanchez almost lost their twins two months before they were born in the US?
"Before Christmas last year, the woman carrying the babies was involved in an accident," Mar recalled to a select group of movie writers over a thanksgiving lunch on Monday at their home inside the "White House" compound in Quezon City. "She was driving and a drunk driver bumped her car. We rushed to the ER (Emergency Room) where she was brought to check her condition. Luckily, the air bag protected her. We were worried because it was our last chance to have a baby."
Babies, actually. Nicknamed Pepe and Pilar, the twins were delivered at 1 p.m. last Feb. 12 at a hospital in Pittsburgh, USA, with the boy born first weighing 5.4 lbs. and the girl, almost an hour later, 4.10 lbs. The couple's "baby project" took three years to complete, starting with the embryo frozen even before they got married. "Mar and I were just waiting for the right time to start a family," said Korina, a first-time mom. Mar has a 25-year-old son (Paolo) from a previous relationship with a beauty queen but he claimed that he feels like a first-time dad because, unlike before, he's a hands-on dad to the twins.
During the lunch, Mar begged off from mentioning politics and talked only about the twins. The boy's full name is Pepe Ramon Gerardo Denzel (Ramon after Korina's dad and Gerardo, Mar's dad) and the girl's is Pilar Judy Celia Korina (Judy after Mar's mom and Celia, Korina's mom). Denzel is from Denzel Washington, Mar's favorite Hollywood actor, and Korina since she wants Pilar to carry her name.
"Korina and I cried when the twins were born. Nag-katinginan kami at pareho kaming naluha."
The baby carrier was carefully chosen (and interviewed) via Skype. She's a single mom, a high school graduate who is raising a daughter by working at Starbucks where she started as a barista and is now an area manager.
"It was her first time to carry somebody else's baby," added Mar. "We asked her why and she said that she needed the money to give her daughter a good education. Her duty was done as soon as she delivered the babies and that's so she wouldn't develop any emotional attachment to the babies."
The couple waited for two months before they brought the babies home not, as per doctor's advice, on a direct flight (16 hours from San Francisco to Manila) but on one with stopovers (first in Vancouver, then in Hong Kong before proceeding to Manila).
"For safety reasons, a necessary precaution," explained Mar. "In case, the twins got sick, we could get off at a stopover and bring them to a hospital."
Pepe and Pilar are growing up fast and can now recognize and react to their parents' voice. Pilar is always smiling and Pepe is very charming. "Guapo rin katulad ko," noted Mar and laughed, "Joke only!"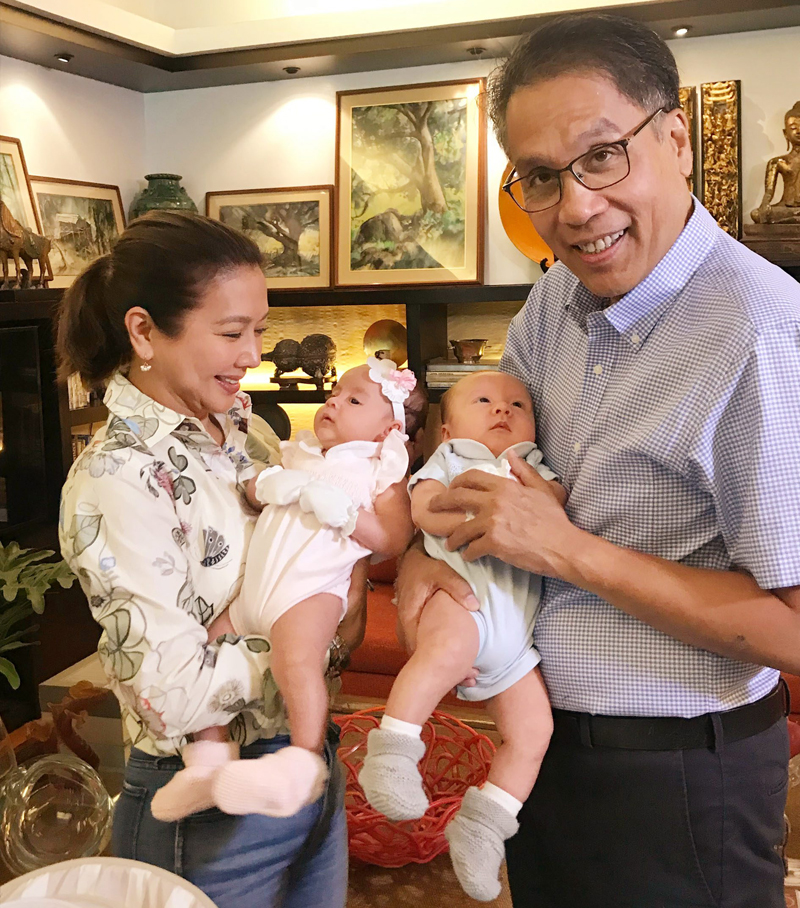 Asked if he has learned how to change diapers and prepare feeding bottles, Mar admitted, "Sometimes, I have to delegate the tasks to Korina. But I am a good student. I follow what the doctor told me what to check when the twins are crying, 1. baka gutom, 2. baka basa (ang lampin), 3. baka pagod, 4. baka seeking warmth so I cuddle them close to my chest so they can feel my heartbeat, and 5. baka suffering from gas pains so I make them burp."
Mar said that he and Korina want to raise the twins like any ordinary kids, never mind if they dirty themselves while playing.
"Parang cowboys. As kids, we grew up playing games like chasing butterflies, rolling on the grass and catching gagamba (spiders) and salagubang (beetles) and making them fight. I am also excited to teach them how to ride the bike. According to YouTube, it's best to attach training wheels but I think it's better to just lower the seats so that their feet touch the ground."
And more: "I also want them to learn how to speak Ilonggo," adding in a conspiratorial tone, "please don't tell Korina because she doesn't know. I have told the twins' midwives to start talking to them in Ilonggo which is the dialect spoken in Capiz where I come from."
Yes, Capiz. On Sunday, Mar will go there to vote the next day and return to Manila right after voting. Meanwhile, he and the Otso Diretso team are on the final stretch of the campaign.
After the elections (on May 13), the couple will start preparing for the twins' baptism, with their millennial nieces and nephews as ninongs and ninangs.
"Why not godparents our age? Huwag na baka when the twins grow older, ugod-ugod na ang mga ninong nila." Then he laughed as if the joke was on him.
And how soon do they plan to have another child?
Mar laughed all the more.
"I'm turning 62 on May 13 so when the twins turn 18, I would be 80 years old." (Korina is a few years younger than Mar.)
Oh yes, the twins' birth is, according to Mar, the best advance birthday gift ever.
"Double trouble," he joked.
(E-mail reactions at entphilstar@yahoo.com. For more updates, photos and videos, visit www.philstar.com/funfare or follow me on Instagram @therealrickylo.)