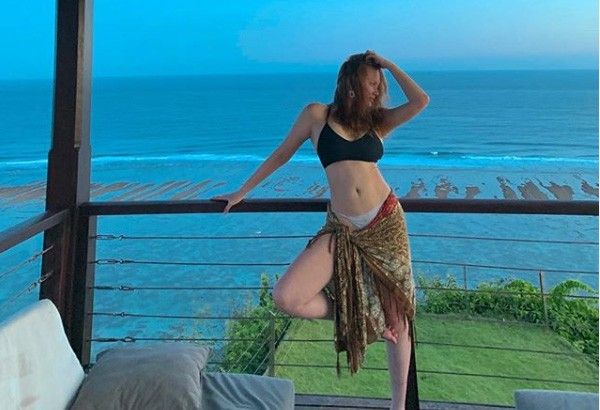 Actress Ellen Adarna
Instagram/Vito Selma
Ready for comeback? Ellen Adarna flaunts post-pregnancy body in Bali
MANILA, Philippines — About two years since disappearing in the limelight with partner John Lloyd Cruz, actress Ellen Adarna resurfaces on social media, with friends posting photos and videos of her sexy postpartum body in Bali.
In an Instagram post on Thursday by her designer friend Vito Selma, the "Pasion De Amor" star can be seen donning a two-piece bikini, with a bandanna tied on her waist.
"Welcome back mama," Vito captioned the post, seemingly insinuating that Ellen is ready to bask in the limelight again.
Selma tagged Ellen, but the actress' Instagram account remains private.
In another post, also taken at the beachfront of Uluwatu, Bali, Indonesia, Ellen can be seen wearing a two-piece bikini as she leans by a pole.
"Motherhood looks good on you," Selma captioned the photo.
In Selma's Instagram story, a video shows the actress swimming in a pool with her baby with John Lloyd. They were swimming with friends, but the actor was nowhere in sight. Reports said he was recently spotted bonding with locals and having a nature adventure in Bukidnon.
Another netizen posted the same video, confirming that it was Ellen and her son Elias who were swimming in the pool, and revealed in the caption that the video was taken by someone close to Ellen.
In another video taken by Vito, Ellen can be seen saying "Hi!" while sipping wine. The video shows she was with friends and family.
Fans of the actress went nuts upon seeing her photos and videos.
"Welcome back! Nmiss kita sobra.... you look absolutely amazing," said one.
"Grabe parang di siya na nganak ah ...supah hot parin," cried another.
Ellen and John Lloyd took a showbiz hiatus last 2017 and no official confirmations were given yet for their alleged comeback.
Last year, the mom of a teenager Ellen accused as a "paparazzi" on social media filed Anti-Child Abuse and Anti-Cybercrime cases against her. John Lloyd attended the hearings on her behalf, citing her pregnancy as the cause of her absence in court.