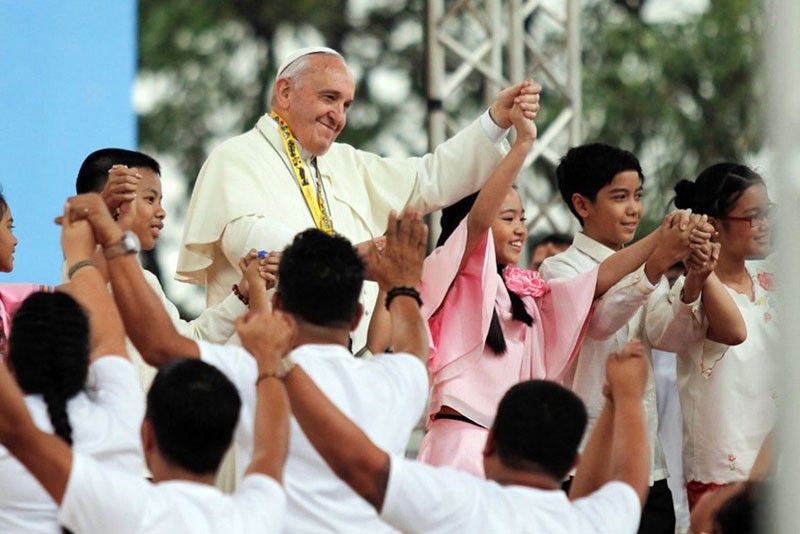 Pope Francis has a special fondness for children as shown in this photo during his Philippine visit in January 2015
• Pope Francis: On how to be truly happy • Mother Teresa: Be honest, be forgiving
FUNFARE
-
Ricky Lo
(The Philippine Star) - April 17, 2019 - 12:00am
Tomorrow is Maundy Thursday. Take some time to soul-search. Maybe the following inspiring pieces can help you look deeply into yourself.
The first is a speech delivered by Pope Francis at an event. It conveys such a beautiful message that my friend Joseph Chua (who sent a copy of it to this corner) is requesting Funfare readers to "read it again and again," as I did.
You can have flaws, be anxious, and even be angry, but do not forget that your life is the greatest enterprise in the world. Only you can stop it from going bust. Many appreciate you, admire you and love you. Remember that to be happy is not to have a sky without a storm, a road without accidents, work without fatigue, relationships without disappointments.
To be happy is to find strength in forgiveness, hope in battles, security in the stage of fear, love in discord. It is not only to enjoy the smile, but also to reflect on the sadness. It is not only to celebrate the successes, but to learn lessons from the failures. It is not only to feel happy with the applause, but to be happy in anonymity.
Being happy is not a fatality of destiny, but an achievement for those who can travel within themselves. To be happy is to stop feeling like a victim and become your destiny's author. It is to cross deserts, yet to be able to find an oasis in the depths of our soul. It is to thank God for every morning, for the miracle of life. Being happy is not being afraid of your own feelings. It's to be able to talk about you. It is having the courage to hear a "no". It is confidence in the face of criticism, even when unjustified. It is to kiss your children, pamper your parents, to live poetic moments with friends, even when they hurt us.
To be happy is to let live the creature that lives in each of us, free, joyful and simple. It is to have maturity to be able to say: "I made mistakes." It is to have the courage to say, "I am sorry." It is to have the sensitivity to say, "I need you." It is to have the ability to say, "I love you." May your life become a garden of opportunities for happiness ...That in spring may it be a lover of joy. In winter a lover of wisdom. And when you make a mistake, start all over again. For only then will you be in love with life.
You will find that to be happy is not to have a perfect life. But use the tears to irrigate tolerance. Use your losses to train patience. Use your mistakes to sculptor serenity. Use pain to plaster pleasure. Use obstacles to open windows of intelligence. Never give up....Never give up on people who love you. Never give up on happiness, for life is an incredible show.
* * *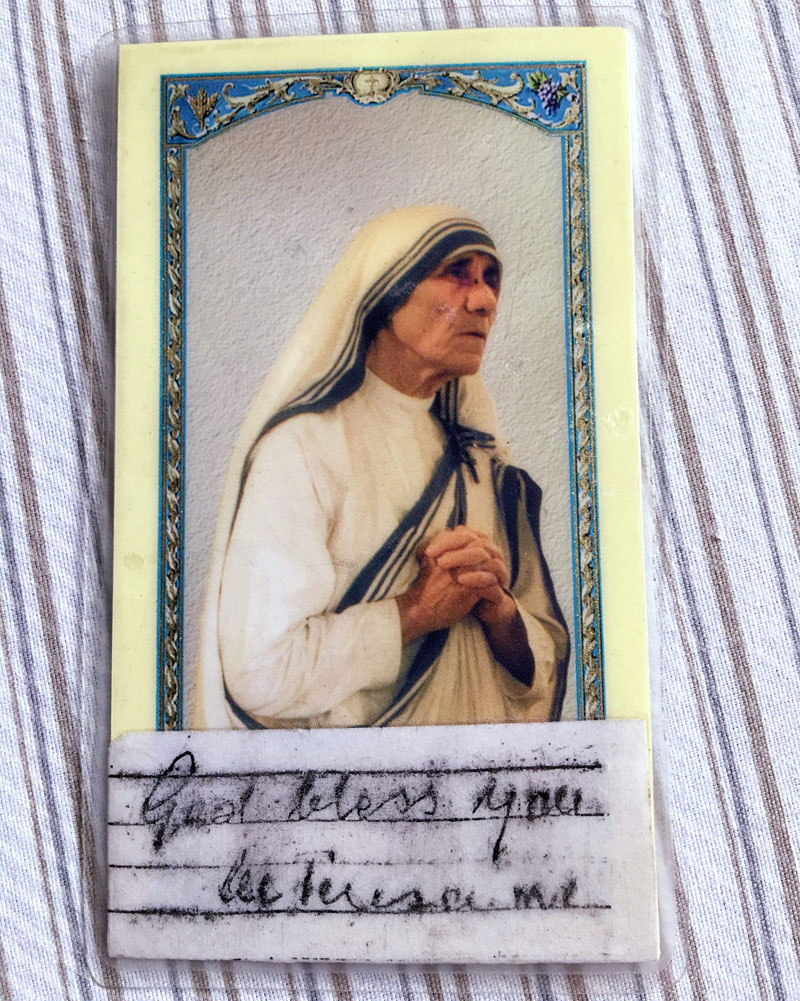 Enclosed in this photo of Mother Teresa is her autograph, a copy of which was given to Your Funfarer by Pangasinan Rep. Rosemarie 'Baby' Arenas who was close to the now St. Teresa of Calcutta. The future saint visited Manila several years ago.
And here are inspiring words from Mother Teresa, sent to Funfare by a friend who forgot to say where he got it from:
People are often unreasonable and self-centered. Forgive them anyway.
If you are kind, people may accuse you of ulterior motives. Be kind anyway.
If you are honest, people may cheat you. Be honest anyway.
If you find happiness, people may be jealous. Be happy anyway.
The good you do today may be forgotten tomorrow. Do good. Give the world the best you have and it may never be enough. Give your best anyway.
For you see, in the end, it is between you and God. It was never between you and them anyway.
Josephine Estrada, Miss Philippines of 1962, dies in US; 75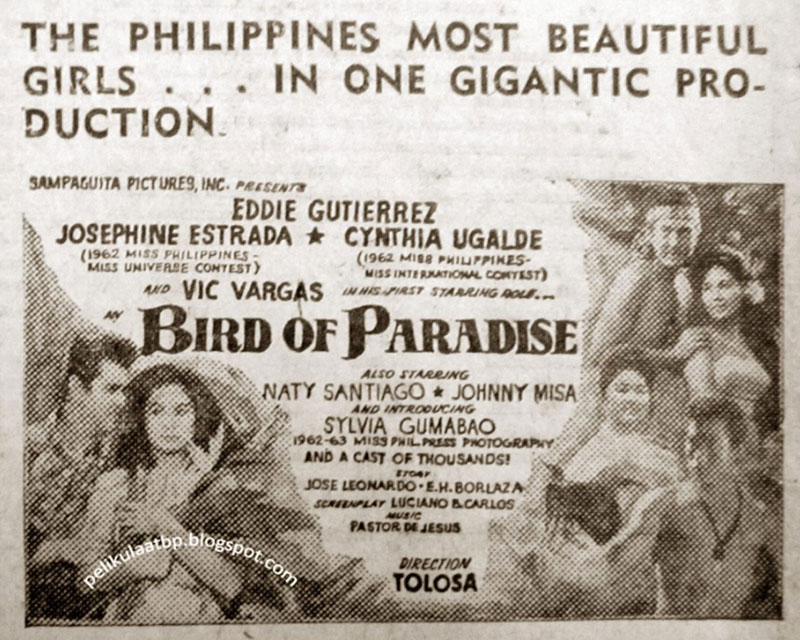 Josephine Estrada became a Sampaguita contract star introduced in Mother Dearest and cast in Birds of Paradise.
Beauty-queen actress Josephine Estrada died Saturday morning, April 13, in Arizona, USA. She turned 75 on April 9.
As Miss Philippines, she represented the country in the Miss Universe pageant held in Miami Beach, Florida, on July 14, 1962. In 1960, she placed Miss Luzon (first runner-up) to Edita Vital and was named Miss Aviation a year later.
Born Josephine Estrada Brown to a Filipina mother and an American father in Zamboanga, Josephine became a Sampaguita contract star introduced in Mother Dearest and cast in Birds of Paradise with Cynthia Ugalde (1962 Miss Philippines for the Miss International pageant), Vic Vargas and Eddie Gutierrez, and other movies (Octavia, Tanzan The Mighty, Prinsipeng Tulisan, etc.). As a freelancer, she starred with other actors such as Joseph Estrada and Tony Ferrer, and did musicals under the movie company put up by her mom.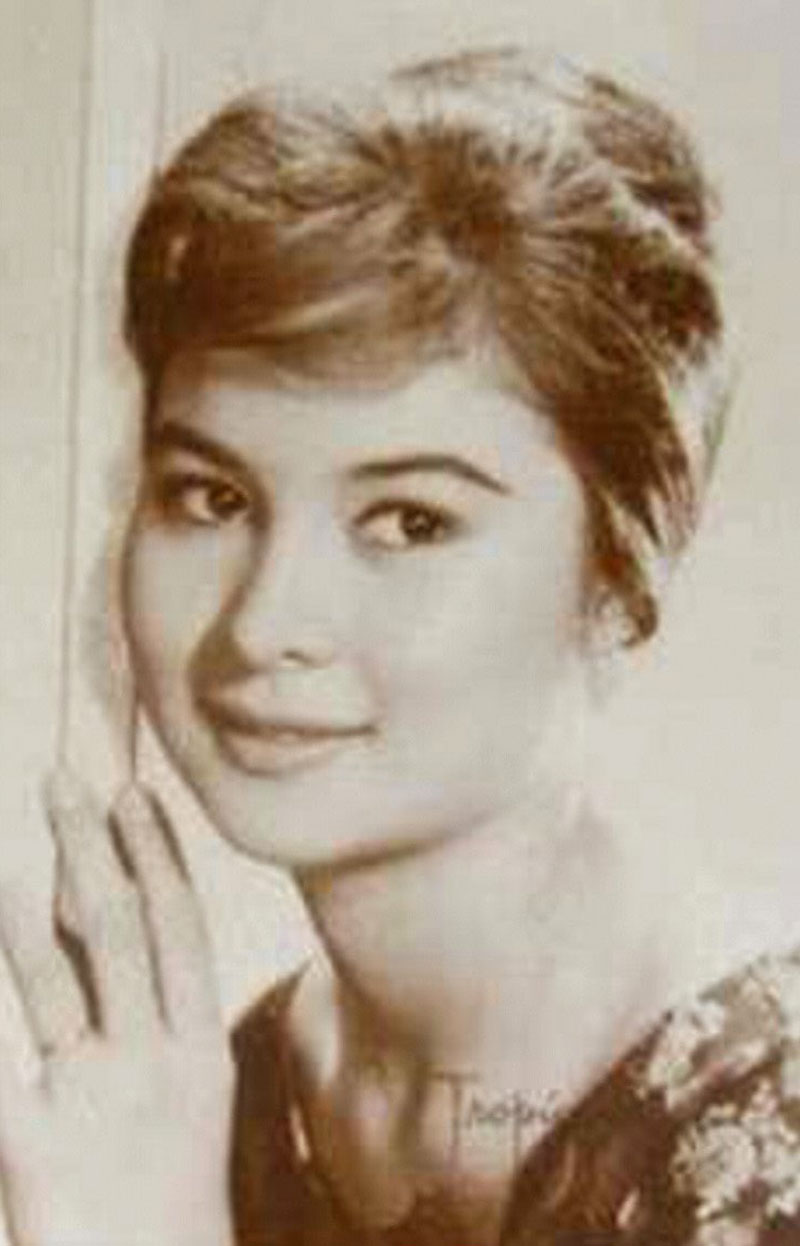 Josephine Estrada
In 1965, she was chosen as official Ambassadress of Goodwill to the Berlin International Film Festival and Ciriaco Santiago Memorial Awardee in 1966 by FAMAS for her international contribution to the Philippine movie industry. She migrated to the US in the early '80s after starring in Gaano Kadalas ang Minsan (with Vilma Santos, Hilda Koronel and Dindo Fernando, 1982) and JR (with Gabby Concepcion, 1983).
According to friends, Josephine had a heart problem and was undergoing dialysis for a few years.