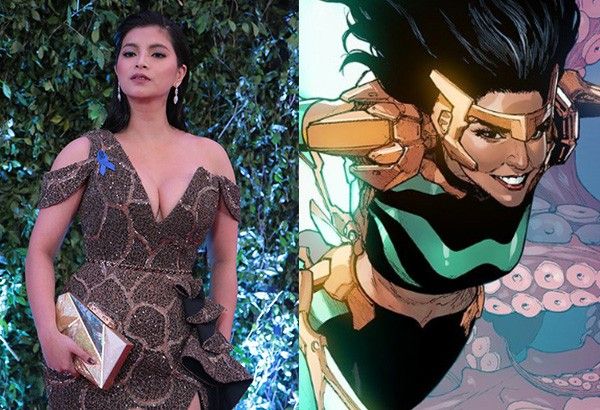 From left: Angel Locsin at the 2018 ABS-CBN Ball; Marvel's first Filipino superhero Wave.
Philstar.com/File
Angel Locsin gushes over fan art as Marvel's first Filipino superhero
MANILA, Philippines — Although she has declined netizens' clamor to portray Wave, actress Angel Locsin continues to celebrate fans' memes and artworks showing her dressed as Marvel's first Filipino superhero.
In a series of Facebook posts, Angel shared fans' depictions of her clad in Wave's green, gold and black costume.
The clamor for her to star as Wave began when she posted a tweet showing her admiration for Marvel's first Filipina heroine.
"I'm excited to learn more about this character! I (love) that her weapon of choice is a Kampilan, w/c is believed to be the sword Lapu-Lapu used to strike down Ferdinand Magellan. So, (thumbs up) for that! Regarding her costume, I wonder what's the inspiration behind the design?" Angel wrote on her Twitter account.
The character's Filipino designer and co-creator, Leinil Francis Yu, replied to Angel's tweet, expressing his desire to see Angel as Wave.
"It's a collaboration of ideas between me, greg and Marvel editorial:). Would love to see you as wave, Angel!" Leinil said.
Leinil was supported by many other netizens, who also wished to see Angel in the new superhero costume.
"Tapos na ko sa superhero roles hehehe :) but kilig na nag reply ang creator :)," Angel replied to a fan asking her to accept the role.
Marvel artists first introduced Wave early this month. According to them, Marvel included Wave and other Asian superheroes in the comics series "War of the Realms: New Agents of Atlas" to be released this May.