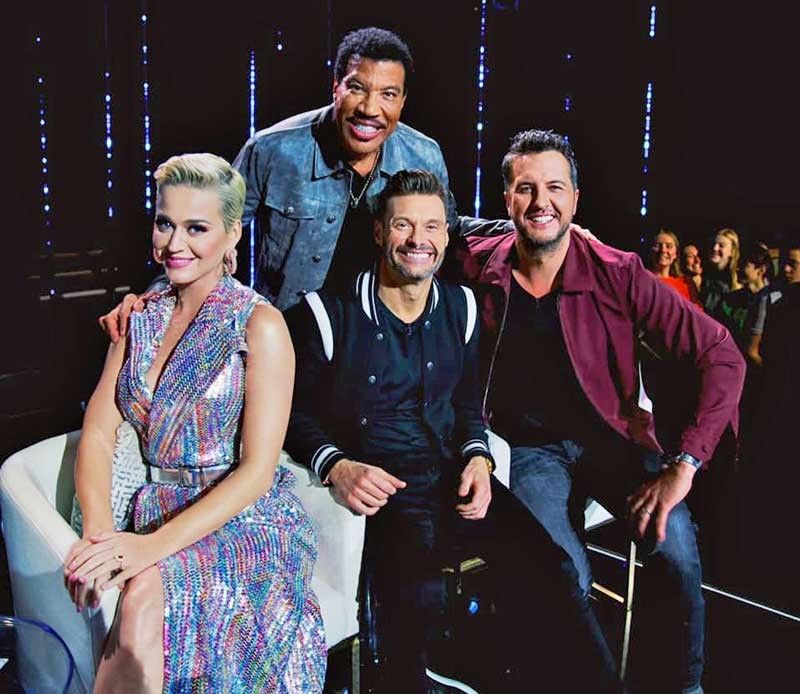 American Idol host Ryan Seacrest (seated, center) with judges Katy Perry, Lionel Richie (standing) and Luke Bryan
American Idol, the talent show that has produced some of today's biggest stars, is back on the air. I do not know how it is faring ratings-wise in the US of A and other countries but it does not seem to be doing well out here. In fact, I did not know anything about it until I came across an episode two weeks ago by pure chance. That was a surprise. Nobody seems to know that American Idol is back on its 17th season on the channel ETC.
Which I believe is really quite strange given that the Philippines is a singing-obsessed place. I can even recall times in years past when the American Idol performances and results were events to watch and the subjects of much talk. Nobody is talking about the auditions nowadays, so I suppose that is because nobody is watching the show. I cannot call this singing contests fatigue as Pinoys live for those. That is the reason why households around here put chores on stop to watch Tawag Ng Tanghalan every day?
I am really glad I found out that American Idol or AI is back and is on ETC on Mondays at 6 o'clock in the evening. I like watching American Idol. It is the only pure singing contest we have today. The Britain or Asia's Got Talent series is more about Vegas-style stage spectacles. The Voice is more about the good-natured competition among the star coaches and that is probably why this high-rating show still has to produce a big star. The X Factor has a better record discovering stars but is really more about the total package, not just the singing, which Idol excels in.
I also like the Idol judges — Katy Perry, Luke Bryan and Lionel Richie. They are fun to watch and look like they truly enjoy being on the show. They are engaging and empathetic with the auditions. They also seem to genuinely like one another, which is more than I can say about other Idol judges in the past. Remember Nicki Minaj? I am glad this trio is back for another season and I do hope they will be back again next year and more. Just as I hope American Idol will still be around. Of course, the reassuring presence of host Ryan Seacrest is also back as well as in-house mentor, DJ and dancer Bobby Bones.
Just think without AI, there would not be a Kelly Clarkson or a Carrie Underwood or an Adam Lambert, or Fantasia Barino, Ruben Studdard, Jennifer Hudson, Chris Daughtry, David Cook, David Archuleta, Katharine McPhee, Jessica Sanchez and others. Winners or not, they were all discovered in American Idol. And it looks like this season will also yield a bountiful harvest. The current show is literally jampacked with memorable auditions, some of which have left the judges stunned or even in tears.
So remember these names when you watch the live performances in Hollywood starting on April 15.
Alejandro Aranda, a 24-year-old dishwasher and busker who moved the judges when he performed his original song; Myran Tan, a 19-year-old high school student from Vietnam; Shayy Winn, a 17 year old from Virginia who is blind because of a brain tumor; Juan Pablo, a 26-year-old Share-a-Ride driver who gave the show a caliente moment with his rendition of Besame Mucho; Jeremiah Lloyd Harmon, a church janitor and pastor's son who is a knockout performer; Laine Hardy, the Season 16 entry who made it all the way to Hollywood, returned as accompanist to a friend but was also handed a Golden Ticket after an impromptu audition.
Austin Michael Robinson, only 15 years old, and according to Katy, a country Justin Bieber; Madison VanDenburg, only 16, earned a standing ovation from the judges for her rendition of Dan & Shay's Speechless and is proclaimed another Kelly Clarkson; Ashley Hess, a 27-year-old dental hygienist wowed the judges with her take on Nora Jones' Don't Know Why; Tyler Mitchell, 6'4" and a worker in an oil field got the nod with a soulful Whenever You Come Around; Ethan Payne, 15 years old and afflicted with cystic fibrosis, auditioned with a guitar gifted to him by Bryan, who gamely joined the kid in a duet.
And those are just a few of the exciting newcomers that American Idol is introducing this year. It promises to be an exciting season.