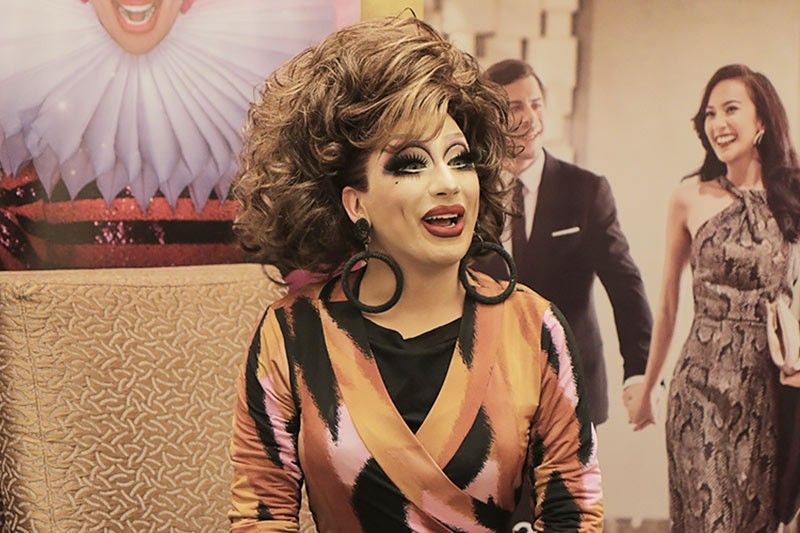 Bianca del Rio answers questions from journalists on the eve of the Manila leg of her "It's Jester Joke" tour last week, March 11, 2019.
Philstar.com/Kat Leandicho
'Drag Race' royalty Bianca del Rio swears by this unlikely product for skincare
MANILA, Philippines — Remember what they say about drag queens and painting for the back row? Or in some cases for the check cashing center down the block? Looking at you, Trixie Mattel.
Drag queens tell a story with their makeup. And as performers, painting themselves for the stage requires slapping on dramatic layers of it.
But while makeup helps turn looks, it can also clog your pores, cause breakouts or lead to premature aging of the skin.
Luckily, the "clown in a gown" insult comic and "RuPaul's Drag Race" Season 6 winner Bianca del Rio shared the unexpectedly simple product that effectively washes away a day's worth of gunk and makeup — especially around the eye area with the dried up layer of lash glue, eyeshadow buildup and stubborn mascara.
Her secret? Baby shampoo.
"A friend of mine, I don't know if you have it here, but Johnson and Johnson baby shampoo is what I use to clean my face," she said to a room full of journalists on the eve of her "It's Jester Joke" show in the Philippines last week.
"A dermatologist told me it's the best thing. It doesn't burn your eyes. I mean you're going 'Oh my God, if it washes off that bitch's face.'"
She's not alone, however, as supermodel Heidi Klum, actress Laverne Cox and skincare junkies on Reddit here and here are also fans of using baby shampoo to wash their face.
User stinglybell at the SkincareAddiction Reddit forum said she occasionally uses baby shampoo to clean around the eyes, where the skin is thinner and more sensitive.
Klum told HelloGigles that her eye doctor advised she use baby shampoo to thoroughly wash off her makeup after a recurring stye.
Well, if it's gentle for babies then what more for adults, right? Not so fast. New York-based dermatologist Shari Marchbein told Allure that only baby shampoos that are tear-free and hypoallergenic are safe to use on your face as others with fragrances and chemicals can irritate sensitive skin.
Although admitting that beauty is not something she is normally asked about, Bianca, who is known for her clown-inspired aesthetic, is no stranger to the skincare industry as she launched her own line of vegan, cruelty- free makeup wipes called the Bianca Remover last year.
And it's a staple in her routine which she caps off with moisturizer.
"Obviously I have to use makeup remover, which I have my own makeup remover called Bianca Remover, which you can buy online."
"And also moisturizer. You gotta have moisturizer cause I'm old. You gotta have that. You know for every glass of wine I drink I get drier and drier so I have to keep my self well moisturized."