Back to drama in Untrue, her next Viva movie with Xian Lim, and daring and dangerous in Maria
Cristine takes risks in debut as action star
FUNFARE
-
Ricky Lo
(The Philippine Star) - March 18, 2019 - 12:00am
Is Cristine Reyes saying goodbye to sexy roles?'I know I am sexy even without trying to be sexy, hahaha!!!'
Nothing fake. What you will see is what you will get. Moviegoers won't be shortchanged.
With these assurances, Cristine Reyes takes risks in her debut as action star in Maria, directed by Pedring A. Lopez for Viva Films, BlackOps Studios Asia and PsyOps.
"Cristine handles the fight scenes with almost 90 percent of all her stunts without doubles," said direk Pedring (whose Nilalang won him Best Director at the Los Angeles Philippine Film Festival and Festival Internacional de Cine Fantastico de Torremolinos), adding that as a fan of the '80s action films, "I want to bring them back by putting them in a modern setting utilizing Filipino martial arts.
Said Cristine, who plays a former cartel assassin who fakes her own death after an unfulfilled mission that earned the wrath of her organization, "I like direk Pedring's style. He has a vision and he really wants that vision to really happen. You feel that he really loves his project."
From Lily, the assassin changes her name to Maria when she flees to the province where she leads a new life with a businessman who becomes her second husband and has a daughter with her.
Cristine is the second Viva artist to be groomed as an action star, after Anne Curtis who has amply proven her "action" worth in BuyBust, directed by Erik Matti. Commenting on Cristine, Sonny Sison, the fight choreographer/director who also worked with direk Pedring in Nilalang, said, "From the perspective of a fight choreographer, it is nice to see your lead actress not just commit in doing the moves but also infuses the emotional content. That's really important where action is concerned. You are able to blend emotion and action."
What did you find interesting about Maria?
"It's my first action project. I'm thankful to Viva for trusting me with this project. I really feel strongly about the material and I am convinced that I am fit for the role. I guess the Viva management knew that the role challenges me on many levels...as an actress, as a mother in real life and as a martial arts enthusiast."
It's a tough role. How did you prepare for it?
"All of us trained under Sonny Sison for the cinematic action fight scenes. I also did rigorous workout."
Did you take a crash course in martial arts, and how to cock and fire a gun?
"Yes, we did a one-day training for handling a gun. With martial arts, I know just a little bit of it but somehow not professionally."
Who is your peg for your role?
"Angelina Jolie has always been my forever inspiration."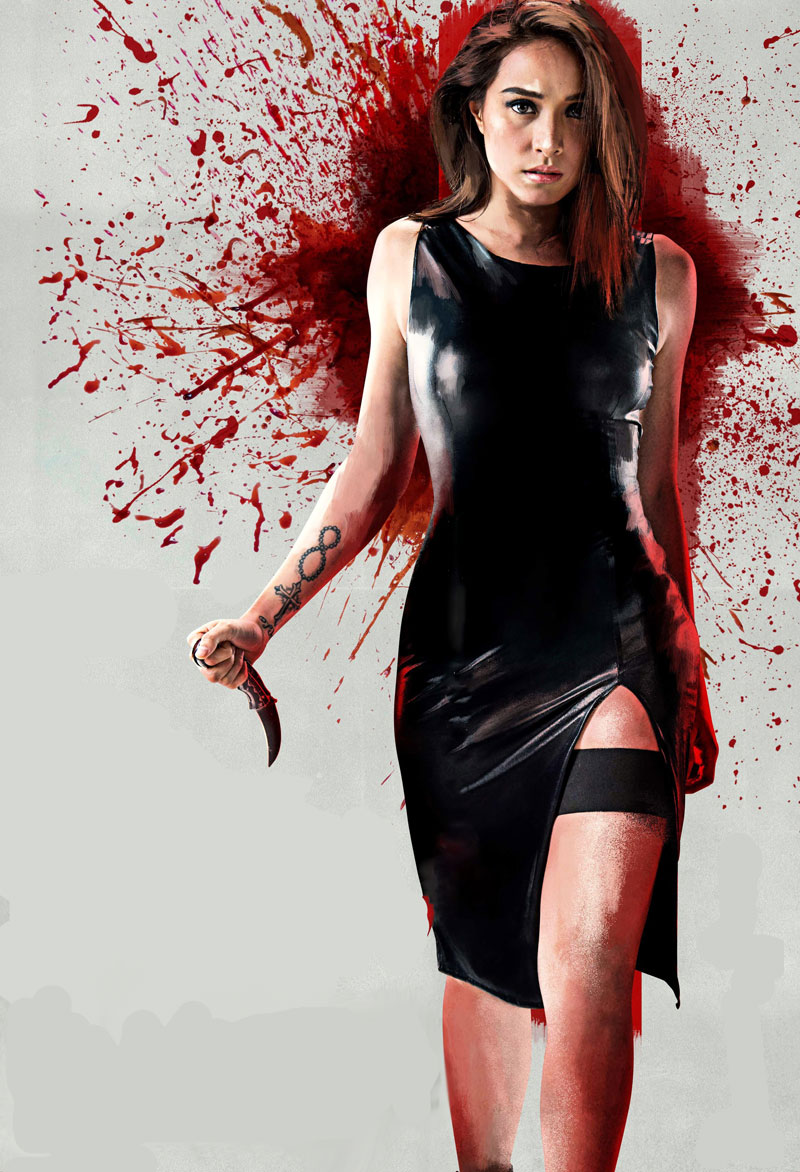 Did you really refuse a double and did the life-threatening stunts yourself? Were you insured?
"Hahaha, there's no such thing as insurance here for actors. If ever there was, I never heard of it. I would have availed of it if there were any. We all have doubles for our protection even if we insisted on doing some scenes because we knew that our director was very protective."
Who are the actresses that you look up to who have shed their glamour image for tough-action roles?
"Hmmm…locally, there's Anne Curtis. I watched BuyBust and she's really good in it. Internationally, there's Charlize Theron who is amazing in Madmax Fury."
Were you quoted correctly saying that you were done with sexy roles but your Maria character still looks sexy? So how is it?
"I didn't say that I was done with sexy roles and I prefer to do some more serious acting jobs. Maybe my Maria character just looks sexy…or is it just how I carry myself? I'm not sure of that. I know that I am sexy without trying to be sexy, hahaha!!!"
So you are not completely changing your image?
"I landed this project and it's what I'd been wanting to, but I can't really say that I'm changing my image. I really just want to do something new, something different, something more than drama or comedy." (In her next Viva movie, Untrue, Cristine goes back to doing drama with Xian Lim as leading man. The movie was filmed partly in Georgia, Russia. —RFL)
Is taking risks some kind of therapy for some personal issues?
"I have always been a risk-taker all my life. It's funny what some people think sometimes." (Cristine is mum on rumors surrounding her marriage to Ali Khatibi. ­— RFL)
How do you think Ali and your daughter Amarah will react when they see Maria?
"Amarah saw the trailer and she told me that she wanted to act as well. She watched the movie Alita and she fell in love with Alita. I explained to her that Mommy is like Alita doing an action movie."
(Opening nationwide next Wednesday, March 27, Maria also stars Ivan Padilla, KC Montero, Guji Lorenzana, Jennifer Lee, Andrea del Rosario, Cindy Miranda, Freddie Webb and Ronnie Lazaro.)
(E-mail reactions at rickylophilstar@gmail.com. For more updates, photos and videos, visit www.philstar.com/funfare or follow me on Instagram @therealrickylo.)