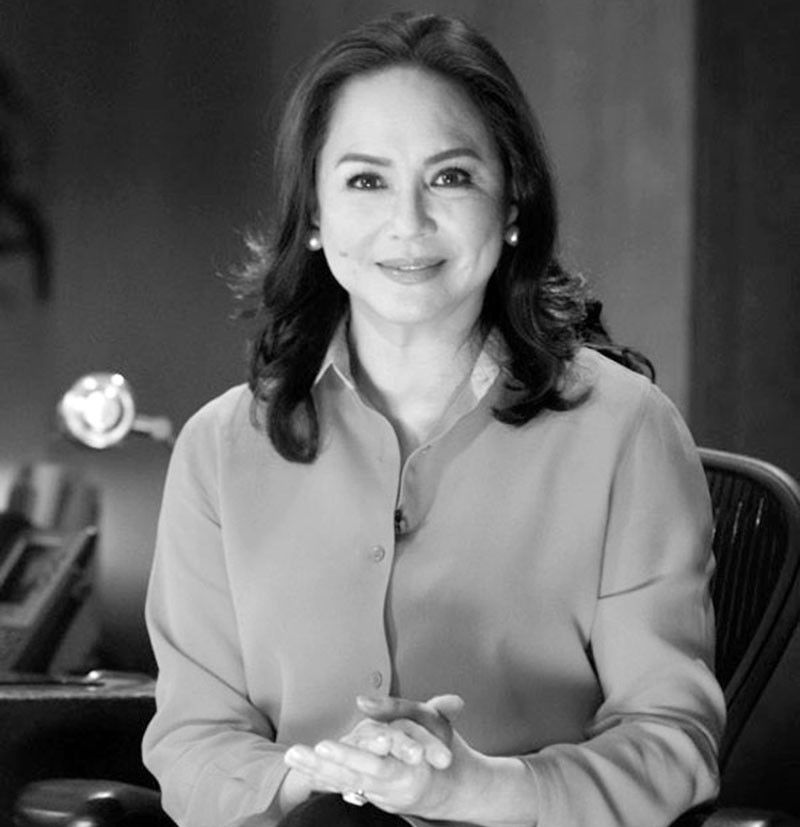 'What else do I want to prove? I have been very lucky in my life. I have done more in my lifetime that many people can only dream of. And for that, I am very lucky and contented.You know me, too, ma-kwento. At mahilig akong makinig ng kwento. I just want to tell more stories and enjoy every moment, every experience, every opportunity.'
Charo Santos, ang babaeng hindi humayo
CONVERSATIONS
-
Ricky Lo
(The Philippine Star) - March 17, 2019 - 12:00am
Unlike most people who quietly rest on their laurels upon retirement, Charo Santos-Concio believes that it's actually the best time to live a fuller life.
Fresh from Mindoro, the bedimpled charmer "promdi" (from the province) reigned as a beauty queen (Baron Travel Girl and Miss Green Revolution) before she was discovered by Mike de Leon for Itim for which her performance as a girl haunted by dead spirits won her Asia's Best Actress.
That was more than four decades. Charo was 20 at that time, so relatively "naïve." It didn't take long for her to metamorphose into a well-rounded actress (honed by the likes of [aside from Mike] Lino Brocka, Maryo delos Reyes and Laurice Guillen) and a tough-as-nut producer, on the side hosting the longest-running/top-rating drama anthology Maalaala Mo Kaya (MMK).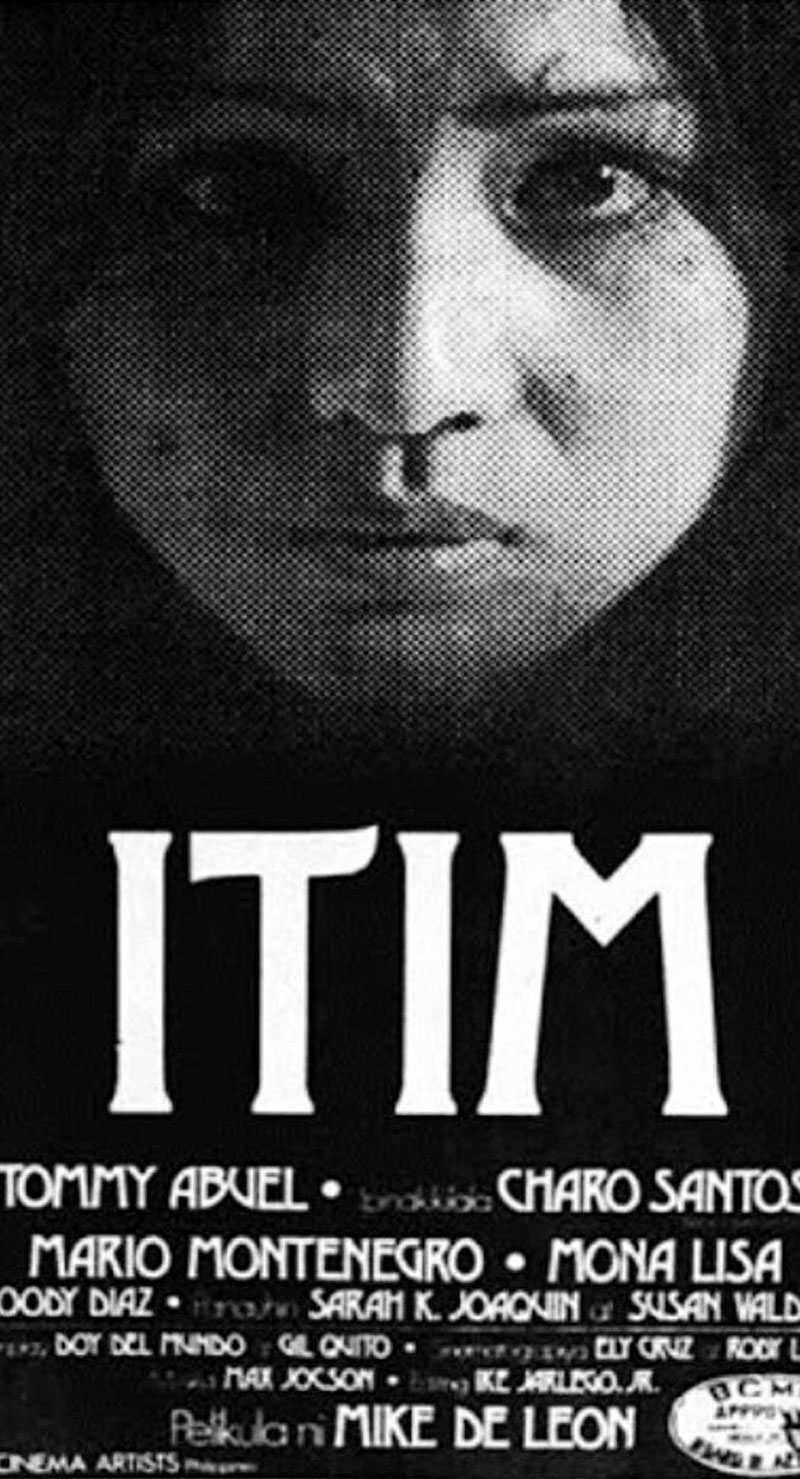 On her colorful journey from Itim (1976)
Charo has just wrapped Eerie, a film directed by Mikhail Red that is a shade darker than Itim. It's her second post-retirement assignment after Ang Babaeng Humayo, directed by Lav Diaz who pocketed a Golden Lion plum at the 2016 Venice International Film Festival (VIFF).
Set in 1999 Manila, Eerie unravels the mystery behind the deaths of students in a conservative all-girls school in a remote area before the age of mobile phone. Charo plays Sor Alice suspected by the guidance counselor (Bea Alonzo) of being the culprit. A co-production between ABS-CBN and Cre8 Productions (a Singapore-based media outfit), the movie premiered at the 2018 Singapore International Film Festival (SIFF) and will be shown in other Asian countries (Malaysia, Brunei, Vietnam, Cambodia and Myanmar) after its release in the Philippines starting next Wednesday, March 27.
After Lav Diaz's Ang Babaeng Humayo, why did you choose to do Eerie with Mikhail Red?
"I think I am at the point in my life where I want to do projects that interest me. Something different. Something challenging. I felt that way when Lav approached me with Ang Babaeng Humayo. And then when Eerie was offered to me, right then and there, my heart skipped. Lukso ng dugo sa material. I knew right away that I wanted Eerie as my next project."
What did you find interesting about Eerie?
"Story has always been the main attraction for me when I was an actress, and even when I eventually became a producer. And as a subject matter, the clash of faith and science is always challenging. The struggle of the characters, my character in particular, is the meat that actors and actresses relish. I have also played a nun before... well, a fake nun... in Kakabakaba Ka Ba? (also directed by Mike de Leon) but this is a completely different role. Yung dati, comedy; 'yung ngayon naman...eerie talaga."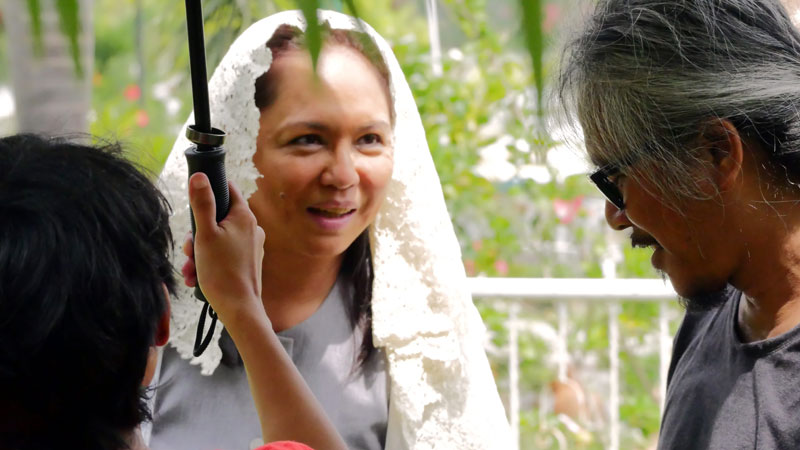 Ang Babaeng Humayo (2016, below with director Lav Diaz)
At this stage of your life, shouldn't you be enjoying the luxury of retirement and starting to rest on your laurels?
"What makes you think I am not enjoying? Hahaha! One of the advantages of retirement is you can now explore avenues that you missed on because of the daily grind. You can do all the stuff that's on your wish list or bucket list, or come back to the activities you are passionate about. It doesn't mean that when you retire from work, you also retire from life. I would like to think that retiring from work allows you to live a fuller life."
What else do you want to prove?
"Nothing, really. I have been very lucky in my life. I have done more in my lifetime that many people can only dream of. And for that, I am very lucky and contented. You know me, too, ma-kwento ako. At mahilig din akong makinig ng kwento. I just want to tell more stories and enjoy every moment, every experience, every opportunity."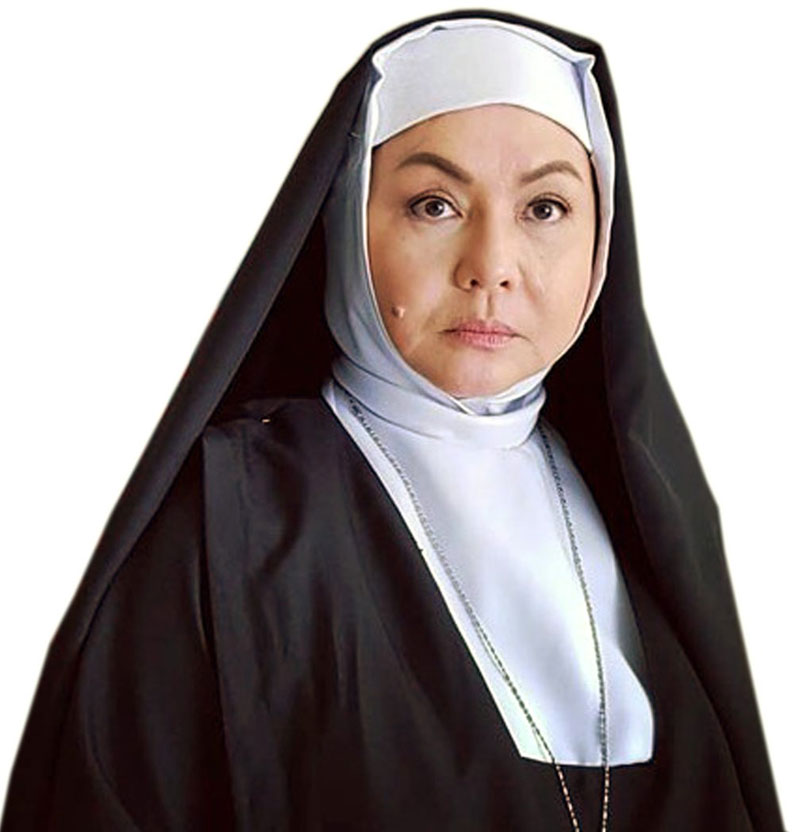 Eerie (2019, above, as Sor Alice)
Describe your journey from Itim to Eerie.
"Full circle of unexpected journey."
What's your criteria now in choosing what project to do?
"I always go back to the story. Anong gustong sabihin? Is it interesting? Is it something I want to tell? And as an actress, what character do I get to play? How do I challenge myself? What new thing can I bring to the role to make it my own?"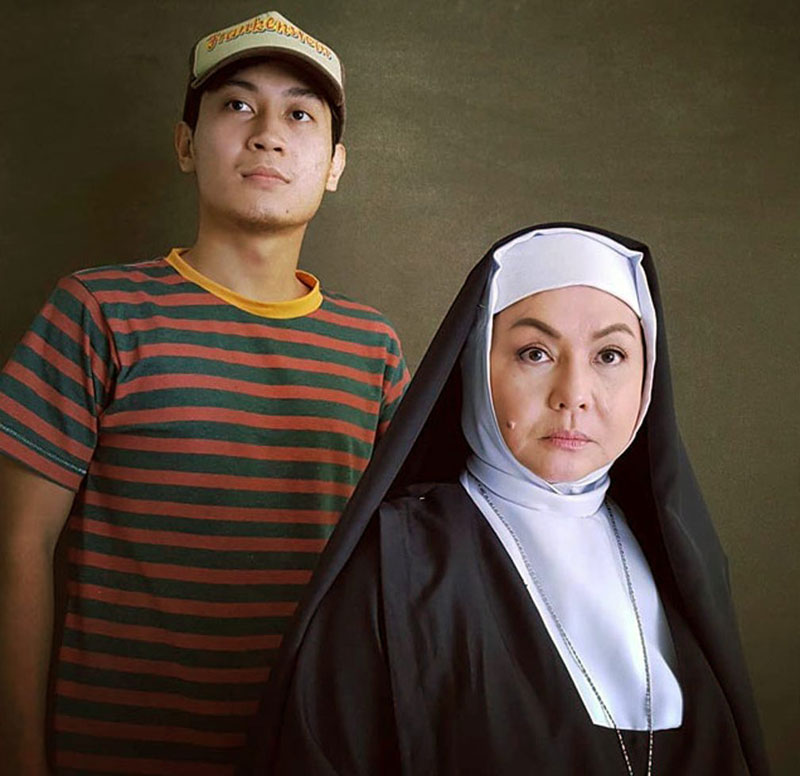 Among the films you've done, what would you consider the one that comes closest to depicting the essential Charo Santos?
"Can't single out just one. There are shades of me in the many characters I've portrayed."
If your colorful/multi-checkered life story were to be dramatized on MMK, how many episodes would it require and how many leading men would/should you have?
"All of us have one life story to tell. I don't see mine any different from anyone."
Mikhail Red on Mikhail Red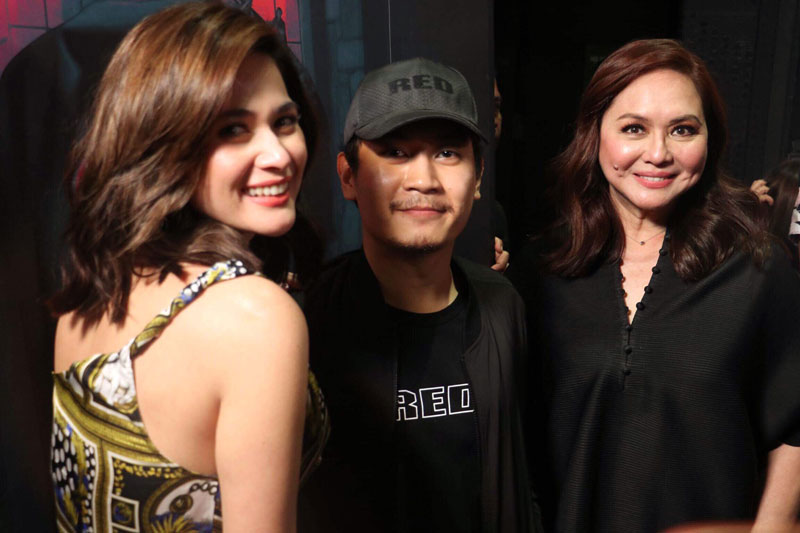 Red with Charo and Bea Alonzo: Afterlife serves as a breeding pool for the acceptance of the supernatural
Who else can better talk candidly about Mikhail Red than Mikhail Red himself?
"As a filmmaker and storyteller, I grew up in Manila, the capital of a predominantly Catholic country. I personally studied in a Catholic exclusive all-boys school for eight formative years. The school setting is fascinating, serving as a parallel world of adult society that comes after it. In our school, faith and prayer are woven in with the curriculum which served as a foundation for our morals and principles. The belief in the afterlife served as a breeding pool for the acceptance of the supernatural.
"Substantial help for students going through the trials of adolescence remains elusive. I believe with the film, I am able to smuggle in these critical issues and layer it through the horror genre narrative. The perfect integration makes it easier to be digested by the targeted youth and a much wider audience. In the end, Eerie is a story of people caught between the haunting of the supernatural and the natural frailties of the world."
At 21, Mikhail wrote and directed his first feature film, Rekorder, which had its international premiere at the Tokyo International Film Festival (TIFF). His sophomore feature film, Birdshot, won the top prize of the Asian Future section of the 2016 TIFF and became the official selection of the Philippines to the 2018 Academy Awards. Birdshot was later acquired by Netflix, becoming the first Filipino film to stream locally and internationally. In 2017, Mikhail's Neomanila premiered at the 47th Rotterdam International Film Festival (RIFF).
(E-mail reactions at rickylophilstar@gmail.com. For more updates, photos and videos, visit www.philstar.com/funfare or follow me on Instagram @therealrickylo.)