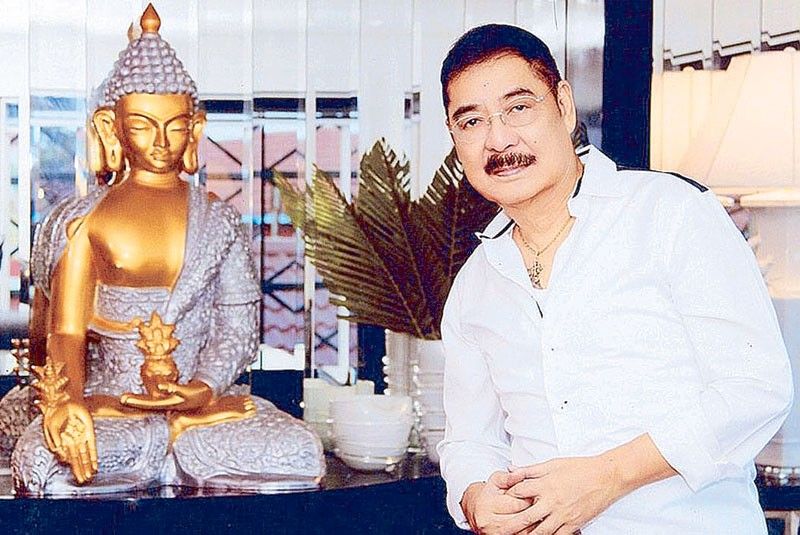 Famous restaurateur Rod Ongpauco
TasteAtlas gives Rod's Crispy Pata '5 stars' among world's Top 100 dishes
FUNFARE
-
Ricky Lo
(The Philippine Star) - March 16, 2019 - 12:00am
Two years ago, as opening paragraph for an interview with famous restaurateur Rod Ongpauco (a.k.a. Rod Evans in his showbiz years), Funfare asked this question: When you take a saliva-inducing piece of Crispy Pata con todo gusto, have you ever thought who invented that gustatory wonder that competes with lechon as centerpiece of every family feast?
That same question came to mind as Funfare got the good news that Crispy Pata has been rated "5 Stars" by TasteAtlas, and included it among the "Top 100 Dishes" around the world. The two other Filipino dishes that made it to the honor roll are Lechon ("inventor" not known) and Kare-Kare (same). Crispy Pata is so inviting that, as I write this, we at the Entertainment section are having dinner with "it" as main dish. Burp, burp, burp!!!
So how did Rod invent Crispy Pata?
The story published in this corner back then deserves a re-telling.
"It was a blessing in disguise," related Rod. "I quit showbiz and went back to school (in college, he took up Commerce in Ateneo and San Sebastian College) and it was at that time that my passion for food was re-ignited."
Would you believe that Rod invented Crispy Pata with a budget of P12? He was 15 then.

his widely-popular best-seller Crispy Pata
"The taxi I was taking to school lost its way and wandered into the La Loma area where I saw a row of lechons displayed by the store. I bought a piece of pata (leg) and bought it to school, nicely wrapped. When I got home, I started experimenting with it, frying it in different ways."
That was how Crispy Pata was born.
The Ongpaucos had put up a small restaurant which they called Barrio Fiesta in front of the family compound in Caloocan City, a stone's throw from the Premiere Productions studio where the likes of Fernando Poe Jr., Eddie Mesa and Zaldy Zshornack started their careers.
"At first," continued Rod (the uncle of Heart Evangelista whose father is Rod's younger brother; Rod's family had its own movie outfit, Everlasting Pictures, that produced most of Rod's starrers), "I treated my friends to my Crispy Pata, libre pakain, until my mom objected kasi nalulugi daw ang negosyo. And then customers began coming, asking for Crispy Pata. So, with a capital of P9,000, I put up my own Barrio Fiesta restaurant along West Avenue in Quezon City."
Since then, from a few dozens, Rod now produces hundreds of Crispy Pata distributed among the various Ongpauco-run restaurants kicked off by the original Barrio Fiesta.
Rod is the president and general manager of Fresh Catch Isdaan Corporation; owner and proprietor of Fresh Catch Isdaan Resto-Fun Park (in Calauan, Laguna; Gerona, Tarlac; and in Talavera, Nueva Ecija), the first massive Filipino restaurant theme park with a Thai/Malaysian-inspired design; and owner of Bakahan at Manukan Restaurant, The Singing Cooks & Waiters Atbp. (on Roxas Boulevard, Pasay City).
Asked then what his motto in life is, Rod said, "Never copy, be original, always innovate."
Meanwhile, excuse me as we finish off the Crispy Pata on our office dining table.
Ray-An here for Kuh's B-day show and to spread the word of God
It always feels good to welcome back Ray-An Fuentes from Vancouver where his wife, Sylvia "Mei-Ling" Gozun-Fuentes, and their three grown-up children have been living a laidback life for 21 years now.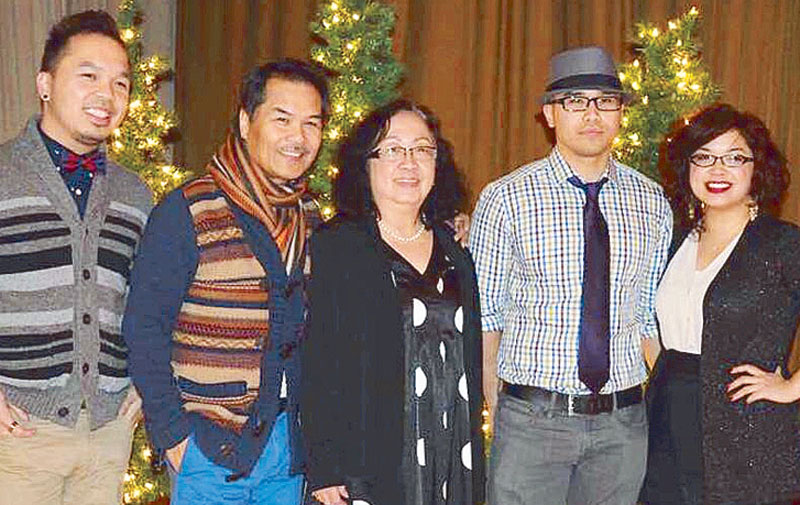 Ray-An Fuentes and his wife Sylvia 'Mei-Ling' Gozun-Fuentes during the STAR interview and (above) with their children (from left) Julio, Miguel and Daniella at their Vancouver home
Ray-An and Mei-Ling came home purposely for Ray-An to perform at Kuh Ledesma's 64th birthday concert The Promise tonight at the Mall Of Asia (MOA) Arena, together with other guests Sarah Geronimo, Daniel Padilla, Toni Gonzaga, Erik Santos, Christian Bautista, Alex Gonzaga, Gina Alajar, Maricel Laxa, Timmy Pavino, Eddie Mesa, the Perkins Twins and Kuh's daughter Isabelle Gonzales. It was Kuh who gifted Ray-An and Mei-Ling round-trip tickets.
Ray-An will do a duet of Bridge Over Troubled Water with Kuh and a mash-up of For Once In My Life and Just In Time. Before they fly back to Vancouver, Ray-An will speak in several Born-Again Christian groups.
Over lunch the other day at Mesa restaurant (Tomas Morato Avenue, Quezon City), Ray-An and Mei-Ling (they met and matched as members of the Minstrels band) feasted on Filipino food which they miss in Vancouver where, according to them, most restaurants serve turo-turo food.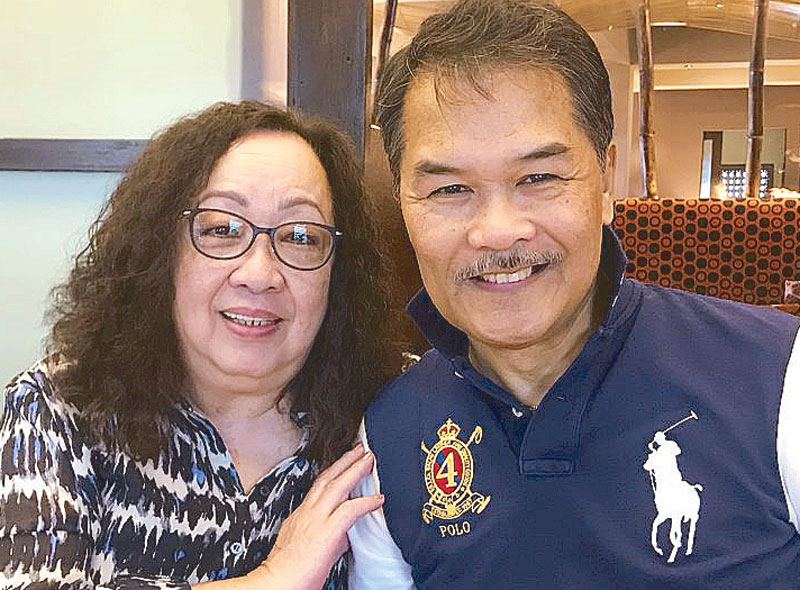 Ion Perez in a photo from Cosmopolitan magazine's special issue on the '69 hot bachelors' and (below) with Vice Ganda in a photo circulating on social media.
"I'm a full-time minister in Vancouver," said Ray-An who has been at it for 31 years starting in the mid-'80s when he answered what he described as "the call of God" that made him quit showbiz, never mind if singing was the only job he knew and his only source of living. "I followed the call and since then, the Lord has been taking care of me and my family and has been providing for us."
The couple's three children are: Miguel, 39, who works at a cable company; Julio, 34, a choreographer who performs in musicals (he's in Matilda); and Daniella, 32, a worship leader.
Recalling that fateful day in 1987, Ray-An said that he was reading verses in The Bible and God "talked" to him. Imagine how surprised he was when barely 30 minutes later, he heard a knock on the door and found a mailman with a letter for him from a stranger in Davao.
"I wondered how the letter sender knew our address because I didn't even have an idea who she was. But what was in her letter confirmed what I was reading in the Book of Ruth in The Bible."
In Vancouver, Mei-Ling is a full-time housewife ("Jobless," she said half in jest) while Ray-An doesn't hold a regular job which means that he has no regular income.
"We are semi-social and we are subsidized by the government," explained Ray-An. "Our health care is free. If anything happens to us, hindi kami masyadong gagastos."
Said Mei-Ling, "We love life in Vancouver. The people are polite and the air is clean. It's the ideal place to raise a family."
Last March 12, Ray-An and Mei-Ling marked their 40th wedding anniversary.
"I'm happy with the woman I married," said Ray-An. "If the Lord didn't touch my life, wasak na siguro ang buhay ko at ang pamilya ko."
Meet Vice Ganda's new 'love'
Being circulated on social media is a photo of Vice Ganda in a tearful embrace with Ion Perez, the "Kuya Escort" in It's Showtime. The photo was reportedly taken during a shoot for VG's show Gandang Gabi Vice (might be aired tomorrow night) where Ion confirmed that, ehem, he and VG are "lovers." Anti-climactic, actually, because haven't they been titillating the public by being "lovey-dovey" on the show?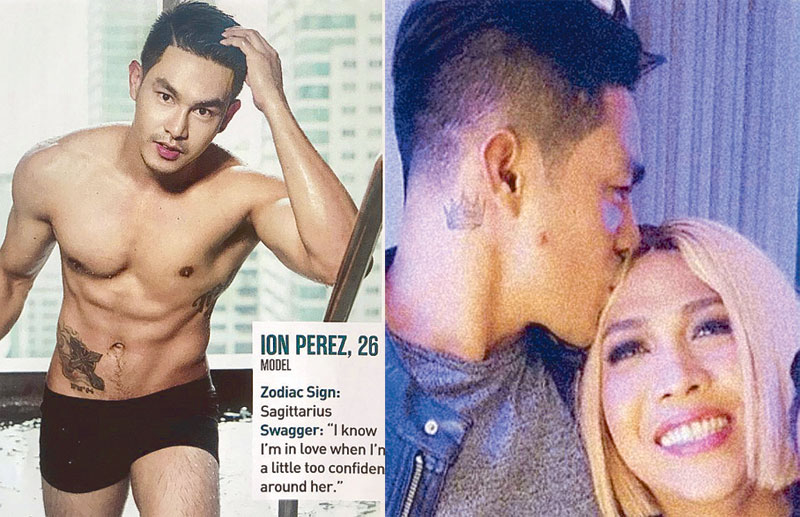 Somebody in VG's circle told Funfare that Ion, one-time Mister Tourism (?) Philippines stripped of the title due to "unprofessionalism," has a child with a (former?) girlfriend. A native of Pampanga, as a teenager Ion was cared for by a benefactor (a dentist) — "So being with somebody like Vice Ganda is not new to him," said the DPA who furnished Funfare a photo of Ion from a Cosmopolitan magazine's special issue on "the 69 hot bachelors of 2017."
Is Ion a "rebound reliever" after a basketball player denied VG's public insinuation that they were "that way?" Or is it a gimmick against the rival Kapuso show TBATS (The Bobay And Tekla Show) which is reportedly eating into the rating of VG's show?
Commented a keen showbiz-observer, "Use me in a sentence," with the word "use" in bold italics.
If you don't know what that newly-coined showbiz phrase means, kindly ask the friendly movie reporter next to you.
(E-mail reactions at rickylophilstar@gmail.com. For more updates, photos and videos, visit www.philstar.com/funfare or follow me on Instagram @therealrickylo.)