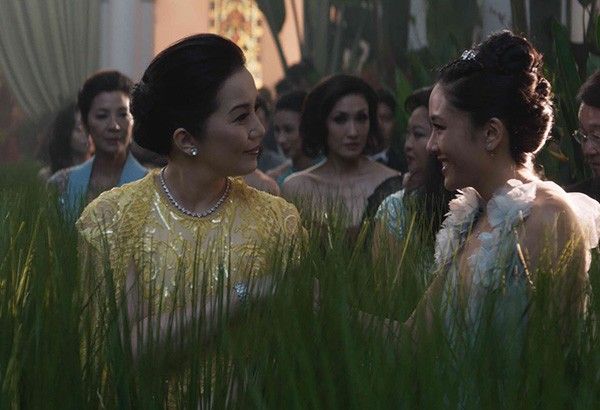 Kris Aquino as Princess Intan meets Rachel Chu (Constance Wu) at the CHIJMES, location of the famed wedding scene in "Crazy Rich Asians"
Warner Bros. Pictures/Released
WATCH: Kris Aquino shares 'Crazy Rich Asians' audition video
MANILA, Philippines — Almost a year since the premiere of "Crazy Rich Asians," actress and multimedia personality Kris Aquino has shared her full audition video for the all-Asian Hollywood blockbuster.
On Wednesday, Kris showed the video in her social media accounts.
"On purpose, we held back on releasing the actual AUDITION material that was sent to the Hollywood casters of Crazy Rich Asians," Kris said.
"So why now? because the time is right. i am okay in fact, comfortable sharing with you a special moment in my life. there was a quote from Pinterest i tried to adhere to 'The best moments of my life don't make it to social media'."
In the post, she opened up about being bashed for her role, Princess Intan, in the movie.
"For the longest time every moment i was attacked about my Crazy Rich Asians participation, this was MINE to look back on."
Despite the criticisms, she said what is important for her is that the movie's producers think she was good enough for the role.
"I was good enough for Warner Brothers and Producer Nina Jacobson (i loved The Hunger Games book trilogy that became a 4-part blockbuster franchise) to greenlight Jon Chu and Kevin Kwan's wild, perhaps crazy idea to write in the role of Princess Intan for Rachel's 'moment'- the lead star's REALIZATION of her self-worth, because she was an intelligent, accomplished, beautiful NYU professor- for that scene everything i believe in as a woman- was affirmed."
Since she embodies an empowered woman in the film, she said her sharing of the video is also a salute to empowered women, which comes in time for International Women's Month.
"We become who we are NOT because of our last names, BUT because of how much we strive to learn, be decent human beings, and in real life we prove ourselves by our integrity and hard work... with no disrespect at all to my father, i have learned to put the interests of my sons over my own- because a strong woman raised me, and that strength came from LOVE. we saw the many facets of motherhood in Crazy Rich Asians through the characters of astrid, eleanor, and kerry."
The post also came amid Kris' current controversy with former business partner Nicko Falcis, who she accused of using a company credit card for personal use.