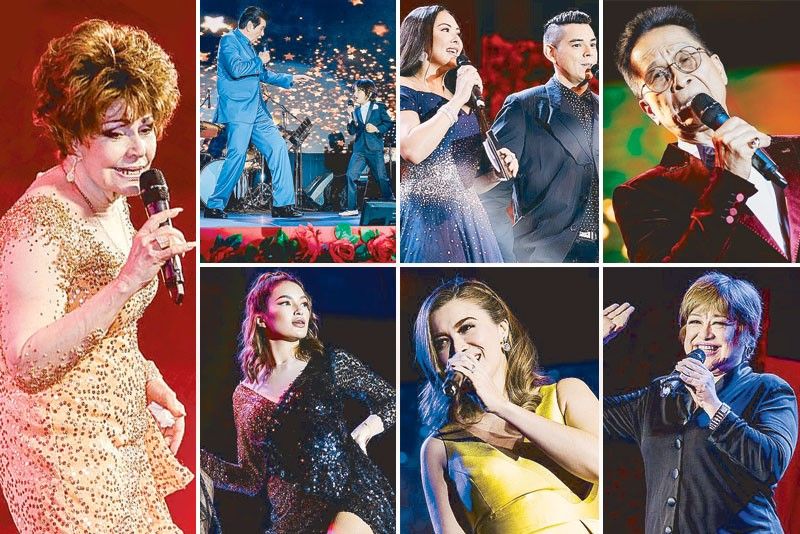 Pilita Corrales is her famous style(left)...Clockwise from upper-left: Eddie Gutierrez in his Elvis Presley act with grandson Zion…Ruffa Gutierrez and brother Raymond hosted the 'Extravaganza'…Presidential Legal Counsel Sal Panelo in a tearful performance…Mitch Valdes in a comic relief...Sunshine Cruz and Sarah Lahbati.
A Valentine show to remember
MANILA, Philippines — The past girlfriend and the present wife can exist harmoniously. Though not under one roof, they can even work together professionally. The former as singer-talent and the latter as concert producer.
That has been proven by Asia's Queen of Songs Pilita Corrales and feisty talent manager/concert producer Annabelle Rama, who previously worked together playing their respective roles.
As most everyone knows, Pilita has a son, Ramon Christopher, with Eddie Gutierrez. The latter is married to Annabelle Rama for nearly 45 years now. They have six children. Yet, the two ladies have remained civil and, in fact, good friends for a long time now.
Last Feb. 12, Pilita and Annabelle worked together anew in Valentine Extravaganza, a successful and well-received pre-Valentine dinner concert at the Marriott Grand Ballroom.
"Dati, kapag Valentine's, si Eddie nasa akin," Pilita teased onstage. "Pero matagal na 'yun. Ngayon, siyempre kay Annabelle na siya!"
The OPM (Original Pilipino Music) legend regaled the audience with her distinct voice and iconic performance style, starting with a medley of popular Tagalog ballads. She even carried out the Visayan folk song, Pobreng Alindahaw.
Then she went on to sing the popular English standard, If I Never Sing Another Song and closed her stint with her signature A Million Thanks To You.
The "timeless" Eddie Mesa entertained the sold-out crowd with (I Love You) More Today Than Yesterday, then raised his collar to sing Elvis Presley signature hits – Hound Dog and Love Me – and closed with Besame Mucho.
Another "Elvis" in the house, Eddie Gutierrez, earlier also did Elvis songs, Teddy Bear and Blue Suede Shoes, rendered with his five-year-old grandson, Zion, the eldest son of Richard and wife, Sarah Lahbati.
The kid clearly had no stage fright, as he mounted the stage and enjoyed the number, gamely singing and dancing with his lolo. This early, it can be said that Zion is to showbiz born. The boy has showbiz in his genes, so it will not be surprising if Zion embarks on an entertainment career when he grows older.
Meanwhile, Raymond Gutierrez remarked after that number, "Elvis will never really go out of style." Slick in his Yohji Yamamoto suit, Raymond hosted Valentine Extravaganza with his sister, Ruffa, who was radiant in her Rajo Laurel gown. The siblings were joined by Tim Yap.
Mitoy Yonting delighted the audience with his high-octave voice and churned out powerful ballads. Mitch Valdes did not perform with the live band, but entertained with Try A Little Tenderness and other familiar tunes.
"I will not be konsehala looking for Cardo tonight," joked Mitch, apparently referring to her TV role in ABS-CBN's top-rating primetime soap, Probinsiyano, with Coco Martin as Cardo.
Sunshine Cruz proved that aside from acting, she carries that distinct Cruz family vocal legacy as she carried out Love (Was Made for Me and You), The Nearness of You and Sway.
Lawyer Sal Panelo displayed his different side as he belted out Sana'y Wala ng Wakas, Kahit Isang Saglit and A Very Special Love.
Sarah Lahbati sizzled onstage in her dance number with the G Force, as Richard videotaped the act. "Who would have thought that she just gave birth a few months back?," commented Raymond.
Musical director for Valentine Extravaganza was Gerry Matias, with Alco Guerrero as stage director. LA Santos from Cornerstore Music did the front act for the concert.
Tickets had been successfully sold-out two weeks before the show. A "Gold" table fetched for a whopping P200,000, that covered dinner-tickets for ten persons at P20,000 a piece.
The well-heeled celebrity guests from two to eighty two included former President Gloria Macapagal-Arroyo, sisters Roselle and Meme Monteverde, Cherie Gil, Ramon Christopher and Tonton Gutierrez, Regine Tolentino who arrived with a date, Aiza Seguerra, beauty queen Ariella Arida, Eddie Villanueva and Becky Garcia.
Taking time off from his work as Presidential Legal Counsel in Malacanang, Sal gamely crooned A Very Precious Love, with a live band led by Gerry Matias. Then, Sal segued to popular OPM ballads – Sana'y Wala ng Wakas and Kahit Isang Saglit.
However, the mood changed a bit when Sal, known to be a tough lawyer, belted out You Are the Love of My Life, a song he originally composed for the wedding of his son, Salvador Jr. seven years ago.
That night, Sal was in tears when he dedicated the song, instead, to his youngest son, Carlo, who passed away two years ago. The boy was special to him and to the whole family as the latter had Down Syndrome and a congested heart.
Carlo died in January 2017. He was only 27.
(Note: According to Annabelle, her next dinner-concert will be on June 22 also at the Grand Ballroom of Marriot. The stars will be revealed next month.)