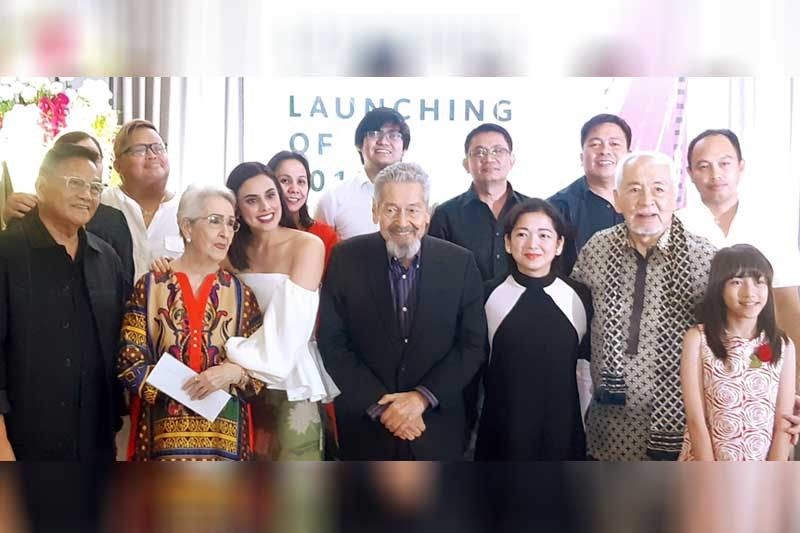 Rainbow's Sunset will compete in international fests such as the CinemAsia Film Festival in Amsterdam and the 52nd Annual WorldFest in Houston, Texas. Director Joel Lamangan (leftmost) with stars Gloria Romero, Max Collins, Eddie Garcia and Tony Mabesa with producer Harlene Bautista.
MMFF sets deadlines for its milestone 45th year
MANILA, Philippines — The Metro Manila Film Festival (MMFF) is preparing for a "double celebration" this 2019 with the commemoration of its 45th anniversary, which coincides with the centenary of Philippine cinema.
At the recent appreciation night held at Sampaguita Gardens, which was attended by executive committee members, board of jurors and winners of the filmfest's 2018 edition, Metro Manila Development Authority (MMDA) chair Danilo Lim said that 2018 became the highest-grossing year for the longest-running local filmfest held every December. The earnings were not broken down per movie as in the past, but box-office sales reached a total of P1.06B, beating the previous year's record of P1.05B.
Lim further said, "During last year's filmfest, we did a lot. For the first time, we had a short film category. We had a caravan and brought it to different parts of the Philippines, wherein we conducted filmmaking seminars (for students). The number of shortfilm entries last year was 150 from all over the country. From (that number), we chose 16 short films that we supported with P20,000 each. From the 16, another eight, with P50,000 each, then the winner from Bulacan State University (with a cash prize of P100,000). Our goal was to develop the filmmaking talent of our youth."
He also announced that MMFF is throwing its support behind Aria, a Kapampangan film that failed to make the Magic 8 last December, through a gala screening on March 14 at the Robinsons Starmills in Pampanga and at least three screening days in all malls in Pampanga. The people behind Aria described MMFF's gesture as an unprecedented move to support regional and independent cinema. According to the film's screenplay writer Robby Tantingco, Aria is a joint effort of a group of Kapampangans not attached to a film outfit, with minimal budget to work on and no stars in the cast.
Apart from Aria, Lim said MMFF will also back up the 2018 big winner Rainbow's Sunset as it competes and screens in international fests such as the CinemAsia Film Festival in Amsterdam, The Netherlands in March and the 52nd Annual WorldFest in Houston, Texas.
"We have a lot of plans for 2019 which will be the 45th anniversary and incidentally, the Philippine cinema centennial. It's never too early to start (the preparations), let's make 2019 a better and more meaningful filmfest."
National Artist for Literature Bien Lumbera, who heads the selection committee, also appealed to producers and all those who support Filipino films to top whatever preparations they did for the 2018 MMFF with works that showcase that the Philippine cinema has made so much progress and found its true place in the global film industry.
Apart from giving the cash rewards for the 2018 winners, deadlines for this year's MMFF have been set. MMFF spokesperson Noel Ferrer said that they're announcing it this early so interested parties can better prepare for entries to MMFF's milestone year.
For full-length films, the letter of intent to join the filmfest must be submitted no later than 5 p.m. of April 1. Script submission and other required documents is May 31, 5 p.m. Announcement of the four official script entries is on July 5. Deadline of submission of finished films, among other requirements, is not later than 5 p.m. of Sept. 2 for early birds and Sept. 20 for the regular submission. The four official finished film entries will be announced on Oct. 19.
Meanwhile, the letter of intent to join the student short film category must be sent not later than 5 p.m. of April 30. Deadline for script submission is July 15, still not later than 5 p.m. Announcement of the 16 selected scripts is on July 30.