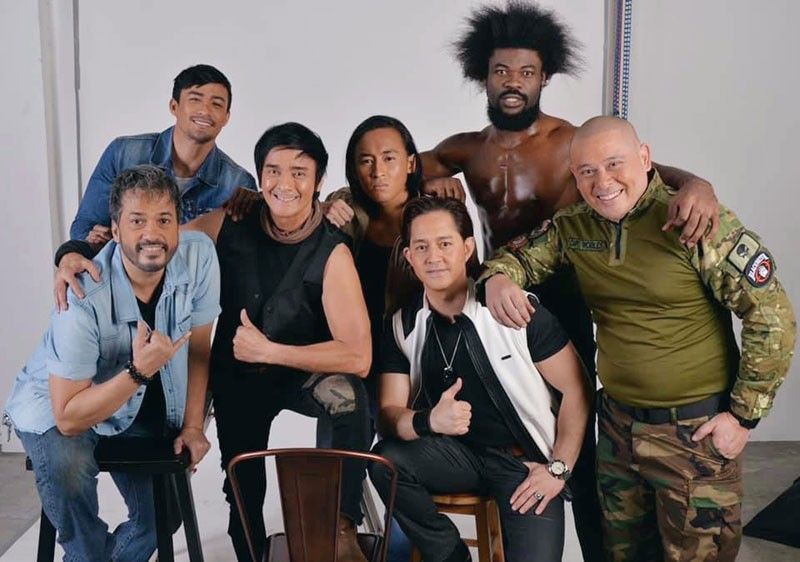 Ronnie Ricketts (third from left) stars in Exit Point, his comeback movie with (from left) Alvin Anson, Neil Perez, Jerico Estregan, Jayson Garcia, Nigerian-Jamaican football-player/model Joachim Idinye and Renzo Cruz…
Ronnie's mission: Reviving interest in action movies
FUNFARE
-
Ricky Lo
(The Philippine Star) - February 19, 2019 - 12:00am
Like most action stars inactive for years, Ronnie Ricketts is pursuing a self-imposed mission of bringing back interest in the genre in which he has made a name.
Aside from starring in Exit Point (previously titled Tuldok. Wakas o Simula?), Ronnie is writing, directing and co-producing it with his wife Mariz for the family-owned Rocketts Productions. Marking Ronnie's comeback after years of absence from showbiz when he served in the government, Exit Point is about 12 interesting characters chosen to be a part of an illegal activity of a correctional facility taken to an isolated dangerous island where they must fight for survival even if it means killing one another in a race for freedom.
"I really hope that Exit Point will help revive interest in action movies," said Ronnie whose last movie, Fighting Chefs (with Boy Logro), was shown in 2013 (in the cast was a newcomer named Nadine Lustre who would later become popular as the loveteam-mate of another newcomer named James Reid). "It took me more than one year to polish the script. We shot the movie in different locations, including in the forest of Subic, Daraitan Falls in Tanay and several others. The movie has a lot more to offer, including an international cast."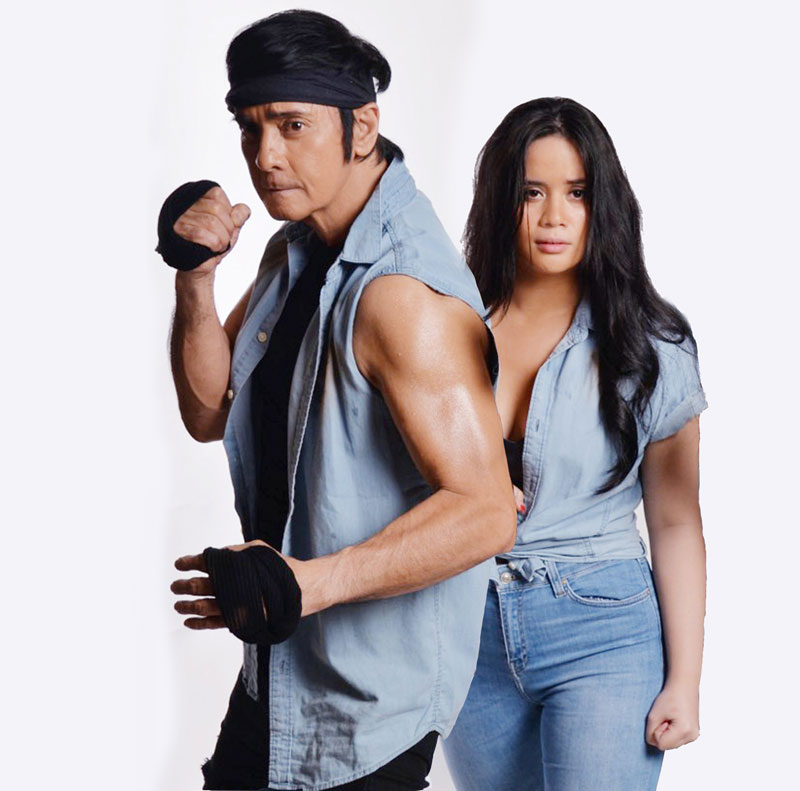 …and Ronnie's daughter Raechelle Ricketts, who is into arnis and boxing, making her movie debut
Cast with Ronnie as the 12 prisoners are Jerico Estregan, Alvin Anson, US-based Edgar Mande (who came home for the shoot), Natalia Moon (an Australian model/DJ), Joachim Idinye (Nigerian-Jamaican footballer/model), Brandon Ricketts (Ronnie's dancer/martial-artist brother), Park Sung- joon (Korean golfer), Rey Bejar, Ronnie's L.A.-based friends and fellow fitness enthusiasts Bill Toledo and Jayson Garcia, and Ronnie's daughter Raechelle Ricketts.
If Raechelle and her sister Marella are athletic, it's because they have taken after Dad Ronnie who, with Mariz, considers martial arts as the family's means of bonding. Raechelle is into arnis and boxing (and plays volleyball, too) and Marella is into Muay Thai and kick-boxing). It's all in the family.
"Leading a clean and healthy lifestyle is first and foremost in our family," said Ronnie in a previous Funfare story. "My daily routine includes running, practicing martial arts, biking, weight-lifting and playing basketball."
Also in the cast of Exit Point are Jackielou Blanco (as the corrupt prison directress), Mandy Ochoa (as the superior general deadset on killing Ronnie's character), Renzo Cruz (as the head of the prison director's cohorts), theater actor Luigi Fernando and SAF/2014 Mister International Neil Perez (as the lieutenant opposed to the prison director's policy).
Exit Point had its premiere Sunday (Feb. 17) night at Ayala Malls South Park Cinema in Alabang, Muntinlupa. Regular run nationwide starts tomorrow, Feb. 20.
Catriona meets Fil-Am community in New York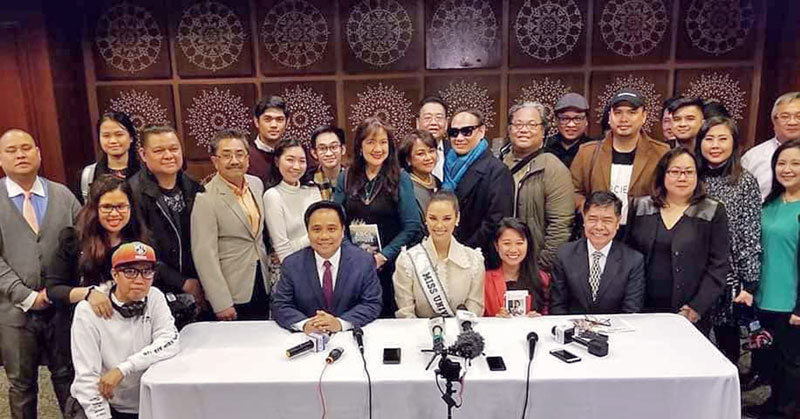 2018 Miss Universe Catriona Gray at the Philippine Center in New York City with the Fil-Am media and Consul General Claro S. Cristobal and Consul Arman Talbo (also shown below)
Miss Universe Catriona Gray received a warm welcome from Consul General Claro S. Cristobal and the Filipino-American community in the US Northeast last Feb. 4 at the Philippine Center.
Her visit started with a call on Consul Gen. Cristobal who praised Catriona for achieving another milestone for the Philippines. He conveyed his good wishes for the success of Catriona's advocacies in providing free education and scholarships for disadvantaged children in Manila, and in the prevention and education of HIV-AIDS.
Catriona recalled the send-off hosted for her by the Philippine Consulate when she participated in the Miss World pageant in 2016 and thanked the consul general for the continuous support.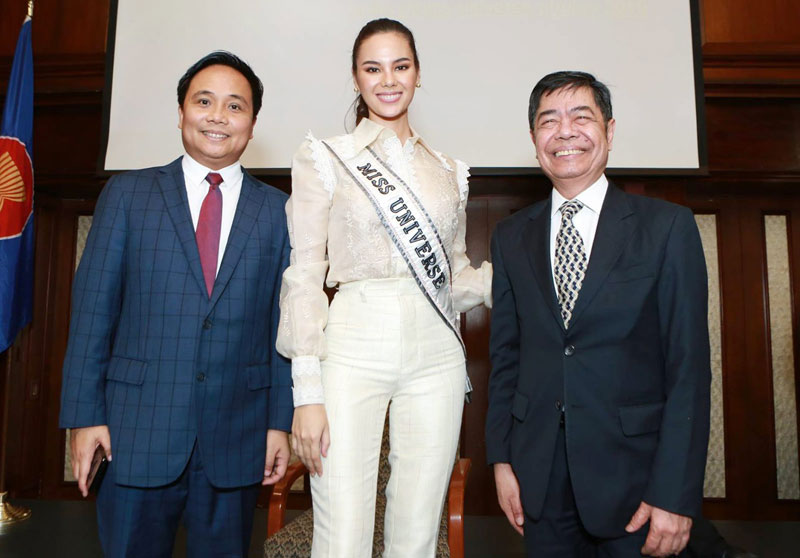 The call was followed by a press conference with the Filipino-American media with whom Catriona had candid exchange of stories about her preparations for becoming Miss Universe, her plans during her reign and her humanitarian and giving back to the community initiatives.
"I want to be remembered as a Miss Universe who really had advocacy at her core," said Catriona.
The meet-and-greet was the first opportunity after her win to address the Fil-Am community. She is arriving in Manila tomorrow (Feb. 20) for her first official visit as Miss Universe. — Felix Manuel
(E-mail reactions at rickylophilstar@gmail.com. For more updates, photos and videos, visit www.philstar.com/funfare or follow me on Instagram @therealrickylo.)