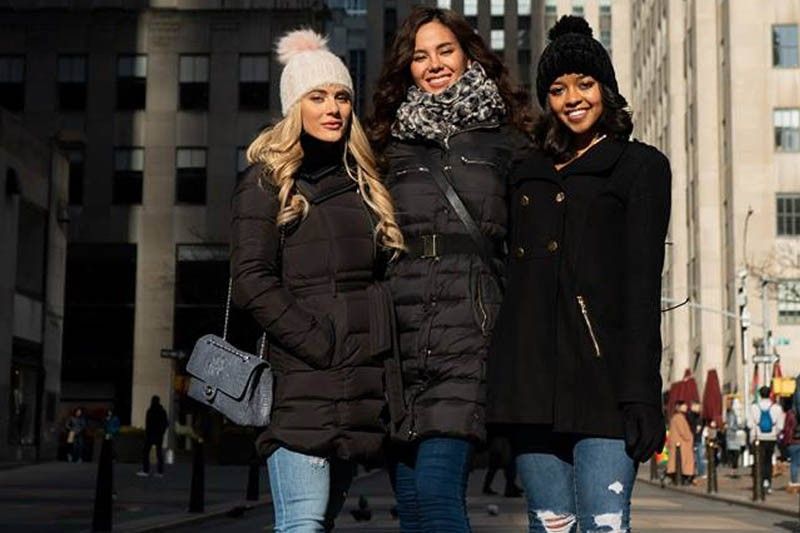 In this January 2019 photo, Miss Universe Catriona Gray, Miss USA Sarah Rose Summers and Miss Teen USA Hailey Colborn are exploring New York City.
Miss Universe Organization/Facebook
'Sisterhood': Catriona Gray explores New York City with new 'housemates'
MANILA, Philippines— Miss Universe Catriona Gray has found new sisters in her new housemates, Miss USA Sarah Rose Summers and Miss Teen USA Hailey Colborn as they spent their first weekend together.
Last Sunday (Manila time), the three beauty queens met for the first time and went on a Facebook live to answer the questions of their supporters and fans.
The girls are also explored New York City by eating out and working out together.
On an Instagram post, Catriona said she is looking forward to exploring New York City more with her "sisters."
Sarah Rose, on the other hand, said her first weekend with her Miss Universe Organization sisters was a "success in her book."
Catriona and Sarah Rose competed against each other in Miss Universe 2018. Sarah Rose, however, only landed at the top 20 spot.
The MUO handles national pageants Miss Universe, Miss USA and Miss Teen USA.
Under the MUO rules, winners of the pageant will relocate to New York City to meet their new Miss Universe family and work toward their goals on a national and global scale.
Catriona arrived in New York City early January. She will reside in the Big Apple throughout her reign.
Here are some photos of the three beauty queens while they were taking on New York City: