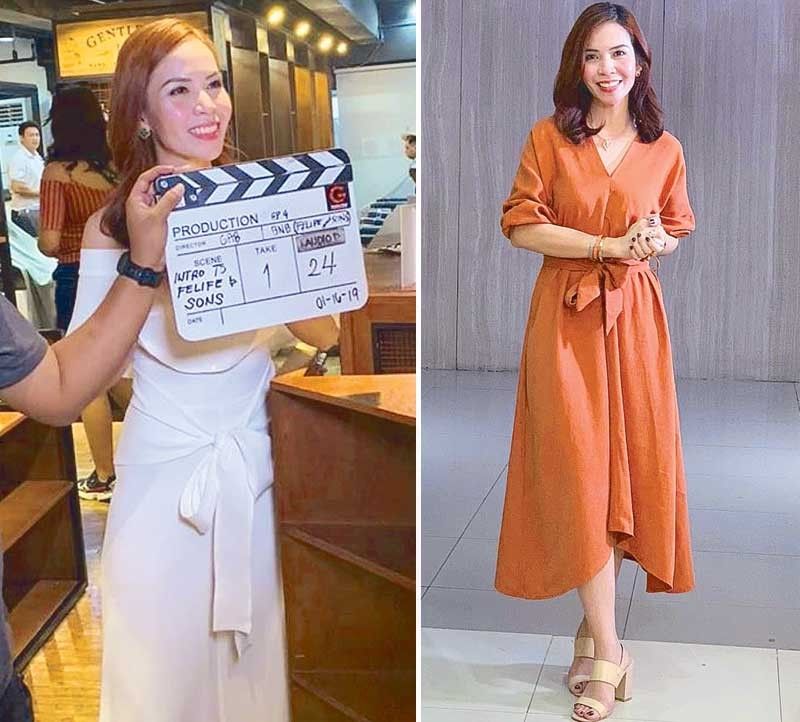 Joby Linsangan-Moreno, beauty entrepreneur and host of the new ANC show Beauty and the Biz, grew a successful business out of a P30,000 capital that came from her personal savings
Inspiring business stories in Beauty and the Biz
Celebrity and millennial entrepreneurs will share their own success secrets in the show
There's a new show on ANC and its title is Beauty and the Biz, to be hosted by Joby Linsangan-Moreno, the proprietor of Orange Blush Salon. It is set to pilot on Jan. 26, 3:30 p.m.
From the title itself, it is a given that the show is all about business. But it's not just about telling the success stories of local entrepreneurs but also mentoring and motivating televiewers in putting up their own beauty and wellness hub.
Beauty and the Biz will also give pieces of advice on running a business and valuable tips from seasoned entrepreneurs. According to Joby, the show aims to showcase Filipino ingenuity and talent when it comes to beauty business.
"It has been a concept we have in mind for quite some time, a show that will focus on the beauty industry, where I am from. ABS-CBN News Channel is a business channel, and we think that its market could relate best to our concept," said Joby on how Beauty and the Biz was conceived. "We're fortunate to have been given this chance to create a show that's for beauty and business enthusiasts, and we are too excited to share to the world what we have been doing. I feel also that this is a once-in-a-lifetime opportunity and that this is God's perfect timing, and so we happily decided to go for it.
"Part of our big decision to launch the show has something to do with my being an entrepreneur in the field of beauty business, particularly in the hair business. We hope that Beauty and the Biz will give a fresh outlook of me being an entrepreneur, and now a host. We know few people who can be moms and entrepreneurs at the same time. We want to show televiewers that it is actually possible, and we want to inspire them that if others can do it, so can all the people planning to venture into business."
Expected to grace the show are owners of some of the country's top beauty companies. Celebrity and millennial entrepreneurs will also be sharing their stories and secrets on how they were able to build a brand and a name for themselves.
Discover and learn more about handling a business from Joby and be inspired to start one.
Do you believe that one can start with a small capital?
"Yes, definitely. I started with P30,000 in 2003 with my own savings, and 15 years later, we have grown nationwide, with our farthest branches in Aklan and Bacolod. It's a matter of planning well and being there for the business, leading your team and being resilient to birthing challenges that any start-up business goes through."
As a seasoned entrepreneur do you think there is a perfect formula to start a small business?
"I think that there is no perfect formula to attain success in any business. It varies in the character of every entrepreneur. Though I think that part of the success formula should be perseverance, passion, focus and faith.
"I think also that putting up a business has its stages, just like seasons in life. From start-up to expansion. And every stage teaches you a lesson. And once you've learned that lesson, it makes you wiser and stronger to meet other challenges ahead."
What are some of the best business success tips given to you and the best business advice you got?
"The best business tip I have ever received came from my dad and my mom when I was just starting out in the business, that I still find relatable up to now. They keep reminding me (yes, until now) not to rush in life; to take time to appreciate every stage in life because I believe that's what living fully is all about. To be living in the present. It may not be a business advice, but I find those words of wisdom precious. So whenever I get to rush in life and in business (like most of us do naturally) and try to do everything at the same time, I always remember to take life slowly and cherish every minute of it."
How do you manage success? Have you experienced failure? If so, how were you able to bounce back?
"Success, for me, is a result of all the small things that you have been doing intently and correctly. May it be in business or in life. I have had many failures in business, in the past. But what matters is that you always try to figure out why you failed and what could be the right solution to the challenge. You try again and again. You learn from your mistakes but you never dwell in the past. Failures are like exercises that keep you in shape mentally and emotionally. So when a failure comes, you are being tested on how you can improve yourself and your thinking. Take it positively, think well, pray for your next step and go on with plan B."
As a boss, are you willing to help your employees start their own business? If so, what steps are you taking to turn it into reality?
"We are always happy with the successes of our co-workers. For a boss, I consider it as one of my greatest successes. We have some who have put up their own salons in their areas, and are doing great. They have also cultivated our mission in our salon, which is, 'To spread love.' We help them by providing them some salon equipment as our gift for their opening day."
What are your top three tips to become successful in business?
"1. To put your hope and trust in God. Know in your heart that you are not alone in putting up your business, that Someone greater is with you and will guide you. Ask Him to lead you. Keep the faith and do your very best.
"2. Work wisely. Working hard but not working wisely may not be a good formula for success. Over the years, I have learned to become productive than being busy. Plan your day, your week, your month. Plan your expenses. Focus. Wake up earlier than usual. Take only calculated risks. Make attainable goals and know how you are going to reach them. Work with a team. Love your team, delegate; that, for me, is working wisely.
"3. Always find the blessing in everything. It will not be a good day always in business, and there will always be challenges. But one thing should be kept in mind; that you should find the blessing in everything. Find the lesson that God wants you to learn. Appreciate what you have, smile and know that God is always in control."
Do you have a motto in life?
"With God, all things are possible (Matthew 19:26). It is posted on our graphic walls in all of our salons. Wouldn't it be nice to remind yourself that the Creator of the Universe makes all things possible? So whenever in doubt or whenever I think of all my many blessings, I always remember that Bible verse."
Why do u think there is such an expression as bad hair days? Do you believe in that?
"Yes, I do believe in bad hair days, because I myself have bad hair days sometimes. Those days when you feel that things are not going your way, no matter how hard you try; and when situations seem not to be in your favor- whether big or small, and there's no one and nothing you can blame but your hair. I guess it's time to go the salon when you feel that way."
What do you look forward to this year?
"This year, 2019 is going to be exciting, as we launch our new show, Beauty and the Biz. We are also looking into opening 10 stores this year, and finally to focus and launch our own line of hair care products especially formulated for salon treated hair.
"We also have the OBS Leave-on Conditioner, a non-greasy hair treatment that you apply on your hair after shower. It keeps treated hair (colored, rebonded, treated with Brazilian Keratin) moisturized, healthy and soft. It contains argan oil that keeps hair shiny; OBS After Conditioner Treatment, it's like you have a professional salon hair treatment right at your own home. You apply it after your conditioner (without rinsing your conditioner) and leave it for a minute then rinse it all off. You can use this thrice a week to maintain hair's luster and shape, and to keep it healthy and intensively moisturized; and OBS Hair Serum Spray, the first sunscreen for the hair with SPF 10. This serum spray can be used twice a day, in the morning and in the afternoon to keep hair soft and moisturized. It protects hair from the sun's damaging rays and from other pollutants. It's water-based, contains Jojoba oil and leaves a sweet, delicate scent on hair. It keeps hair fresh and smooth."