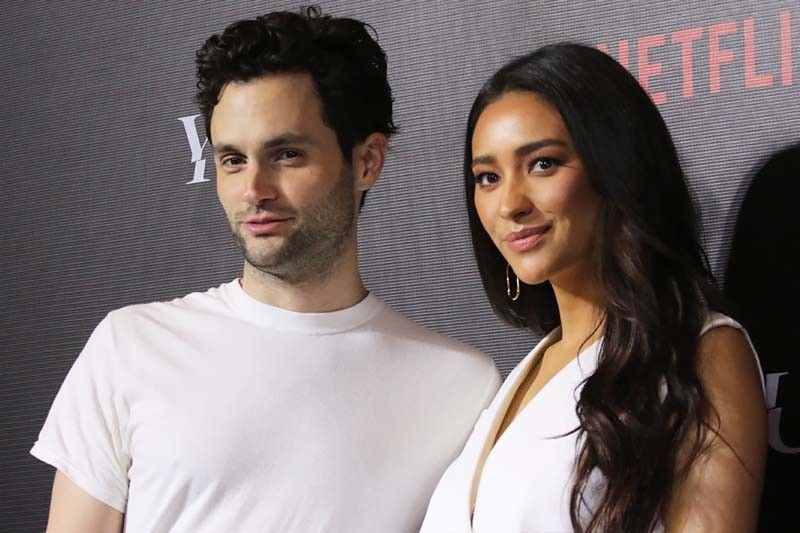 In this Jan. 14, 2019 photo, "You" stars Penn Badgley and Shay Mitchell face the members of the press to promote their series.
Philstar.com/Kat Leandicho
WATCH: 'You' stars Penn Badgley, Shay Mitchell: Use social media responsibly
MANILA, Philippines — Shay Mitchell and Penn Badgley, stars of the hit Netflix original "You," recently advised viewers of their series to use social media responsibly.
In an interview panel last Monday, the actors of "You" acknowledge how their psychological thriller series that revolves around the use of today's technology may affect their viewers.
The two stars discussed the reality being shown on social media and how it can be abused.
Shay, who plays Peach Salinger, noted how some lives shown on social media aren't real. Peach is a controlling queen bee, who is one of the privileged friends of "You's" lead character Beck (Elizabeth Lail).
"The images that you've seen are people's highlight reels. It's not reality," Shay said.
"You know, it's the best of that best moment of that day that's been curated, perfected or filtered a million times. If you can go into it knowing that, then you can use it appropriately," Shay said.
Meanwhile, Shay's co-star, Penn, who plays the lead character of Joe Goldberg also gave wisdom on what the viewers could learn from his character. Joe is a book manager who uses the internet and social media to gather intimate details on Beck and make her fall in love with him.
Penn said his character does a normal thing which is "creeping on people," only, Joe does it "in real life."
"His logic is interesting. Joe reveals the unsettling logic that actually a lot of us are following in the worst way," Penn said.
Despite the possible negative perception from the use of social media, Penn said "there is nothing inherently wrong" with using it as a tool.
Penn added that he admires online users like Shay who uses social media to influence in a good way through having "authentic and fluid" relationship with followers and having "substantive" posts. Shay has over 22.2 million followers on Instagram, over 3.41 million on Twitter and more than 5.7 million on Facebook.
"It really comes true and people appreciate it all the more," Penn said of having a relationship with followers.
The "You" stars also earlier enumerated reasons why the public should not admire Joe's character, citing that it has "problematic" tendencies.
WATCH: 'You' stars Penn Badgley, Shay Mitchell on why viewers should not admire 'Joe'
Comparing the use of technology from their previous shows, "Pretty Little Liars" and "Gossip Girl," Shay said the script of "You" "really uses what's available in social media platforms.
Penn and Shay were in Manila this week to promote "You." They also met with their Filipino fans in Makati last Tuesday evening for a special fan event.