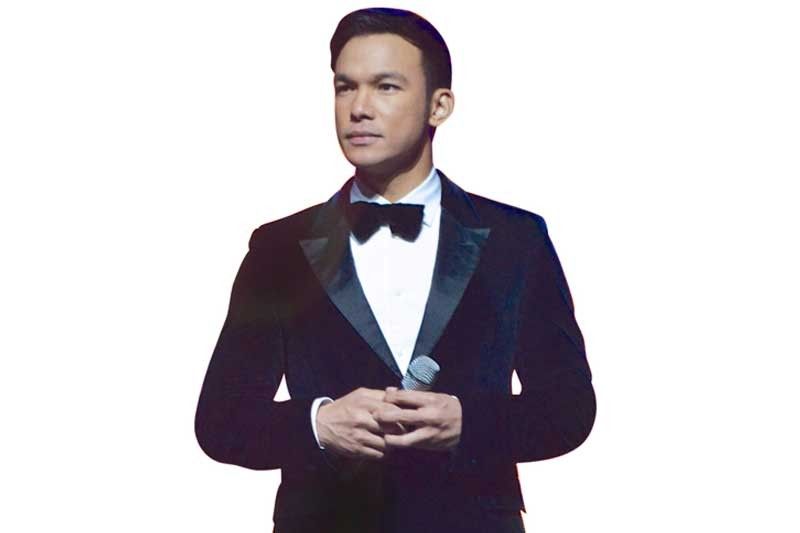 Mark Bautista's show on March 1 celebrates his 16th year in show business and treats the audience to a look at his continuing journey as an actor and singing star.
Photo by VER PAULINO
Interesting 'chapters' of Mark's life
Mark Bautista has decided to title his upcoming concert Chapters. Chapters as in divisions in a book. The show at the New Frontier Theater on March 1 also celebrates his 16th year in show business. So I guess that with a title like that, Mark will treat his audience to a look at his continuing journey as an actor and singing star.
Chapter One. 2002, Mark Bautista, architectural student from Cagayan de Oro, is forced to stop schooling after his father is taken ill. He turns to singing and auditions in Star For A Night on IBC-13, the first talent contest in the country after a long time. The tale of how he got into the finals is now part of showbiz legend. Unable to foot the cost of fare to Manila, his mother gets him a berth on a cargo boat.
So, after a few days of joining the crew for meals when possible or living off the canned goods he brought on board to save his pocket money, Mark docks in Manila and makes it to the Star For A Night finals. After a memorable performance of Basil Valdez's Ngayon At Kailanman, he is named runner-up to grand prize winner Sarah Geronimo.
That was the kickstarter. His career in show business had officially begun.
Chapter Two, 2003 to 2012. Life as a singing champion. The Viva contract that came with his winning in Star for a Night sends Mark into a tailspin. With a major entertainment company behind him, he is soon busy with recordings, concerts, tours, TV shows, films, product endorsements. He becomes one of the vaunted Champions, a motley group of winners from various singing contests that included Sarah and Rachelle Ann Go, among others.
In huge demand among Filipino fans all over the world, The Champions group becomes Mark's passport for a better life. He gets to provide for his family, buy his first house, own a car or two. He starts dating and explores various relationships.
Chapter Three, the birth of a theater star, 2011 to 2013. His friend Rachelle Ann discovers the theater and is a huge success. Mark follows suit with lead roles in musicals like Noli, Bituing Walang Ningning and The Full Monty. The new calling provides him with encouragement to continually improve himself.
Chapter Four, Here Lies Love, 2014 to 2017. Jose Llana, who played Ferdinand Marcos, has backed out of joining the London company of Here Lies Love, the disco musical about the Marcos era in the Philippines. Creator David Byrne goes off to Manila in search of his new Marcos and other members of the cast. Mark comes to audition, singing a sexy Kiss by Tom Jones. Within a few weeks, he is off to London to star in Here Lies Love at the Dorfman Theatre of the Royal National Theatre and for the most enriching experience of his career.
Two years later, Here Lies Love is off to the Seattle Repertory Theater for another run in the summer of 2017 and Mark is once again in the cast as Marcos. Elated over the rave reviews and enjoying the actor's life in the U.S. of A., Mark comes to terms for the first time with his sexuality. Why, if his idol Anderson Cooper could be honest about his preferences, then why not he.
Chapter Five. 2018, Mark Bautista, singer and actor reveals that he is bisexual in a controversial, best-selling book, Beyond The Mark. The move elicits powerful contrary reactions. He spends the year on edge wondering what will happen next and then ends it feeling glad that the heavens did not fall down on him.
Looking back on it now, 2018 was, truth to tell, a happy, fruitful year for Mark. He became a regular in the weekend musical variety show, Studio 7. He garnered excellent reactions as a featured performer in Lea Salonga's 40th Anniversary Concert. And he starred in Eto Na! Musikal nAPO!, the jukebox musical about the genesis of the pop group Apo Hiking Society featuring the iconic Apo songs. The musical was so successful that a rerun is scheduled in February. Mark, who so enjoyed the experience, is back in the cast.
And then there is Chapters, on March 1 at the New Frontier Theater which marks the grand opening of a new chapter in the life of Mark Bautista. Tickets are now available.