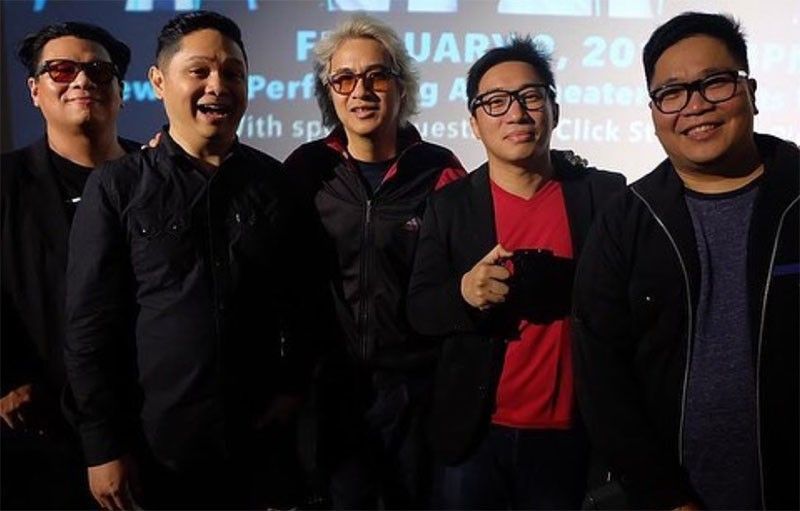 Photo shows former Eraserheads frontman Ely Buendia with members of the band Itchyworms during the press conference of their concert.
Instagram/elybumbilya
Ely Buendia hopes for sales growth of physical albums
MANILA, Philipppines — OPM rock icon Ely Buendia is hoping that sales of physical albums in the music industry will pick up in the coming years despite the growth of digital streaming services.
Speaking before the media during the press conference of "Ely Buendia & The Itchyworms: Greatest Hits" concert, the former Eraserheads frontman said he is hoping that a better alternative to music streaming emerges if sales of physical albums do not increase soon.
"Hopefully, physical sales will pick up because that's a big part sa equation na tinanggal for a long time ng digital and the piracy and it affected everyone in the industry. There's nothing wrong with the system I think. Back then, it was a self-sustained system that is right for everyone. So I hope kung hindi man bumalik yon ay makahanap ng better alternative than just streaming," Ely said.
"I'm hoping that yung local industry somehow finds the ways to offer the new artists a platform but also not just that but to provide them with proper environment to be creative because right now, I'm not blaming the other record labels, it is really tough to run a label right now and I can speak from experience. Yung mga big labels nga are having a hard time, ano pa kaya kami?" Ely said.
Having done gigs with Itchyworms in small venues, Ely said he is excited for their upcoming early Valentine's concert.
"This is quite an event for all of us. Parang lahat kami tumugtog sa mga small venues. Yung sound system is one thing. Sometimes you just wanna have to play in the best venue," he said.
Ely also recalled the first time he met the band when it was just starting to make its mark in the industry. He said there was an immediate bond between him and the Itchyworms because of their taste in music.
"And I guess as time passed by, they proved themselves [to be] one of the better bands and songwriters out there. The feeling of admiration becomes greater for me for this band," he said.
Ely and the Itchyworms collaborated in 2016 for the song "Pariwara," followed by "Lutang" last year.
"Ely Buendia & The Itchyworms: Greatest Hits" concert will be held on February 9 at the New Port Performing Arts Theater in Resorts World Manila.