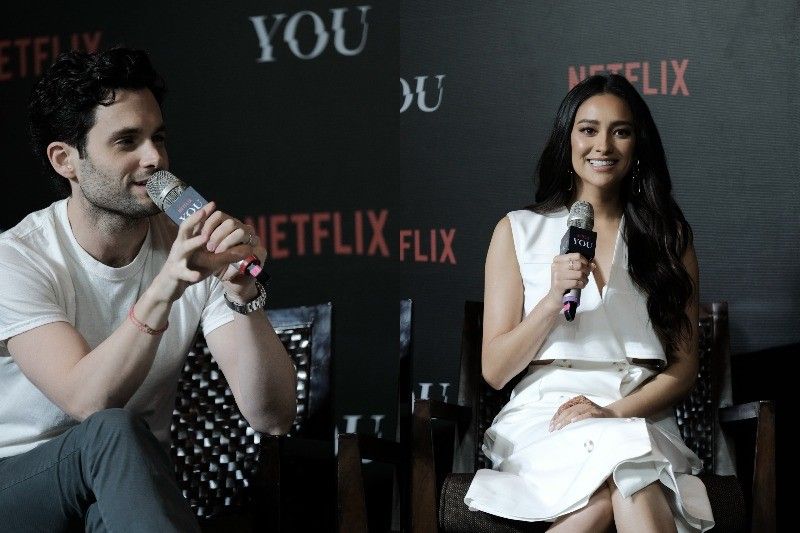 In this Jan. 14, 2019 photo, "You" stars Penn Badgley and Shay Mitchell faced members of the press in a panel interview in Makati City.
Netflix/Magic Liwanag
WATCH: 'You' stars Penn Badgley, Shay Mitchell's message to Filipino fans
MANILA, Philippines — Penn Badgley and Shay Mitchell, the stars of new hit Netflix original series "You," on Monday expressed gratitude to their Filipino fans.
During the "In Conversation with You" event, Penn and Shay thanked the Filipino fans who are watching their show. They also thanked Filipinos for welcoming them into the Philippines.
"Thank you guys for being so supportive and loving our show and welcoming us and me again into your beautiful country," Shay, who has been in the Philippines for the third time now said.
"Everything she said except it's my first time here. Thank you for welcoming me and thank you for watching," Penn added.
Penn said they are happy with the response the show has received worldwide.
"We have managed to entertain, thrill and scare… the show has highlighted conversations around consent, victim blaming, stalking and privacy — disturbing things that Joe does, which shouldn't be considered normal," he said.
Penn plays Joe, the lead character in "You" who is a long-time manager at boutique bookstore Mooney's. He uses technology to make his love interest Beck (Elizabeth Lail) fall in love with him. On the other hand, Shay plays the role of Peach Salinger, an heir to the JD Salinger family who also has a complicated relationship with Beck.
They are currently in Manila to promote You and meet their Filipino fans in Makati City.
READ: In Photos: 'You' stars Penn Badgley, Shay Mitchell share light moment with press