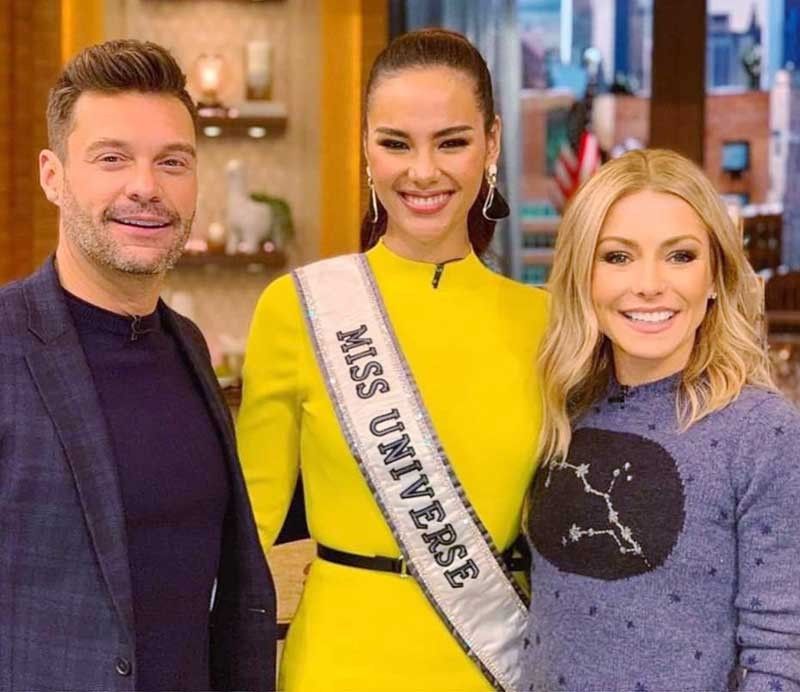 Miss Universe Catriona Gray is a natural charmer with a ready smile and sweet disposition. She kicked off the Miss Universe Media Week in New York City by guesting in popular shows Live With Kelly and Ryan (above) and Good Morning, America (below).
(The Philippine Star) - January 12, 2019 - 12:00am
It's ironic that when Catriona Gray competed as Miss Philippines in the 2016 Miss World pageant and finished among the Top 5, no other country claimed her to be its own. But when she competed as Miss Universe Philippines and bagged the fourth Miss Universe crown for the country, an Australian newspaper bannered that she's actually Australian, thereby generating a minor controversy.
Finally on Wednesday (Jan. 9) in an interview with Build Series in New York City during the Miss U Media Week, Catriona cleared the issue once and for all.
Asked if she felt "weird" competing in the Miss U pageant with a candidate from Australia (who placed among the Top 20), Catriona said no.
"Because I really feel like I'm a Miss Philippines. I feel like Filipina, a Filipino woman" explained Catriona whose father is a Scottish-born Australian and her mother a Filipina. "It's just so funny that when I was growing up, I was very much of an Australian. I just thought it was funny that there was this war, like, 'No, she's ours, she's practically a Miss Australia.' But I am a Miss Philippines. But I can't blame them for being excited, from really feeling the high spirit of the season, too. So we'll let them have that."
The Media Week that began on Jan. 7 officially kicked off Catriona's reign as Miss Universe. On the second day, after guesting in Good Morning, America and Live With Kelly & Ryan, Catriona did an exclusive interview with Funfare's NYC-based "beauty expert" Felix Manuel, arranged by the Miss Universe Organization (MUO).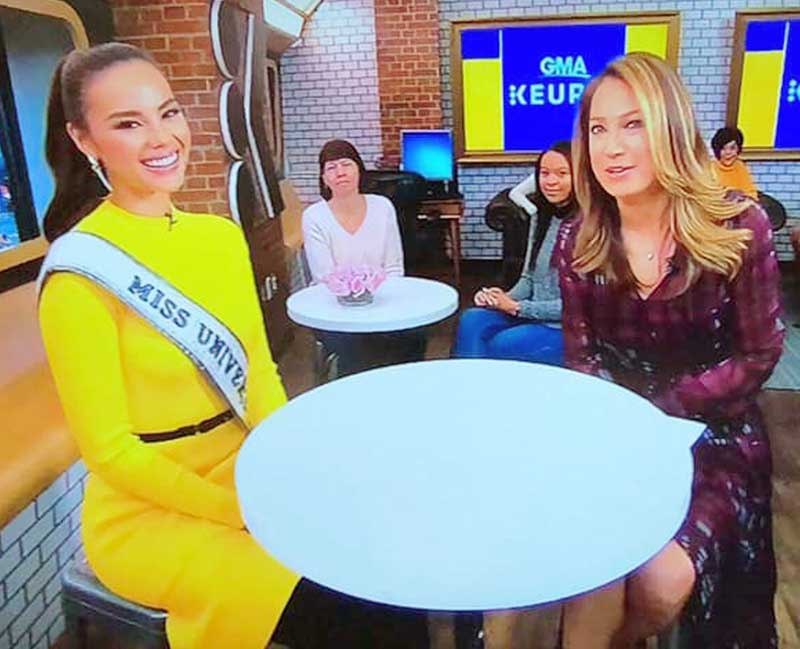 Excerpts:
It is interesting to note that your victory came at the end of 2018, the 110th year of pageants in the Philippines. (The first Filipina beauty queen, Pura Villanueva, was crowned at the 1908 Manila Carnival.)
"Oh my, I did not know that."
If you were to magically travel back in time and met Pura Villanueva, what would you tell her about the future?
"I would like to tell her that women are more celebrated in so many ways now and that she has pioneered something amazing. A movement of pride, a time to be proud of our culture and our beautiful people that would allow us to participate in different platforms. Definitely, the status of women has changed so much and that she can be proud to know that she is part of history that steered women to where they are today, to be empowered and to be celebrated in so many ways."
Many women from the Philippines, Indonesia, Vietnam and Thailand (these four nations made the cut during the 2018 Miss Universe Pageant) are working overseas to provide a better future for their families. What is your message to these courageous women and their children?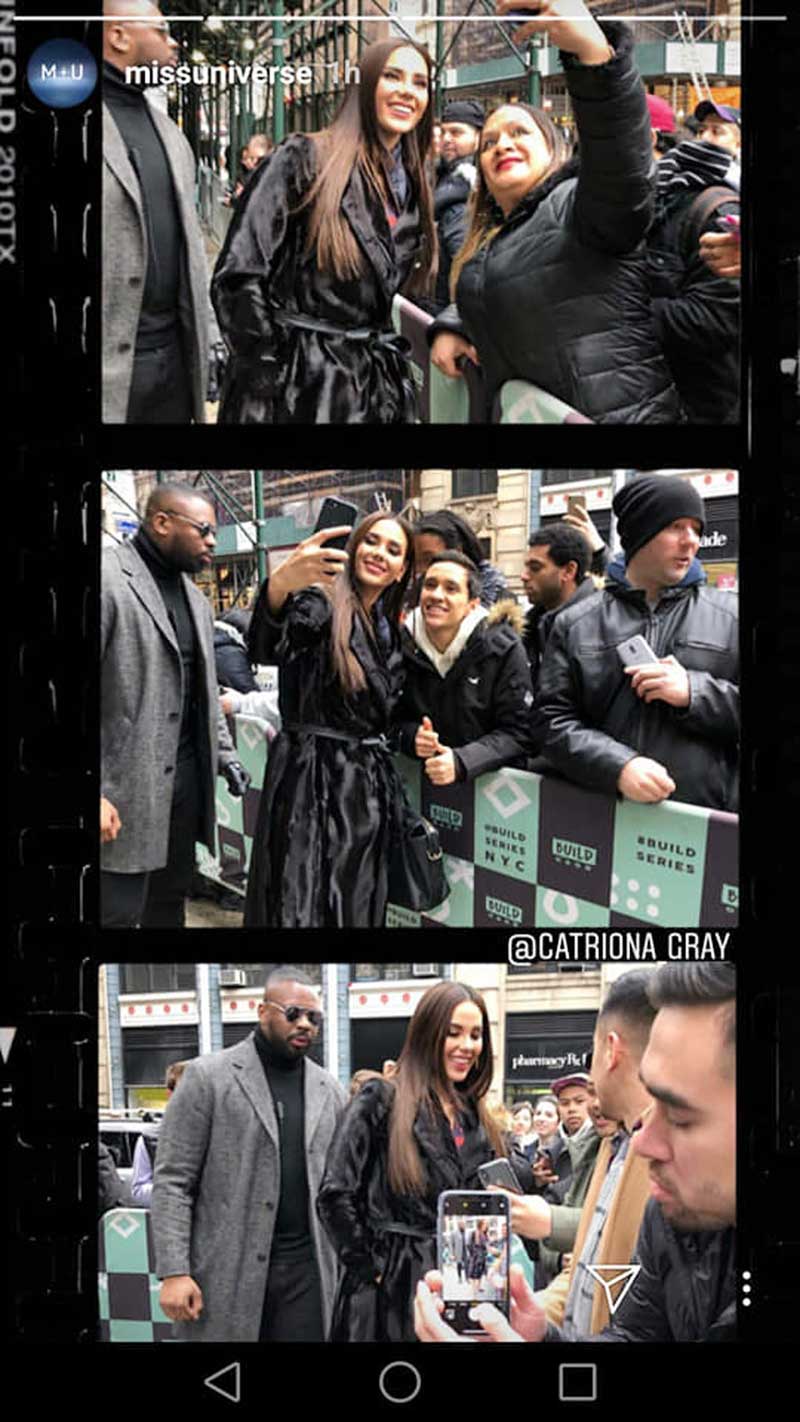 "To these women, thank you for your sacrifice. I can imagine the feeling of having the decision to provide for your family to have a better life by being away from them. There is an immense sense of sacrifice there and that is beautiful…to put yourself away from your homeland, away from everything you know, your comfort zone, your family, your loved ones to provide...and I think that should really be celebrated and really acknowledged for what they do.
"To their children, no one can ever really take a parent's place, but just know that they are doing it because they love you. It is all sacrifice, but it is also a form of love. They do that work to provide for their children. I just hope that these children would know of their parent's sacrifice and that they just don't see their absence."
Your fans have been with you since Day 1. What is your message to them?
"My fans are the real reason why I even considered joining again. I really asked myself, 'Why do they believe in me the way that they do?' I have already done my first pageant and I have done my best, so I thought I could take a rest na. They were persistent. They really believed in me and kept telling me, 'Please, Cat, join again; we would love for you to represent the Philippines again!'
"Their persistence really made me decide to consider joining again. I just started thinking, 'What if I joined Bb. Pilipinas? What if I were to win Miss Universe Philippines? What if I could compete in Miss Universe?' I am that kind of person who would not like to have regrets in life and that is what really made me consider joining. On Jan. 8 last year, exactly a year ago, it was the day I screened for Bb. Pilipinas. The fans were actually the reason why I walked into those doors.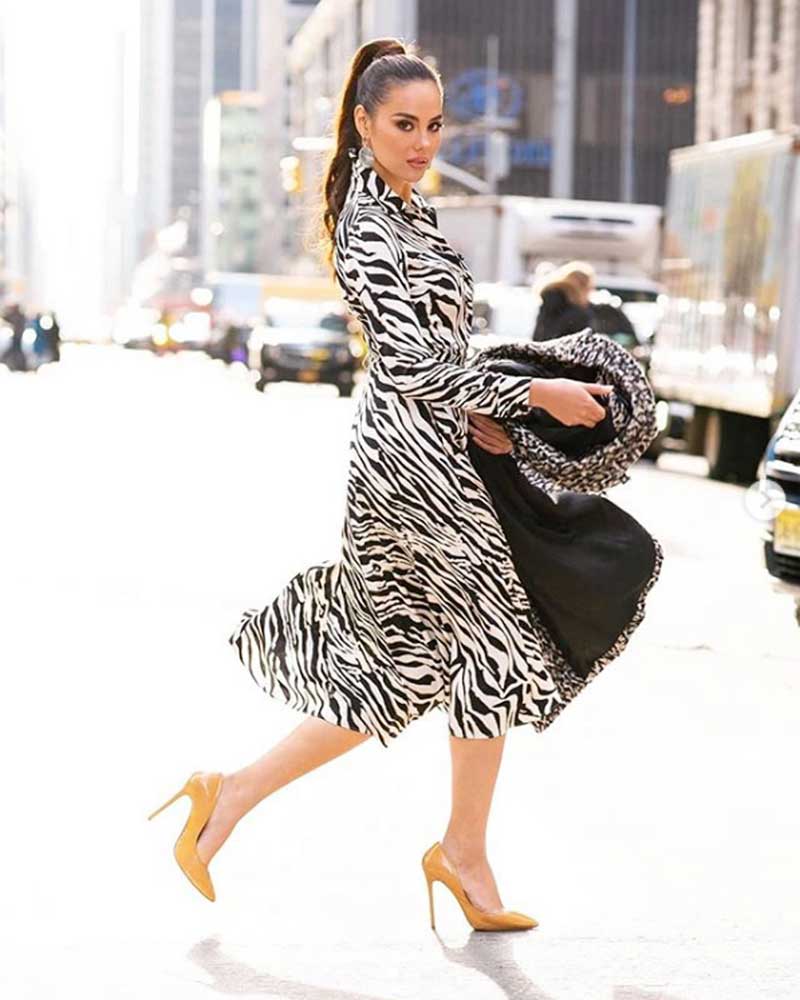 "Ever since Day 1, I've been heartened by the support that rushed in and carried me all the way to Bb. Pilipinas, all the way in preparing a Philippine delegate, all the way to Miss Universe and the crowning moment, up until now. Whenever I have moments that I feel overwhelmed or doubtful, they were always my strength and inspiration."
What can you say about bullying, bashing and negativity in the pageant world?
"I have always used my platform to speak about positivity in social media when it comes to pageantry because it is one of the main problems I have experienced. Negativity, bashing and bullying online are not good. I just want to cultivate a positive environment in pageantry and social media. Even if someone does say something negative, it does not give us a reason to retaliate; just take the high road and don't say anything."
You have already released a single, would you venture into acting after your reign?
"Why not? I am always open to every opportunity. I am very open to learning. I am like a sponge; I'd like to soak up in new things, new skills. So if I were given the opportunity, I would take it!"
Any exciting news for pageant fans?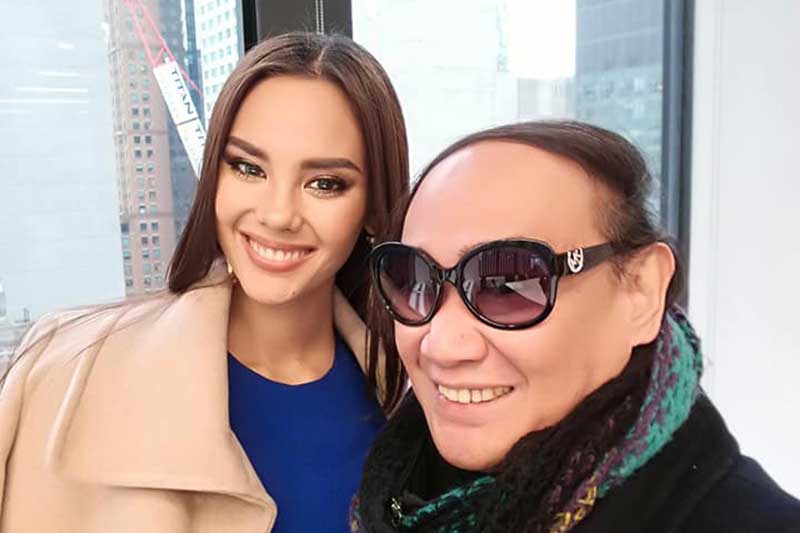 With Funfare's NYC-based 'beauty expert' Felix Manuel.
"For the first time in Miss Universe history, select items worn or used by me and the contestants will be auctioned online! Fans can go to screenbid.com to view the items and learn more. Miss Universe enthusiasts can go to the site to learn how to get their hands-on-props, set decorations and other memorabilia including the winners card, finalist swimsuit, national evening gowns, national tiara, national earrings and so much more."
(Incidentally, when asked about her boyfriend, Fil-German model Clint Bondad, Catriona would beg off. Clint has deactivated his Instagram account. In an interview with The STAR, Clint said, "It's time for Catriona to shine." Meaning, without him sharing the scene with her.)
(E-mail reactions at rickylophilstar@gmail.com. For more updates, photos and videos, visit www.philstar.com/funfare or follow me on Instagram @therealrickylo.)