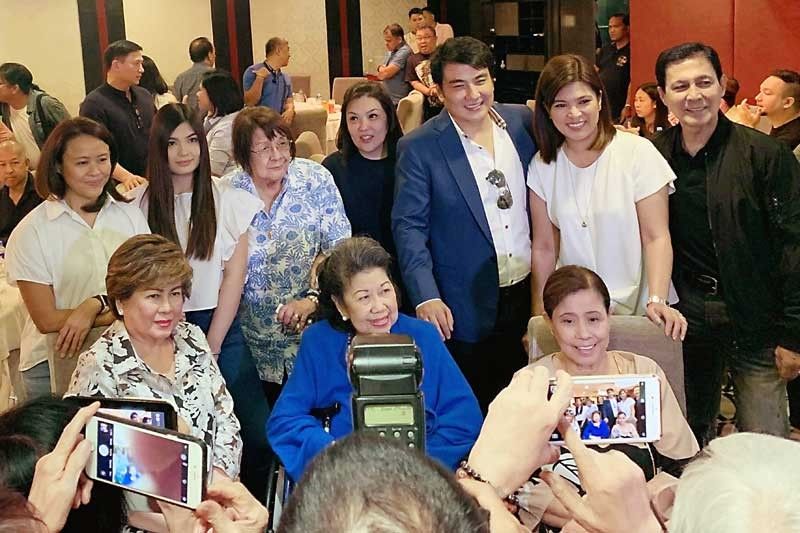 The 'welcome home' lunch for former Sen. Bong Revilla (and wife Bacoor City Mayor Lani Mercado) was organized by Regal Matriarch Lily Monteverde with the help of Marichu 'Manay Ichu' Maceda at Gloria Maris (Greenhills). In this 'family picture' are (standing, from left) Roselle Monteverde, the Revilla daughter Gianna, Ethel Ramos, Bong's sister Andeng Ynares (who is running for Antipolo City mayor), Bong, Lani and Tirso Cruz III (with wife Lyn Ynchausti who didn't join the pictorial); and, seated from left, Annabelle Rama, Manay Ichu and Mother Lily. Also present was Eric Quizon (in black, behind Roselle).
Bong getting used to the outside world
FUNFARE
-
Ricky Lo
(The Philippine Star) - January 11, 2019 - 12:00am
On his first night as a free man, former Sen. Bong Revilla woke up six times, wondering if he was still "inside" or "outside" — that is, in the Detention Center of Camp Crame or back at his family's home. He would go back to his rudely interrupted sleep after seeing his wife Bacoor City Mayor Lani Mercado beside him, resting assured that he was indeed home.
Getting used to the outside world is no joke, according to Bong who stayed at Camp Crame for more than four years.
"Namahay ako," admitted Bong in a brief interview with Funfare after an open forum during a "welcome back" lunch at Gloria Maris Greenhills the other day, organized by Regal Matriarch Lily Monteverde with the help of Marichu "Manay Ichu" Maceda. "You know what namamahay means? 'Yung hindi ka makatulog dahil naninibago ka sa bago mong higaan sa ibang bahay."
To kick off the get-together with more than 50 movie writers, Mother Lily played the piano and delivered an address that read partly, "We are all friends welcoming back in our arms somebody who was not with us for reasons beyond our control or explanation. And we are not here to make a stand except for one important statement ­— Bong Revilla, you are a dear friend, and we are happy that you are back…"
Funfare stayed away from the open forum that touched on political matters, and instead opted to focus on the lighter side.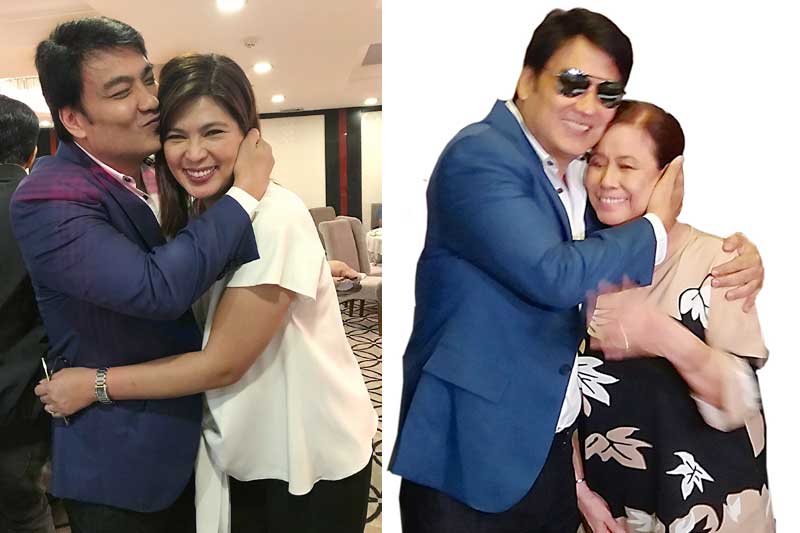 Bong gives Lani a loving kiss and (right) Mother Lily a grateful hug.
Bong's room at Camp Crame was adjacent to that of former Sen. Jinggoy Estrada who was out on bail several weeks before Bong was cleared by the court. "Inside," when not reading the Bible and passing their time "day dreaming," Bong joked that they developed a game of chasing after rats and cockroaches (Jinggoy has a mortal fear of cockroaches).
"Libo-libo ang napatay naming ipis," recalled Bong, turning easy and breezy during the Funfare interview.
Although he has been home for (as Lani counted) one month and two weeks, Bong hasn't totally adjusted to normal life.
"The whole family is also adjusting to him," confirmed Lani. "In Crame, the bathroom was only a few steps away. At home, initially he found our bathroom too far and would say, 'Ilapit mo ang banyo, ang layo, eh!' In Crame, he and Jinggoy didn't have aircon at their rooms, only electric fan. During his first few days at home, Bong would complain, 'Giniginaw ako,' and ask me to turn the temperature warmer."
"In Crame," added Bong, "I slept alone and I kind of gotten used to that. It took a while before I got used to going to sleep and waking up with Lani beside me."
"Actually," seconded Lani, "I felt the same way. Up to now, he would still wake up in the middle of the night. He hasn't been getting a really good sleep."
"When I wake up," said Bong, "I would check the ceiling and when I see that it looks different from the one in Crame, I would go back to sleep again, knowing that I am home."
Anytime now, Bong and Lani would be waking up early together to start campaigning for the midterms in May where Bong is running for the Senate. Since late November when he was released, Bong said that he has been visiting a few provinces.
"I will continue projects that I had planned before Crame," revealed Bong. "Yes, I will definitely do a movie for the 2019 Metro Manila Film Festival (MMFF)."
(E-mail reactions at rickylophilstar@gmail.com. For more updates, photos and videos, visit www.philstar.com/funfare or follow me on Instagram @therealrickylo.)