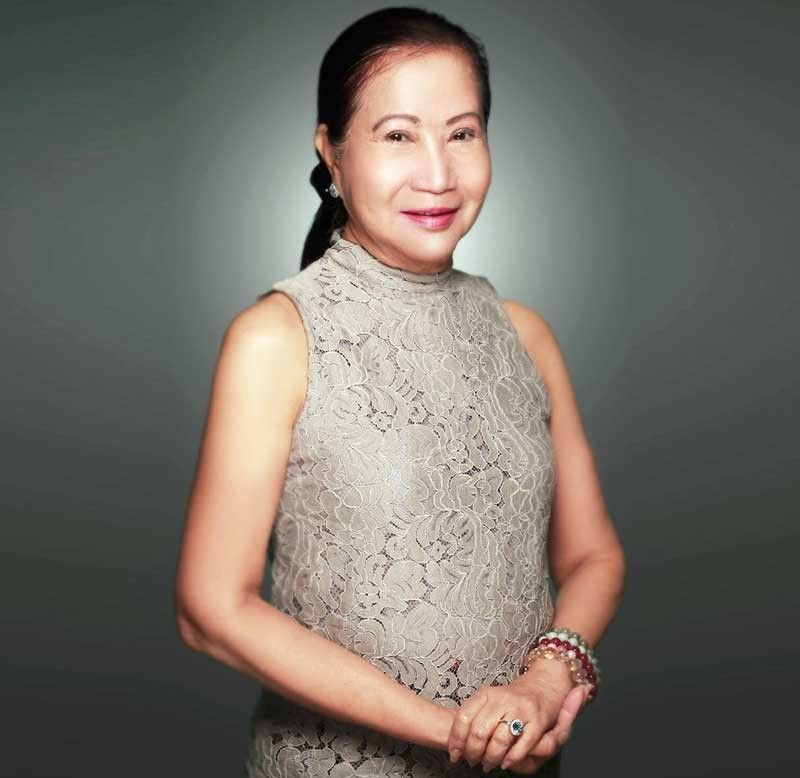 PAGCOR chair Andrea 'Didi' Domingo
Didi Domingo on passion for rhumba, painting & public service
PAGCOR, with 11,300 employees, is being run by a hands-on, committed, no-nonsense, multi-talented and formidable mother.
She has served in various government agencies/institutions — from Development Academy of the Philippines (DAP) to Philippine Reclamation Authority (PRA) to Congress to Bureau of Immigration (BI) (handpicked by the two lady presidents of this country, Pres. Corazon Aquino and Pres. Gloria Macapagal-Arroyo (GMA) while she was encouraged to run for congress by Pres. Cory and now PAGCOR, as an appointee of Pres. Rodrigo Duterte.
Under her stewardship, PAGCOR would have earned P100B gross in 2018. A testament of her management and leadership skills.
She is miffed that the DepEd has refused money from PAGCOR as the department doesn't share the same core values as the agency she heads.
"That's being judgmental'' she protests. She thinks that all who work for government should share one core value and that is to serve the people within mandates prescribed by law.
She misses painting. She can do a fierce, sensual, dramatic rhumba.
After a tough day, she goes home to her beloved family — where they usually partake in a meal that's sometimes cooked by her husband Rolly. With her apos, she washes the dishes, mops the floor, even clean bathrooms.
With maternal love and power, anything is possible.
This is the story of Andrea "Didi" Domingo, PAGCOR's chair.
Here's a Q&A with her where she talks about PAGCOR and her life at home. Read on.
How did you start your career in government?
I started in 1974 when I joined the Development Academy of the Philippines (DAP). I worked for government and then I resigned. Then I worked for private companies and then I resigned. It's always been this way. That is the reason why I was able to complete my SSS pension and my GSIS pension. So after DAP, I worked for Dynetics for nine years.
After the EDSA revolution, I set up my own business, an antique and arts gallery in Intramuros. But after a while, I got drafted into government again when Pres. Cory Aquino appointed me first as deputy commissioner and then as commissioner of immigration. This was in 1989.
After that, Pres. Aquino also convinced me to run for congress for the third district of Pampanga, which I served from 1992 to 1995. After that, I joined the private sector again.
In 1997, Joe de Venecia asked me to help him with his campaign. I was his personal campaign manager. Then I briefly taught Communications and Effective Management in college and in the graduate school of De La Salle University.
When GMA won, she appointed me again as Bureau of Customs commissioner. Before that, I was retired. I was consultant to two firms. And then I was painting, I was dancing and I wanted to write my book. Whenever there is a new president, a lady president to be more specific, I get appointed into office. Once by Cory, twice by GMA and then, of course, this time by Pres. Duterte.
What makes your chairmanship in PAGCOR similar/different from your other top positions in Philippine Reclamation Authority (PRA), Bureau of Immigration and Deportation (BID) and even congress?
Why is it different? PAGCOR. Well, it's like the PRA. It's an executive position. Meaning, well, you have to be really good in management because it's a corporation with all the shackles of a government agency. That is what makes it complicated. Plus the fact that PAGCOR doesn't really enjoy a very good public reputation. So, I really had to make efforts to tell the people what we really do, which is what the Corporate Communication Dept. (CCD) is doing right now.
Now they know that we are not only in gaming and that PAGCOR is not a corrupt organization. I really feel that we have to know who we are and what we are doing because we get a lot of flak, like for example from the Secretary of DepEd. She says their core moral values are different from ours. I think that's very judgmental. And I think the core moral value of every government employee, the higher you are then the stronger it should be, is that it is legal. You're asked to do your job, you have to do it well.
Now, ang dami pang kulang na school buildings. Pinatigil niya dahil sa core moral value. Ang core moral value is public interest and public service. Do not make judgments on the kind of jobs that we have because it's legal, it's government. I feel very strongly about that. And that's why I think people should know what PAGCOR really is.
I know you don't rest on your laurels. There's the ISO 9001: 2015 certification. And most notable are the very impressive figures that PAGCOR has achieved!
In 2018, we reached a hundred billion. About P69B will come from the gaming revenues, which means that we are up by almost P9B from last year. And then the sale of the land (PRA lot), in which we made P32B. It's important to know that the true value for the sale of the land in the previous administration was only P14B. Then I had it appraised. We were able to sell it at over P37B. ISO 9001-2015, we just got again our notification for our new location so this year we should be able to get the ISO certification for all properties and then we'll just work from there, including the branches.
The public has the impression that PAGCOR employees are highly compensated, but on the contrary, the employees and even officers say that they are among the lowest paid in both government and private offices. Is this true?
Yes, that is true! I'm the lowest paid chairman and CEO with two functions among the big corporations. It's also because I think early on, the management and the previous boards of PAGCOR not wanting to be relying on the national government for money, kept the basic salaries very low and then if you earned money and your income was good, then it came in the form of bonuses.
This would have been fine but the problem is Governance Commission for Government-Owned or -Controlled Corporations (GCG) is planning to slash and almost obliterate our performance bonuses leaving us only with our basic salaries. That's really very bad although we appealed this to the Office of the Executive Secretary and the Office of the President and we hope we will be able to stop GCG from murdering our compensation plan.
What legacy do you want to leave as PAGCOR chairman & CEO?
That I served my country and the Filipino people and my belief that the best service we can render is to be our very, very best.
Do you have plans of running for Congress again, or for any other elective position?
This is going to be my last job. I just want to retire and rest and do what I want to do, after this.
I know you are a decorated artist in your private life — a painter and an international dancesport champion. Don't you miss painting and dancing? What else do you want to achieve in the fields of art and dance?
I miss painting. I still dance because it's a form of recreation and exercise. I'd like to have a third exhibit and I would like to be able to write my book. I really love the arts. In fact, I thought I would retire at the age of 35. I put up my arts and antique shop and gallery. I had many interactions with artists and I started taking home lessons and eventually I did it on my own.
What is Didi like at home? How are you as a grandmother? Kapampangans are known for their culinary skills. Do you cook?
You know, I have no househelp. When I get home, I wash the dishes, I mop the floor, I sweep the floor and clean our bathrooms. There are two part-time girls who come to the house on Saturdays to do the laundry because I can't do that anymore. They also do general cleaning of the whole house. Every day, I come home and I set the table with my apo and we clean the table and wash the dishes. I'm a housewife with no helper.
My husband cooks. He's the one who cooks. As a grandmother I spoil my apos and I'm so proud of them. All my grandchildren I think are achievers.
The two girls, Nina Gabriel and Clarisse, both Domingos, daughters of my first son and second son. They studied at the Philippine Science High School. Nina graduated at the University of Minnesota with a scholarship and now she's taking her PHD in a full scholarship and a grant while Clarisse also graduated from the University of the Philippines in Materials Engineering. My two other apos, Nacho is third year in broadcast communication in UP. He loves showbiz. The fourth one Carvic in now third year in computer engineering. So they are all in UP except for Nina who graduated in Minnesota but I have a fifth apo who is now second year high school. He's in Montessori and he's very good in abstract things, in science and in taekwondo and arnis. I'm so proud. I'm always bragging about my apos.
Yeah, I love to cook also. They love my steak. They love my sinigang na tiyan ng salmon sa miso, asadong baboy and pinakbet.
What new or old places around the world would you still like to visit?
I will never get tired of visiting Madrid. Since 10 years ago, my husband and I always go there every year. I really hope that we could still go this year, and next year, and the next. The food is good, the overnight bars are good even if you don't drink that much. The wine is good. The people are very warm to us. And we have a small place where we stay that's very cheap. It's in the middle of a commercial district in Madrid. It's not a hotel, it's an apartelle sort of thing. We don't really go to five-star hotels. We want to know what the ordinary Spanish citizens are like. You study the culture, you study their history, etc. New places I want to go to… Istanbul and maybe Morocco.
Sunrise or sunset? Why?
Both. Because for me, I am a person who must have a beginning and must have an end. Yes, if its just sunrise, its like, where is it gonna end? So there must be a sunset.
If you were to dance the rhumba, the love dance, except your husband, who would you want to dance it with and why?
Well, I would have to dance it with my dance coach and dance teacher Donald Derapiza. And the reason is we already have a connection because we've been dancing together for 12 years, and I don't feel uncomfortable anymore because when I dance, my husband is there and we're always together with my husband and his coach and my coach. Rhumba needs a lot of connection. It's not only physical connection that when he touches you, you know what to do. You have to know the story of what you are dancing. So it has to be done with somebody that you are very comfortable with.
Please complete the statement: I am Andrea D. Domingo, and I am...
"I am Andrea Domingo. I am Filipino. I am a wife. I am a mother and I am a grandmother."