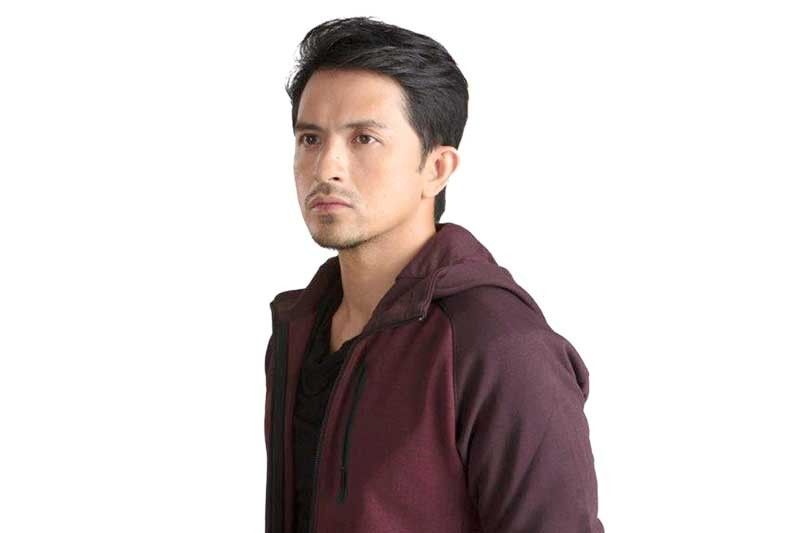 CONVERSATIONS
-
Ricky Lo
(The Philippine Star) - January 6, 2019 - 12:00am
The answer to today's interrogative title is a resounding yes. Actually, that same rephrased question was already answered in the affirmative in a story about Dennis Trillo several years ago when the maturing process of Dennis the Actor started right on his first film, Regal Films' Aishite Imasu 1941 for which he bagged a Best Supporting Actor plum at the 2004 Metro Manila Film Festival (MMFF). He was 22 then. Fourteen years later, Dennis would surprise himself by winning Best Actor at the 2018 MMFF for One Great Love, also by Regal Films directed by Eric Quizon (the 2004 film was megged by Joel Lamangan), which was named 3rd Best Picture.
Downed by flu, Dennis was unable to attend the Gabi ng Parangal. It was his manager Popoy Caritativo who received the trophy for him and thanked those involved in the film on Dennis' behalf. Dennis repeated the "thank you's" in his Instagram, accompanied by his "awarded" photo from 14 years ago.
"But even if he had high fever," said Popoy, "Dennis had to get up to shoot for Cain at Abel (his GMA action-adventure series with Dingdong Dantes) on Dec. 28 and 29, and went right back to bed after that." The show must go on!
Conversations retrieved Dennis' 2004 photo with his Aishite Imasu trophy from the archives. For a photo with his latest award, Popoy said that he had to send Dennis' trophy to the Cain at Abel set and asked Dennis' handler to do the "quickie" job. Good enough shot!
Dennis had hardly recovered when Conversations talked to him on the phone (he was at his parents' home while nursing a fever). He sounded somewhat hoarse, would excuse himself when he coughed, but was generally as engaging as he has always been.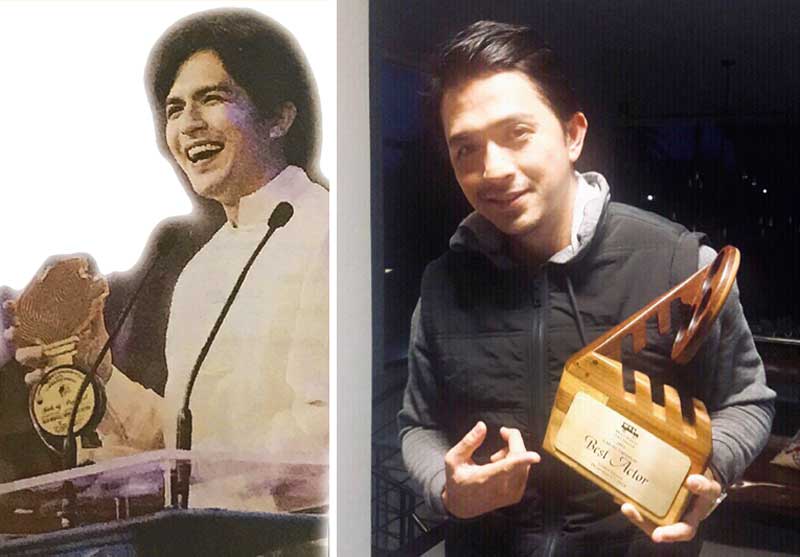 It took Dennis Trillo 14 years to duplicate his MMFF feat, the first having been for Best Supporting Actor in 2004 for Aishite Imasu 1941 (left) and the latest for Best Actor at the 2018 MMFF for One Great Love (right), voted 3rd Best Picture. Both were produced by Regal Films, 'my lucky charm,' says Dennis.
How many trophies have you harvested so far?
"I have lost count. Pero marami-rami na rin since I first won 14 years ago. Before this MMFF award, I won a Best Actor FAMAS for Felix Manalo, and also one from Star Awards."
Where do you keep all your trophies? May space pa ba?
"Some are here at home, some are in my condo unit and the others are at Popoy's office."
How different was the feeling of winning now from winning 14 years ago?
"Very different. Aishite Imasu was my first movie so I was a greenhorn at that time. But since then, I have learned a lot. Kahit paano may dagdag na skills sa aking craft. The most important thing is pakikisama and having a positive work ethic." (Dennis was launched as a member of the ABS-CBN's Star Circle together with the likes of Bea Alonzo and Alfred Vargas.)
You are a lucky Regal Baby.
"You can say that because it was Regal who produced my winning films. One Great Love was my first Regal movie since 2009 when I did one of the Shake, Rattle & Roll films. Regal is my 'lucky charm'."
Did you have a hunch that you would win? Mabibigat ang mga "kalaban" mo.
"To be honest, every time I make a movie, hindi ako umaasa. Once I finish it, that's already an achievement. If I am recognized by critics and award-giving bodies, that's already a bonus. I just give my best. Mahirap mag-expect, especially since our movie is very simple…simple lang ang estorya. I was aware naman na mabibigat sila, like Jericho (Rosales in The Girl in the Orange Dress) and Eddie (Garcia in Rainbow's Sunset)."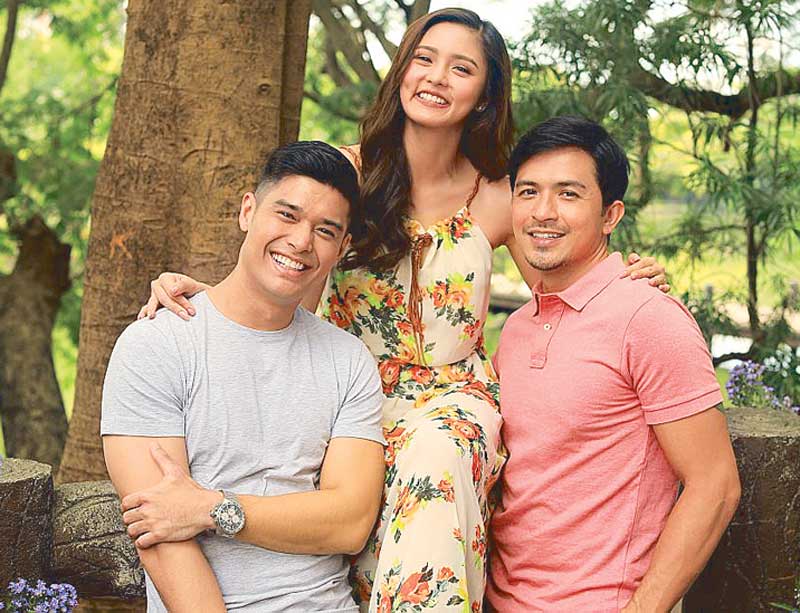 In Regal Films' One Great Love (with co-stars Kim Chiu and JC de Vera), Dennis plays Ian, a martyr in love, somebody that he said he easily identifi es with.
Did you jump in your sick bed when you were announced the winner?
"Hindi naman. I learned about it when somebody texted me congratulations."
Speaking of Aishite Imasu, you played a cross-dressing comfort woman. Didn't you have any second thoughts about playing a role that was a big no-no among young actors at that time?
"For me, that was a challenge. Kung ayaw gawin ng iba, parang natsa-challenge lalo akong gawin. I consider it a plus factor if you dare or volunteer to do it."
You did a kissing scene with Jay Manalo (as a Japanese soldier), just as you did with Tom Rodriguez in the GMA soap My Husband's Lover. No qualms (hesitance) doing those kinds of scenes?
"None at all as long as hindi naman malaswa ang pagka-gawa and it's really needed and essential to the story."
Good thing you are not homophobic.
"Of course, I am not homophobic. If I am, hindi ko magagawa ang mga 'yon. Besides, I don't want to limit myself. Sabi nga nila, for art's sake. Hehehe!!!"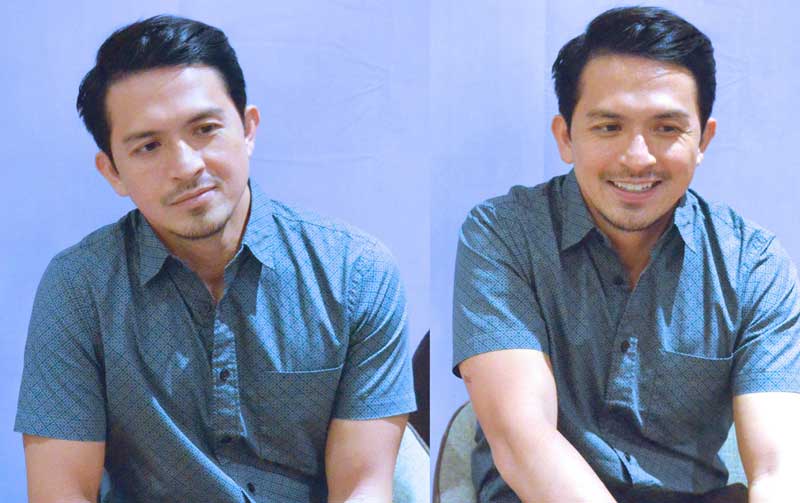 ­'After doing a movie, I consider it an achievement. I never expect to win any award. And if the critics and award-giving bodies recognize your work, that's already a bonus. Mahirap mag-expect, eh.' — Photos by VER PAULINO
You have played varied roles (including a macho dancer in a GMA show). Is there a role that you wouldn't do?
"As I've said, I don't want to limit myself. As an actor, I'm willing to play any role."
In One Great Love, you play Ian, a martyr in love. How do you see yourself in that character?
"Ian gives his all when he's in love. His motto in life is…if you love a flower, you don't pick it otherwise it will die with whatever you love about it. So you have to nurture it, palagi mo siyang didiligan at hindi mo siya pipitasin para mamulaklak ng marami pa. For Ian, love is more appreciation than possession."
Very poetic! Are you like that with Jennylyn (Mercado, his girlfriend), that she's like a flower na dapat dinidiligan araw-araw?
"Dapat, eh. You know, I think the notion of some people about love is wrong. When they like someone, they become possessive to the point na nasasakal na nila 'yung tao. I don't think they understand the real meaning of love. I think I was like that when I was younger. But as you grow older, you learn things and your outlook in life changes. When you love somebody, you shouldn't stop her from doing what she wants and loves to do."
Is Jennylyn like that?
"Hmmmm, I think so…Ganoon din naman po!"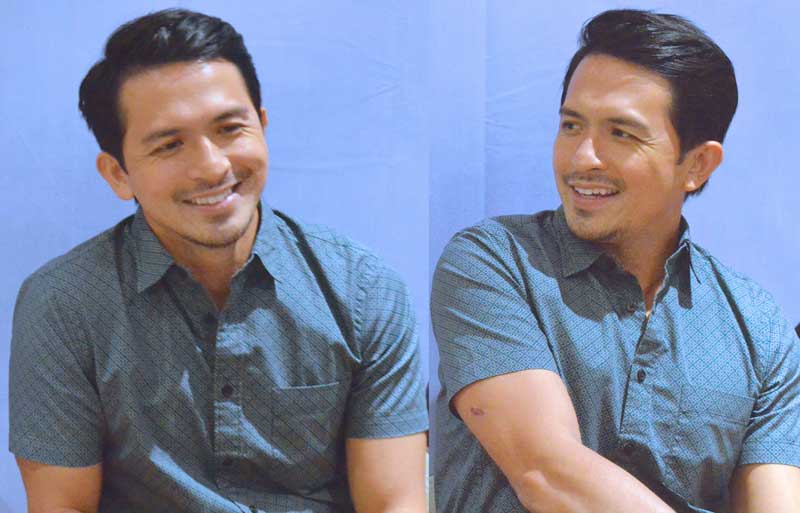 Obviously, you (and Jennylyn) believe in "second time around…" (They broke up and reconciled before long.)
"Yes, we are closer now than ever before." (Their families were together for the Christmas dinner, with Jennylyn seated beside Dennis' mom.)
Would you say that Jennylyn is your one great love?
"Hmmmm, I would say that, yes, she is. We are in a good relationship so…sana naman po!"
Jennylyn has a love son (Alex Jazz, by ex-boyfriend Patrick Garcia) and so have you (Calix, with ex-girlfriend Carlene Aguilar). How are you as a dad to the kids?
"I try to be a hands-on dad to them, even if I am always busy. I make it a point to spend my free time with them."
So what do you look forward to this year and beyond?
"I want to do a project that will make me known internationally, maybe a series for Netflix. That's one of my main targets this year."
(E-mail reactions at rickylophilstar@gmail.com. For more updates, photos and videos, visit www.philstar.com/funfare or follow me on Instagram @therealrickylo.)