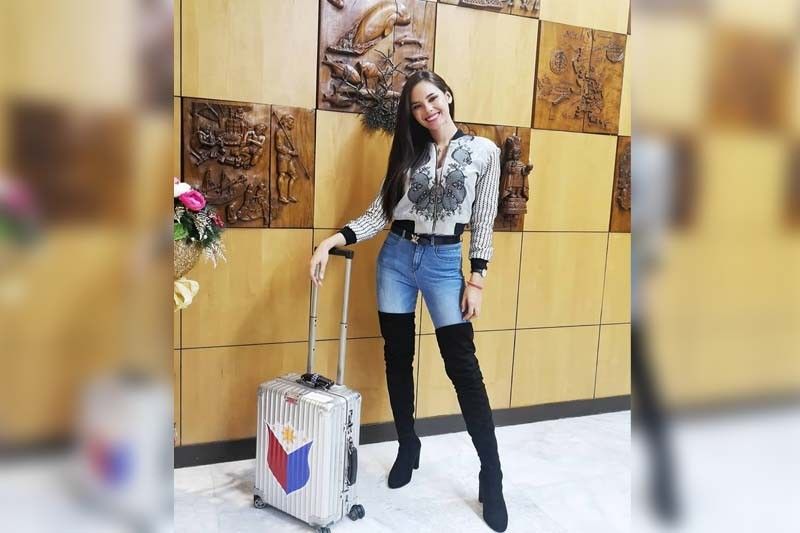 In this Jan. 2, 2019 photo, Catriona Gray poses before her flight for New York City.
Catriona Gray/Facebook
Where is Catriona Gray? Beauty queen shares New York home photo
MANILA, Philippines — Two weeks after being crowned Miss Universe, Catriona Gray finally reached her new home in New York City to officially begin her reign.
On Thursday, Catriona posted an Instagram story sharing to her 3.8 million followers a photo of her new home in New York City.
"Someone *pinch* me!!! In my new home for the next year!" she said.
The post came days after her fans and supporters questioned her whereabouts over the holidays. They were asking where Catriona was as she was not posting the customary welcome breakfast post for pageant winners.
Catriona, who was crowned Miss Universe in Bangkok, Thailand last December 17, flew back to Manila on December 30 for a day-long press event engagement and courtesy call to President Rodrigo Duterte. She only stayed in Manila overnight.
The Filipina beauty queen then flew to New York after attending the press events. However, she went back to the country to spend the holidays with her family, according to shoe designer Jojo Bragais, who is also part of Team Catriona.
"Catriona is spending the holidays with her family and loved ones. She deserves a rest after her long preparation to win the title of Miss Universe. She deserves it," Jojo said his comment to the post of swimwear designer Domz Ramos.
Her stay brief stay in the Philippines was also confirmed when Gray herself posted a photo of her before her departure for New York City and said she spent a "quiet" holiday break. She was then carrying a luggage bearing the Philippine flag.
"Refreshed from a quiet holiday season with my loved ones, I've packed up my home in Manila and now I'm ready to move to my new home in New York City!! I still can't believe it!," Gray wrote.
"I have to say I'm most nervous about experiencing the chill of NYC in winter," she added.
Gray then called for recommendations on what to see and eat in New York City.
The STAR also captured photos of Gray before her flight to the Big Apple. She was seen sporting high-cut boots at the Ninoy Aquino International Airport Terminal 2.
PUTTING HER BOOTS ON

Miss Universe 2018 Catriona Gray officially begins a new chapter this new year as she flies to New York, where the organization's headquarters is based, Wednesday night to fulfill her duties as reigning queen. pic.twitter.com/AlCMwJeoli

— The Philippine Star (@PhilippineStar) January 3, 2019
The 24-year-old Filipina will be staying in New York, where the Miss Universe organization's headquarters is based to fulfill her duties as the title holder.
She is slated to return to Manila in February for her grand homecoming.
Gray is the fourth Filipina Miss Universe.