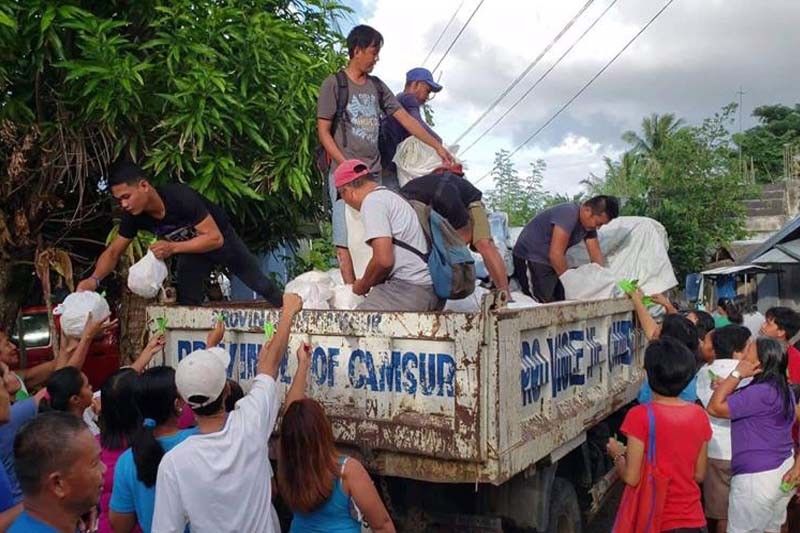 Image shows relief operations at Poblacion, Pamplona on Dec. 30, 2018.
Gov. of Camarines Sur Migz Villafuerte/Released
Catriona Gray calls for donations for 'Usman' victims in Bicol
MANILA, Philippines— Miss Universe Catriona Gray has called for aid for her fellow Bicolanos hit by the flooding and landslides brought by Tropical Depression "Usman."
In her Instagram stories, Gray shared to her 3.8 million followers the situation in her hometown, Bicol.
"There have been 57 reported deaths from landslides and floods caused by the recent typhoon Usman that affected the region December 30," Gray wrote.
The Filipina beauty queen then asked for the public's help for those affected. She shared the relief operations initiatives of Team Albay Youth Organization and the Philippine Red Cross.
Gray also called for prayers for those affected by the typhoon.
"Team Albay Youth Organization—The group is accepting water, ready-to-eat food, blankets, tarpaulins, and other relief items," Gray said.
"The Camarines Sur Chapter of the Red Cross is accepting donations in cash and in kind. You may bring or send donation to the PRC-Camarines beside ABS-CBN Panginban Drive, Naga City," she added.
Gray is in New York City to fulfill her duties after being crowned as the fourth Filipina Miss Universe and the 67th title holder. She will return to the country early this year for her grand homecoming.