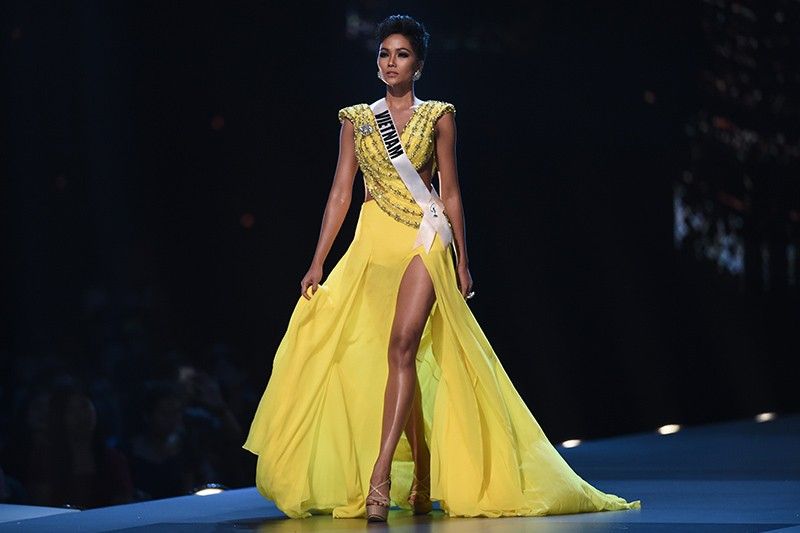 H'Hen Nie of Vietnam competes in the evening gown competition during the 2018 Miss Universe pageant in Bangkok on December 13, 2018.
Lillian Suwanrumpha/AFP
Miss Vietnam wins Filipinos hearts with her Cinderella story
MANILA, Philippines — The attention may be on Catriona Gray winning the Miss Universe 2018 but another contestant in the pageant captured the hearts of Filipinos with her Cinderella story.
Miss Vietnam H'Hen Nie, who finished in the Top 5, gained the admiration of Filipinos with her performance in the prestigious beauty pageant and with the story she shared to the universe.
Apart from becoming Vietnam's first Miss Universe bet who made it that far in the competition, H'hen is also part of her country's Rade ethnic minority, which, as she explained, composes only 5 percent of the nation's population.
H'Hen, in a video posted on the Instagram page of Miss Universe Vietnam, said she chose to follow her dreams amid the pressure to marry at an early age. Born in a big family, Miss Vietnam has six brothers and sisters. Her parents are farmers.
"There is one very unusual aspect of the Rade people's customary habits for 14 year olds. At 14 years old my parents told me to find a husband, however, I stated I could not possibly get a husband at that point in time because I had to follow my dreams," she said.
"I did not want to live a life where I had to marry early like many other kids had in our village."
The Instagram page said the beauty queen chose to focus on education, instead.
"She has tried her hands in several jobs such as a maid, tutor, leaflet deliverer, and model to help pay for her studies and life in the city. The Miss Universe Vietnam crown is not only the result of her hard effort, but also changed the definition of a beauty queen in Vietnam," it said.
It is no wonder that education is an advocacy of H'Hen. She is the global ambassador for Room To Read, a non-profit supporting girl's education and literacy.
"If she becomes Miss Universe 2018, H'Hen Nie will use the influence of the title to continue helping disadvantaged children around the world to attend schools, especially in conjunction with organizations to enhance girls' lives in developing countries."
Now, people in her country, as well as the other nationalities, were all touched by her amazing achievement.
On that same Instagram post Filipinos expressed their love for the beauty queen.

"Were so proud of u and we loves u filipino loves u. U have the hearts of a thousand queens. U will our miss univers vietnam 2018 forever," one comment from a Filipino fan said.