From Gloria to Catriona: Winning answers of 4 Filipina Miss Universe winners
December 17, 2018 | 3:20pm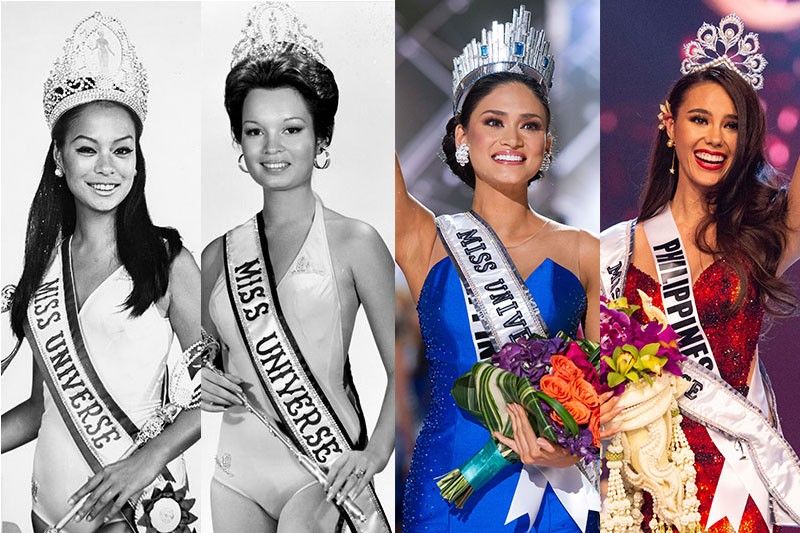 MANILA, Philippines — Filipina-Australian Catriona Gray is the Philippines' fourth representative to win the Miss Universe crown.
Gloria Diaz was the first Filipina to bring home the title in 1969, followed shortly by Margie Moran in 1973. It would be 42 years later when Pia Wurtzbach would reclaim the crown in 2015.
A vital part of the competition is the question and answer portion, which would determine who will win the competition.
From situational questions during the time of Diaz and Moran, the competition has evolved to incorporate some of the most pressing situations in the world in recent years.
In 2015, the Miss Universe Organization introduced a new format for the question and answer portion wherein the top five contestants get to answer different questions while the top three had to answer a standard question.
Gloria Diaz
Question: In a next day or so, a man will land on the moon. If a man from the moon landed in your hometown, what would you do to entertain him?
Answer: Oh, just the same things I do. I think if he has been in the moon for so long I think when he comes over he wants to change, I guess.
Margie Moran
Question: Let's make believe that all of a sudden you had a million dollars. What's the first thing you would buy and why would you buy it?
Answer: A house and lot because it's the most expensive thing and I can't afford it. If I had a million bucks, I'll buy a house and lot and live by myself and other people of course.
Pia Wurtzbach
Top five
Question: Earlier this year, there was a controversy in Philippines about the United States reopening a base in your country. Do you think the United States should have a military presence in your country?
Answer: I think that the United States and the Philippines have always had a good relationship with each other. We were colonized by the Americans and we have their culture and our traditions even up to this day and I think that we're very welcoming with the Americans. And I don't see any problem with that at all.
Final three
Standard question: Why should you be the next Miss Universe?
Answer: To be a Miss Universe is both an honor and responsibility. If I were to be Miss Universe, I will use my voice to influence the youth and I would raise awareness to certain causes like HIV awareness that is timely and relevant to my country which is the Philippines. I want to show the world, the universe rather, that I am confidently beautiful with a heart. Thank you.
RELATED: FULL TEXT: Miss Universe 2018 Q&A with top 5, final 3
Catriona Gray
Top five
Question: Canada recently joined Uruguay as the second nation in the world to make marijuana legal. What is your opinion on the regularization of marijuana?
Answer: I'm for it being used for medical use, but not so for recreational use. Because I think if people will argue then what about alcohol and cigarettes? Everything is good but in moderation.
Final three
Standard Question: What is the most important lesson you've learned and how will you apply it to your time as Miss Universe?
Answer: I work a lot in the slums of Tondo, Manila and the life there is poor and very sad. And I've always taught to myself to look for the beauty of it and look in the beauty of the faces of the children and to be grateful. And I will bring this aspect as a Miss Universe to see situations with a silver lining and to assess where I could give something, where I could provide something as a spokesperson. And this I think if I can teach people to be grateful, we can have an amazing world where negativity could not grow and foster and children will have smile on their faces.