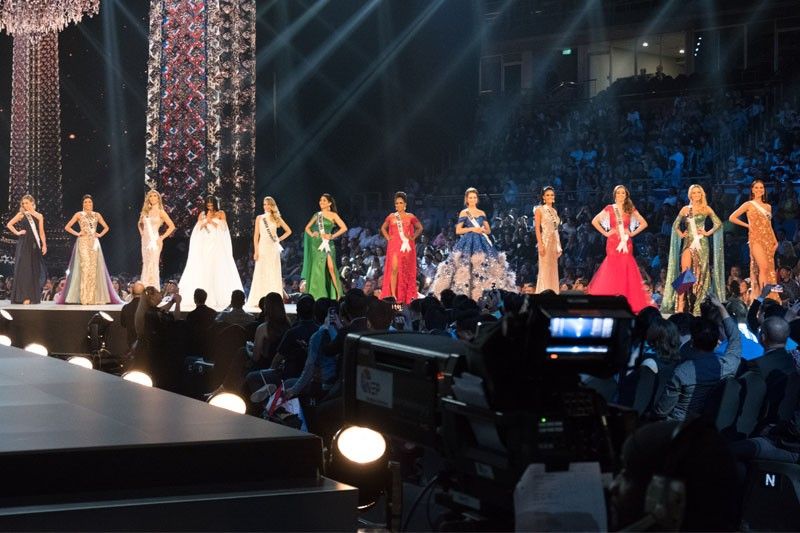 Emma Strandberg, Miss Universe Sweden 2018; Ornella Gunesekere, Miss Universe Sri Lanka 2018; Angela Ponce, Miss Universe Spain 2018; Tamaryn Green, Miss Universe South Africa 2018; Barbora Hanová, Miss Universe Slovak Republic 2018; Zahra Khanum, Miss Universe Singapore 2018; Angella Dalsou, Miss Universe Saint Lucia 2018; Yulia Polyachikhina, Miss Universe Russia 2018; Kiara Ortega, Miss Universe Puerto Rico 2018; Filipa Barroso, Miss Universe Portugal 2018; Magdalena Swat, Miss Universe Poland 2018; and Catriona Gray, Miss Universe Philippines 2018; compete on stage in their evening gown during the MISS UNIVERSE® Preliminary Competition at IMPACT Arena in Bangkok, Thailand on Thursday, December 13th. The Miss Universe contestants have been touring, filming, rehearsing and preparing to compete for the Miss Universe crown in Bangkok, Thailand.
Miss Universe Organization/Patrick Prather
LIST: Where to watch Miss Universe 2018 pageant
BANGKOK, Thailand—All is set for the much anticipated and prestigious Miss Universe 2018 pageant on Monday.
The final competition, and coronation of Miss Universe beauties, will be held at the Impact Arena in Bangkok, Thailand but #TeamBahay and those stuck at the office can watch the pageant on various local channels.
ONGOING: Miss Universe 2018 live updates
The pageant will begin at 8 a.m., Philippine time.
The show will be hosted by five-time Emmy Award winner entertainer, host and comedian Steve Harvey while entrepreneur and body activist Ashley Graham will serve as the backstage host during the live telecast.
Meanwhile, TV personality and style guru Carson Kressley, and supermodel and pageant expert Lu Sierra will also return as analysts for the live telecast. They are expected to team up and provide analysis and commentary during the telecast.
Miss Universe Organization also announced that there will be a CHI Lounge segment hosted by Kalani Hilliker during the broadcast. This segment will be streamed live over the Miss Universe page.
Philippines will be represented by 24-year-old Catriona Gray, who hails from Bicol.
Here's a list of channels and apps where you can tune in to watch the Miss Universe 2018 coronation show live in the Philippines:
Television channels
ABS-CBN channel 2
Fox Channel
Apps