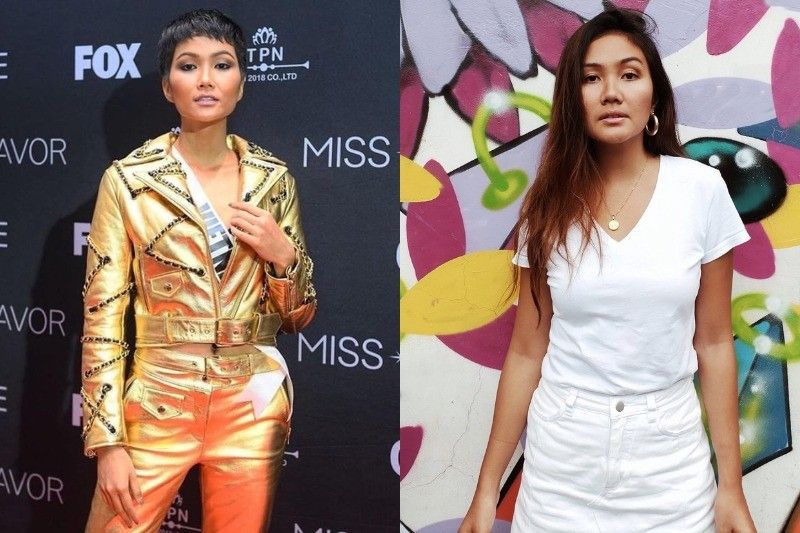 This composite photo shows side-by-side photo of Miss Vietnam H'Hen Nie and Filipina travel vlogger Patrice Averilla.
Miss Universe Organization/Released, Twitter/Patrice Averilla
Long-lost sisters? Netizens see resemblance between Miss Vietnam, Filipina vlogger
BANGKOK, Thailand — A Filipina travel vlogger is being compared to Vietnam's representative for Miss Universe 2018 H'Hen Nie for their uncanny resemblance.
Online users have been tagging vlogger Patrice "Ave" Averilla, known for her YouTube channel "Avelovinit", as the lookalike of Nie.
Kung magkakapera lang ako sa bawat message/mention niyo sakin na kamukha ko si Ms. Vietnam eh siguro dami ko na pera ????

Itchagurl Avelovinit for #MissUniverse2018 ???????? choz! https://t.co/Mr0d79BpEt

— Patrice Averilla (@avelovinit) December 8, 2018
In an interview with Philstar.com, Ave shared that her viewers and followers started sending her photos of Nie a few months ago because of their resemblance to each other.
"At first I really don't see the resemblance probably because I know that she is waaaay good looking than me plus super elegant niya," Ave told Philstar.com.
"But then about a week ago, I'm starting to see the similarities maybe there are some angles pero di ko pa rin makita ng todo," she added.
Ave shared that she did not believe the online users at first until she took one photo on Friday where she also recognized their resemblance.
"I took a photo on my phone and one of my followers sent me a photo of her na pareho yung awra namin and that's when I got super shocked and at the same time freaked out na para ko siyang long lost sizzy," she told Philstar.com.
UHM..... ???? I'm starting to believe u guys now ???? #MsVietnam #MsUniverse2018 pic.twitter.com/16GcLhNa70

— Patrice Averilla (@avelovinit) December 14, 2018
Nie is among the crowd favorites in the 2018 edition of Miss Universe.
Recently, Nie made it to the headlines with her banh mi national costume and the controversial video of Miss USA Sarah Rose Summers and Miss Australia Francesca Hung mocking the Vietnamese and Cambodian candidates' English speaking skills.
RELATED: How Miss Vietnam's national costume 'Banh Mi' was chosen | Netizens slam Miss Universe queens over 'racist' comments vs Vietnam, Cambodia
Nie is set to compete against Philippine bet Catriona Gray and 92 others at the Miss Universe 2018 to be staged in Bangkok, Thailand on Monday.
Here are more photos of Nie and Ave:
Vet na vet, VETnam!!!!! ???????????????????? #MissUniverse2018 #MsUniverse #MsUniverse2018

Photo by @ninjar0d pic.twitter.com/IWGqYunVXq

— Patrice Averilla (@avelovinit) December 9, 2018
Good Morning from the hubaderas! Hahahah #MissVietnam x #Avelovinit #MissUniverse2018 pic.twitter.com/PUzG9IwBoa

— Patrice Averilla (@avelovinit) December 15, 2018
Hello from my long lost sizzy and me! #MissVietnam x #avelovinit hahaha kakoloka! #MissUniverse2018 pic.twitter.com/irHhP906RS

— Patrice Averilla (@avelovinit) December 16, 2018
Do you see the resemblance too?