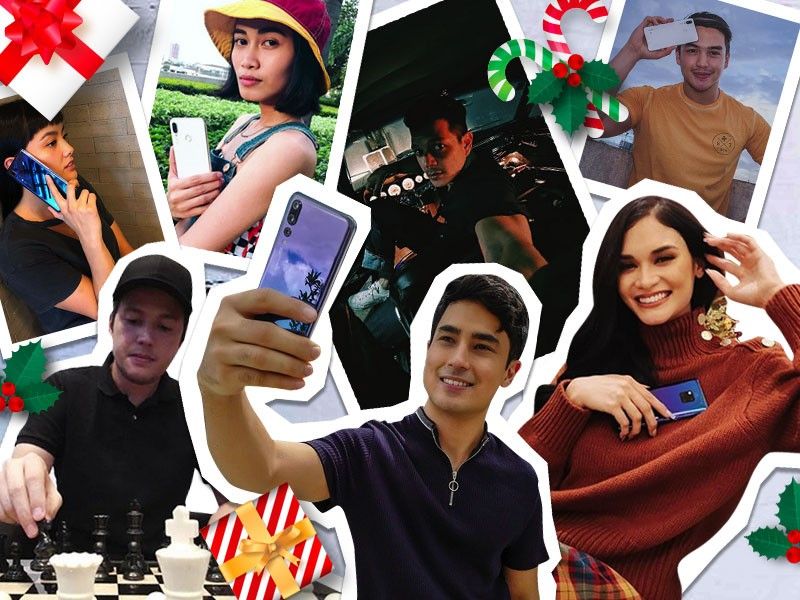 From A-list actor Jericho Rosales to Miss Universe 2015 Pia Wurtzbach, to award-winning director Paul Soriano—check out these celebrities and influencers' top Christmas items that will surely suit everyone.
Composite Photo by Jonathan Asuncion
8 celebrities, influencers pick the best Christmas gifts for everyone
MANILA, Philippines — With Christmas looming just ahead, there is no better time than now to make considerations about what to gift family and friends. In this endeavor, we all have different criteria. But the best ones to look out for are the ones that really make the experience.
While today is certainly fast-paced and near-constantly connected, in the end we all want to bank on our experiences and make memories that last. A smartphone that serves this purpose makes for a the best gift this Christmas.
Always relevant to this of course, is a trusty daily driver that helps make the days fuller and lived-in. This is where Huawei comes in.
With Huawei, see how these celebrities take snippets of their experiences, seizing the day and "Making It Possible."
Go-getters on the go
Featuring first the Huawei Nova 3i, with specialized multiple AI cameras that offer precise and balanced photographs are sure to make you the master of selfies and capturer of amazing #OOTDs on the fly.
Millennials Dominic Roque and Pamela Swing pick the Huawei Nova 3i to achieve their #OOTD goals! And you too could gift this to your fashionable friends and siblings.
Highlights of the high life
The Huawei P20 Pro with its Leica Triple Camera, brings aesthetic vision to perfection. If you have a loved one with a penchant for mobile photography, then this one is for him/her. Just trust celebrity couple Pia Wurtzbach and Marlon Stockinger who are twinning in their smartphones!
Meanwhile, Lauren Reid recommends the P20 Pro's rich display beyond par, every single shot looks sharp and accurate.
Attention to detail, made king
Finally, the Huawei Mate20 is a smart tech giant of its own. As the company's flagship phone, the Mate20 boasts being the world's first smartphone imbued with the 7nm Mobile AI chipset. Aside from visual perfection and sophisticated craftsmanship, this top-of-the-line offering is one to open new avenues when it comes to powerful and intelligent smartphones.
Definitely, the Mate20 matches those who are on top of their game just like award-winning actor Jerico Rosales, internationally acclaimed director Paul Soriano, and French businessman Adrian Semblat.
As a racer, Jerico approves of the Mate 20 Pro's Ultra Wide Angle Camera on night mode. He believes this will be loved by men who loves speed, like himself.
For Paul Soriano, his Mate 20 Pro "makes shooting creative shots so much easier." He names it as his "Mate" for both work and play.
Family man Adrien Semblat, on the other hand, uses his Mate 20 Pro to capture memories with his wife Isabelle Daza and their son.
If you have men like them in your life, now you know what to give them.
This Christmas, go beyond possibilities and help Make It Snow with the Huawei Christmas Grand Promotion. Until January 15, get a major freebie when upon purchase of a Huawei smartphone.
For more details on which devices are included in the promo and for a list of participating stores, check out this link.