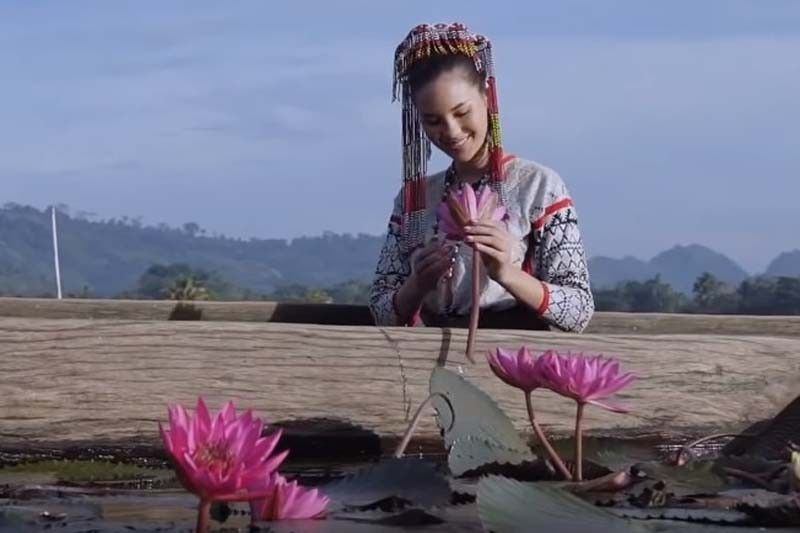 In this footage, Catriona Gray showcases the beauty of Lake Sebu in South Cotabato, Mindanao.
Screenshot from Facebook/Catriona Gray
WATCH: Catriona Gray features 'Land of Dreamweavers' in Mindanao tourism video
MANILA, Philippines — Philippine bet to Miss Universe 2018 Catriona Gray personally explored Koronadal, South Cotabato in Mindanao to incorporate the Mindanaon detail in her national costume.
In her tourism video released Wednesday, Catriona gave a glimpse of the "Land of Dreamweavers" which she said was a place she has "never been before." She flaunted the beauty of one of its famous tourists destinations, Lake Sebu.
Catriona lauded how the people of South Cotabato, T'boli, kept their traditions "in such a good condition" and carried on to generations.
The video was titled "This is Mindanao: Traditions and Spirituality."
"They're very connected to nature and their spirituality," Catriona said.
In her visit, the Philippine representative mingled with the people of Mindanao, experienced weaving, eating native meals and local delicacies.
Catriona, known for being passionate about Filipino fabrics and textile, told the people of South Cotabato that she loved the textiles of Mindanao and that the "international stage should see it."
"I want to understand where I came from before bringing it to the universe stage," Catriona said.
"I will take pride in showcasing your culture to the international stage," she added.
To represent Mindanao in her national costume, the Filipina representative wore headpiece and brass accessories called "Pagyamanin" or enrich, which came from South Cotabato province. Her headdress and knee-high boots with embroidered designs inspired by the Inaul, Yakan, Maranao, B'laan, Bagobo, Tausug and T'nalak also represent the region.
The last of the trilogy tourism video was also made by her team who include Jolo Lurca III, Jojo Bragais, Justine Aliman and Ria Brines.