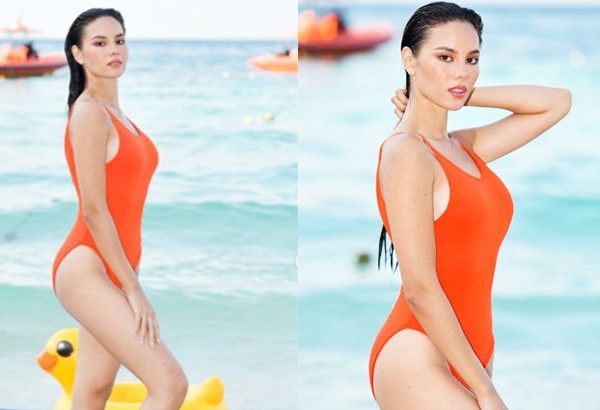 Miss Universe Philippines 2018 Catriona Gray's photos uploaded by Vogue Thailand
Instagram/Vogue Thailand
Is Miss Philippines fat? Miss Canada defends Catriona Gray over body shaming
MANILA, Philippines — Miss Universe Philippines 2018 Catriona Gray's recent bikini body in photos, taken during a trip to Koh Larn Island in Pattaya, Thailand and was featured on the Instagram page of Vogue Thailand, has been described by some netizens as "plump," "not toned," and "chubby" on social media.
In response to those who think Catriona does not have that ideal "Miss Universe body," Miss Universe Canada 2016 Siera Bearchell defended the Filipina beauty, saying that the people's comments are "disturbing."
On her YouTube channel, Siera posted a video, saying: "First of all I don't know if these people have eyes or not or don't know what these things mean but you can see her abs, her hip bones. There's nothing plump about her at all. It's just so disturbing."
Related video: Siera Bearchell on Catriona Gray's bikini body
According to Siera, she has been inspired to speak out because of young women who are seeing the comments. She took note that she also received these hateful messages when she was competing in the pageant held in the Philippines.
"There are women, women of all ages, who are reading those comments and they'll think, 'If these people are saying these stuff about her, what would they say about me?'," she espoused.
"It's damaging. It's damaging to the person the message directed towards, it's damaging to the people who already feel self conscious, they feel they don't have a high self worth or already don't like their bodies. Those words are just damaging," she added.
For her, being a Miss Universe is not about having "defined abs or skinny legs" because there is so much more to it.
"I don't think Miss Universe has to crown somebody who is totally outside the norm just to prove a point. I think whoever's deserving of the title will win the title," she enthused. — Video from YouTube/Siera Bearchell
RELATED: Miss Universe 2018 site