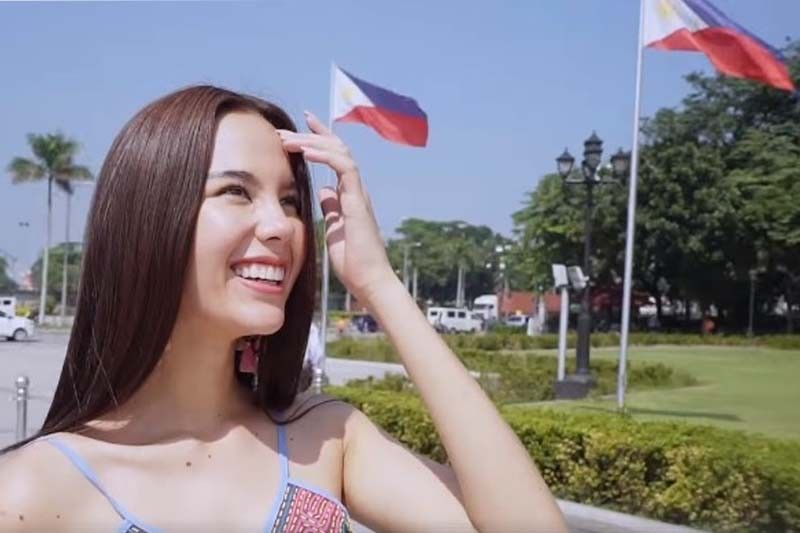 Miss Universe 2018 Philippine bet Catriona Gray was all smiles as she promote the Philippines in her tourism video.
Facebook screenshot/Catriona Gray,
WATCH: Catriona Gray promotes Filipino's heritage, culture in 'This is the Philippines' video
MANILA, Philippines— Barely a week before she represents the Philippines at Miss Universe 2018, Catriona Gray released a video showcasing the country's rich heritage and culture.
In a four-minute tourism video titled "This is The Philippines," Gray promoted the country by featuring the heritage and cultural sites in Luzon, including landmarks in Intramuros, Manila.
The video was crafted by her team–composed of videographer Jolo Luarca III, producer Jojo Bragais and stylist Justine Aliman. Mak Tumang also helped make the video.
Gray highlighted Filipino craftsmanship and artistry by boasting of the countries' festivities in Angono and Pampanga.
The Bicolana beauty, who earlier disclosed that her costume will be related to Christmas, also featured the process of making parol or lanterns in Pampanga.
In her video, Gray made the viewers feel the Christmas vibe.
"Us Filipinos love Christmas so much that we have the longest Christmas season in the world. Seeing lights being put up along the street and these colored lanterns called parols being put up at people's houses makes Christmas in Philippines magical," Gray said.
Gray also showed the world Filipino hospitality.
"We Filipinos bond over food, music dance and shares stories. And to Filipinos, no matter who you are and where you come from, you always have an invitation to celebration," she said.
Gray is set to compete against 94 other beauties in Miss Universe 2018. The coronation night will be held at the Impact Arena in Bangkok, Thailand on December 17.