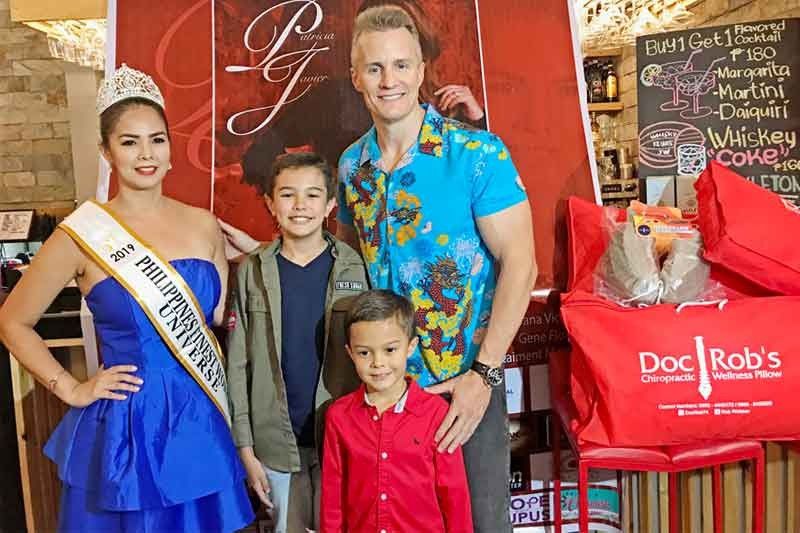 2019 Mrs. Philippines Finest Woman Universe Patricia Javier and husband, chiropractor Robert 'Doc Rob' Walcher III with their sons Robert IV and Ryan James. The Walchers are marketing, among other 'wellness' products, neck pillows.
FUNFARE
-
Ricky Lo
(The Philippine Star) - November 16, 2018 - 12:00am
Because this interview was done during the week when a popular (well-loved) political-showbiz couple was "blind-itemed" to be having marital trouble (already denied by the beautiful wife), first thing Funfare asked Patricia Javier was: If the wife found out that the husband was having an affair with another woman, would she confront the mistress?
Casting a quick glance at her husband, Robert "Doc Rob" Walcher III, seated three seats away with their sons Robert IV (11) and Ryan James (7), Patricia replied, "The wife should not do it because it wouldn't resolve the issue. Instead, she should talk to her husband and remind him that he should not ruin a happy family…if they are a happy family…and settle things between them. It helps if the wife prays over the husband."
The hypothetical question popped up because as the newly-crowned 2019 Mrs. Philippines Finest Woman Universe, she pursues the pageant's "violence against women" advocacy and the pursuit of wellness.
"In this age of social media," continued Patricia, "we should not easily believe whatever rumor is posted and spread against you," without saying if she and Doc Rob have ever been victimized by socmed "bashing."
Married for 11 years, the Walchers have happily settled down in the Philippines after living for several years in San Diego, California, where their beautiful house was nearly gutted by a wildfire (less widespread than the current one that is said to be the worst in the history of the state).
How does the couple resolve petty differences?
Half in jest, Patricia said, "When we fight, Doc talks in English and I talk in Tagalog. Or I just keep silent. That way hindi humahaba ang away namin."
Hasn't Rob ever experienced the so-called "seven-year itch?"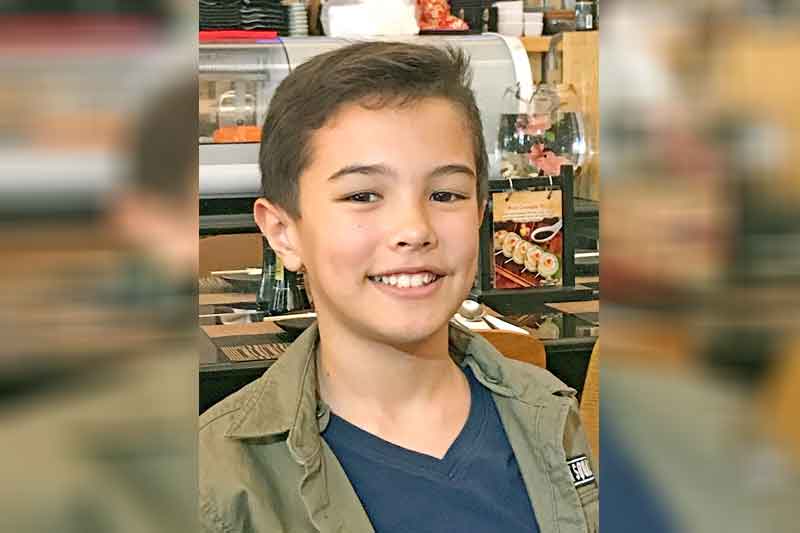 Robert IV is an aspiring actor.
"Never!" said Rob almost in a whisper. He should be an exception to the rule believed to be violated by most husbands. Lucky Patricia!
Besides their (stable and going strong) marriage, Patricia has another reason to celebrate — her 20 years in showbiz. Tonight at the Music Museum, she's performing in Concert for a Cause with some friends like Ynez Veneracion, Sheree, Jana Victoria, Aaron Mendoza, Malu Barry, Lance Raymundo, Regine Tolentino, Token Lizares and Patricia's That's Entertainment colleagues (among them Ara Mina, Isko Moreno and Maricar de Mesa who will hopefully support Patricia). For tickets, call 891-9999, 721-0635 or 721-6726.
From That's (the show produced and hosted by German "Kuya Germs" Moreno that launched dozens of stars), Patricia joined the 1998 Bb. Pilipinas pageant (she made it as a semi-finalist) and starred with Ryan Agoncillo in the Sprite commercial (remember them inside an elevator with Ryan asking Patricia, "Are you in heat?" and being slapped by her?) before she was launched by Viva Films as the titular character in Ang Kabit ni Mrs. Montero.
Asked what she considers among her big achievements in the past two decades, Patricia looked at Rob and their sons before answering, "Having a happy family. That's what I always pray for…please God, just give me a happy heart so that I can spread happiness among my family, and other people, too."
The Walchers are a happy-healthy family that eats healthy and exercises regularly.
"Wellness also happens to be our advocacy," said Rob, a chiropractor, "that's why we sponsor fun runs."
Added Patricia, "We conduct wellness-awareness missions every now and then. That's our mission in life."
Incidentally, Patricia is competing in next year's Mrs. Universe Finest Woman somewhere in Europe. After also placing second runner-up in the 2009 Mrs. USA California pageant, will Patricia rest on her "crowned" laurels if and when she brings home the Mrs. Universe Finest Woman title?
Hmmm, maybe, unless somebody puts a Mrs. Grandma Universe pageant.
"Join!" said Patricia, joking.
Ai-Ai's birthday wish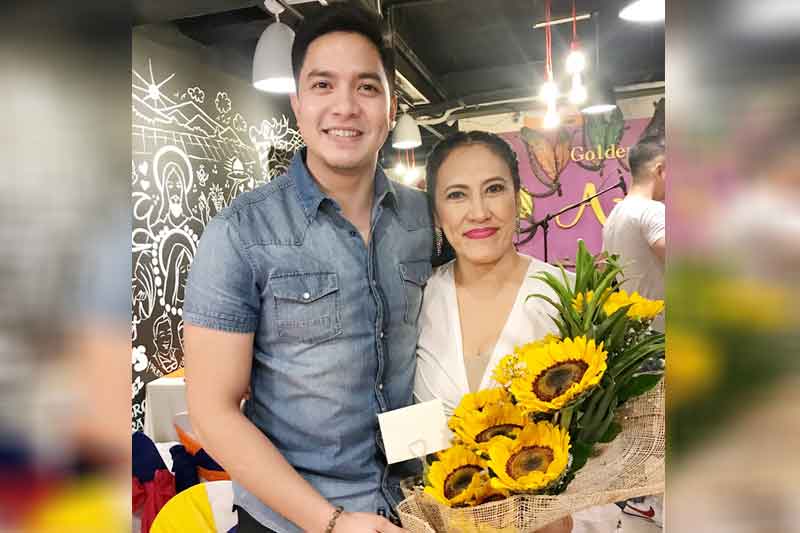 Birthday Girl Ai-Ai delas with well-wishers Alden Richards.
At 50-plus, Ai-Ai delas Alas fervently hopes and prays that her birthday wish will be granted next year — to have a baby. She and her husband, Gerald Sibayan (who is taking up a course in Aviation in Subic) are celebrating their first wedding anniversary early next month.
Ai-Ai reiterated her wish last Sunday when she treated close friends to a merienda at her own Chang-Ai Express (at the corner of Scout Esguerra and Mother Ignacia, Quezon City), just hours after lunch with the Sunday PinaSaya group and before a dinner with yet another group of friends.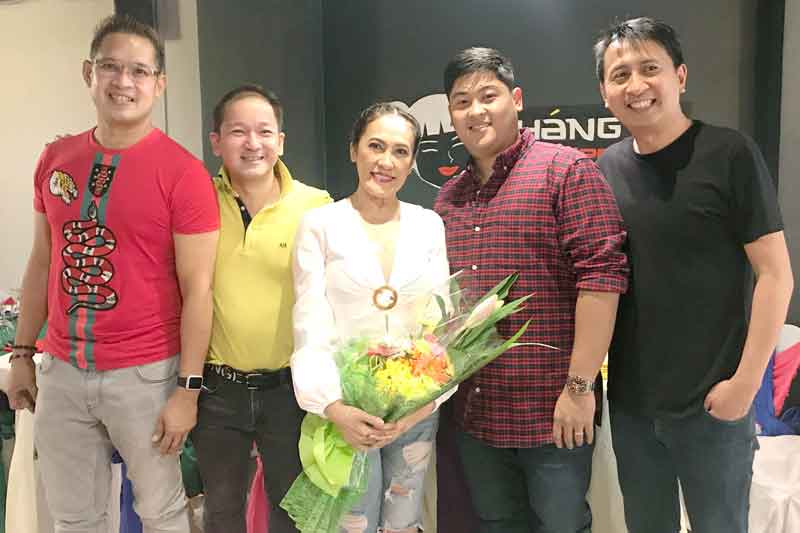 With husband Gerald Sibayan (second from right), Father Allan (leftmost), Adrian Panganiban and Bo Sanchez (rightmost).
As usual during her birthday, Ai-Ai spent time at the Missionaries of Charity where she bathes and feeds the residents.
Terence donates to Marawi rehab
Robin Padilla met for the first time basketball superstar Terrence Romeo who reached out to his idol to donate to the Marawi rehabilitation project.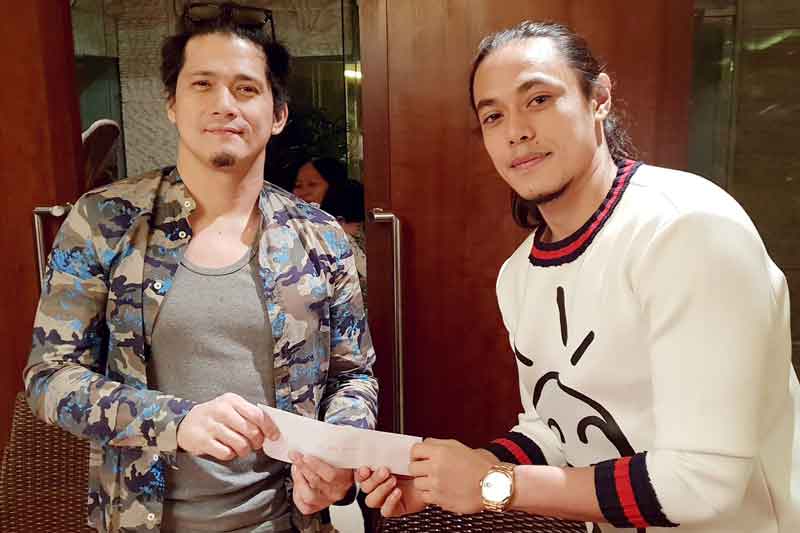 Robin Padilla and Terrence Romeo: Idol meets another idol.
Nap Gutierrez (Terence's good friend) who was there noted that most of the donors are from showbiz.
"This is the first time that a basketball player has supported our cause," said Robin. "Thank you so much, Terence."
Said Nap, "Terrence was so happy to meet his idol."
Confirmed Terence, "Ever since I was in high high school, idol ko na si Sir Robin. Wala akong pinalalampas na pelikula niya. I am just too happy to be supporting him in this project at karangalan ko ring makatulong sa mga taga-Marawi."
Robin in turn invited Terrence to Marawi so the cager can personally see the development in our Marawi project.
Terrence replied, "Any time I would make myself available. I hope other basketball players will also help Marawi."
(E-mail reactions at rickylophilstar@gmail.com. For more updates, photos and videos, visit www.philstar.com/funfare or follow me on Instagram @therealrickylo.)