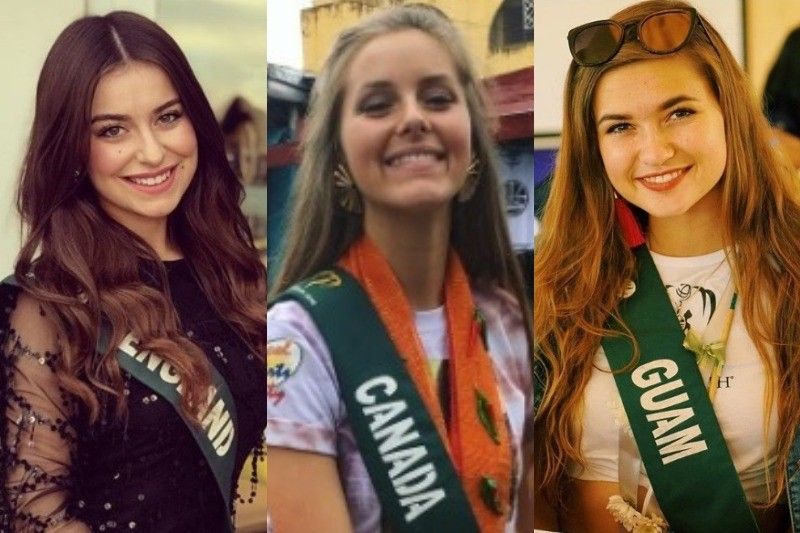 Miss Earth international candidates have come forward to complain about the sexual harassment they experienced during a pageant held in the country.
Instagram/Jaime VandenBerg of Canada, Abbey-Anne Gyles-Brown of England, and Emma Sheedy of Guam
Pageant sponsor 'too old,' 'weak' to harass women, staff says amid allegations
(Philstar.com) - November 11, 2018 - 6:36pm
MANILA, Philippines (Updated 5:20 p.m., Nov. 12) — A member of the staff of Amado Cruz, a Filipino sponsor accused by Miss Earth 2018 contestants of harassment has defended her boss from the allegations of misconduct against him.
In a televised interview, Jhana Bueno, staff of pageant sponsor Amado Cruz said her boss is not capable of committing sexual misconduct.
"Hindi magagawa ng amo ko yan, e," Bueno was quoted as saying in an interview with GMA News TV's "State of the Nation".
"Alam mo kung bakit? Si sir ay napakatanda na at mahina na rin, una sa lahat," she added
Bueno furthered that Cruz has been sponsoring the pageant for a long time and had not encountered any complaints regarding misconduct. "Kung nagawa man niya yun sana noon pa nung nagsimulang magkaroon ng Miss Earth dito," she added.
Sexual harassment under the law
Under Republic Act 7877, the Anti-Sexual Harassment Act of 1995, "all forms of sexual harassment in the employment, education or training environment are ... declared unlawful."
The law says that sexual harassment is done with someone with authority in a work-related environment "demands, requests or otherwise requires any sexual favor from the other, regardless of whether the demand, request or requirement for submission is accepted by the object of said Act."
According to a FAQ on sexual harassment by the Philippine Statistics Authority, physical harassment includes "malicious touching, overt sexual advances and gestures with lewd insinuation."
Harassment can also be verbal, "such as but not limited to, requests or demands for sexual favors, and lurid remarks" and through the "use of objects, pictures or graphics, letters or written notes with sexual underpinnings."
Women's group Gabriela has called for an investigation into the allegations of sexual harassment.
"While these cases prove our assertion that beauty contests are indeed commodifying women, it is incumbent upon the contest organizers to at least protect the contestants from such blatant acts of violence against women and ensure their welfare," Gabriela said Friday.
The women's group also urged other contestants of Miss Earth and other beauty pageants speak against similar incidents and even file legal actions against perpetrators.
"The climate of impunity against misogynist acts like these, boosted by a misogynist leader, is a grave cause of concern that must be immediately addressed," Gabriela said.
Pageant contestants speak out
After the Miss Earth International 2018 pageant concluded last week, three Miss Earth candidates spoke up on social media and detailed the supposed sexual harassment they allegedly experienced in the Philippines throughout the competition.
Miss Earth bets Jaime VandenBerg of Canada, Abbey-Anne Gyles-Brown of England, and Emma Sheedy of Guam said they were sexually harassed by one of the Filipino sponsors of the pageant during a dinner at the Manila Yacht Club.
Sheedy named the sponsor as Cruz.
The three beauties said Cruz asked them for sexual favors in exchange for the crown or for getting further in the pageant.
READ: #MeToo: Miss Earth 2018 bets accuse Filipino sponsor of harassment; organizer denies claims
Miss Earth organizers reportedly permanently banned Cruz in the pageant following the complaints.
Meanwhile, last Thursday, Miss Cuba Monica Aguilar denied the sexual harassment during the course of the pageant.
"I have read the 'testimonies' of several candidates complaining about supposed sexual harassment. I can confirm there was no sexual harassment happening in any shape of form," Aguilar said on her Instagram post.
Cruz reportedly thanked Aguilar for standing up for him. He is also currently in talks with his lawyer for the legal actions to counter the allegations against him.
The camp of Cruz broke their silence after his photos also went viral on social media. —Rosette Adel