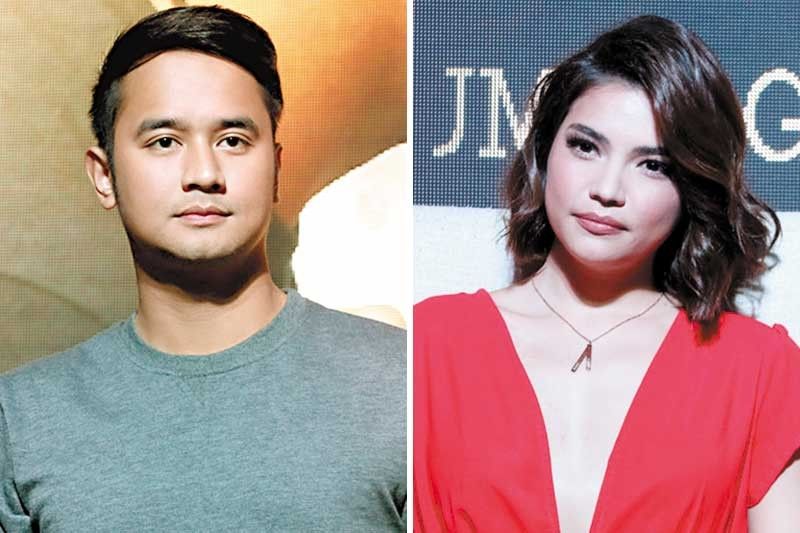 JM de Guzman and Rhian Ramos during the presscon for Kung Paano Siya Nawala, their first movie together directed by Joel Ruiz (who started as director for TV commercials). The movie is about 'face blindness.' — Photos by NOEL ORSAL
JM won't let second chance go to waste
FUNFARE
-
Ricky Lo
(The Philippine Star) - November 9, 2018 - 12:00am
Curtain-raisers:
• The Wedding That Never Was. The actor and his actress-girlfriend have been happily announcing that they were getting married, complete with details about the date and the venue of the wedding (a historic church between Luzon and Mindanao). But just as suddenly as the grand announcement, there was silence, not even a whimper from the sweethearts who were reported to have already spent a "pre-honeymoon" (if there's such a thing). The season? The wedding never happened because the actor forgot to have his previous marriage annulled.
• The Man Who Turns Violent When High. He's usually the epitome of cool when he's sober, a kind-hearted man who, as they would say, can't or won't hurt as fly. But when UTI (Under The Influence…of you-know-what), he becomes violent and his poor wife is the usual object of his "highness." A Funfare DPA said that the wife once decided to break up and away from the husband but they soon reconciled after he promised that this time, to paraphrase the Angela Bofill song, he'd be sweeter. Same thing happens again when he gets high.
• The Actress Who 'Overpriced' Herself. The sister of a singer-actress wanted to join the merry-go-round (you know, stars switching channels like Regine Velasquez to ABS-CBN and Derek Ramsay soon to GMA). The Kapamilya actress sent feelers to the Kapuso Network which got interested. But the deal went pffft even before the formal negotiation started. The reason? The actress quoted a talent fee way, way beyond her worth. The Kapuso negotiator said no, thank you!
* * *
Like love, a showbiz career is lovelier the second time around, especially if you are given a second chance after, well, "misbehaving."
That's why JM de Guzman is more than grateful for having a second wind in his career, the pieces of which he had to pick up as soon as, for the second time, he was able to kick that "bad habit" after staying at a rehab center.
"Madali akong bumagsak kapag may problema, maliit man o malaki," JM admitted during the recent presscon for Kung Paano Siya Nawala, his first starrer with Rhian Ramos (both of them are co-executive producers) directed by Joel Ruiz for TBA Studios, Tuko Film Productions, Inc. and Buchi Boy Entertainment. "I'm so grateful for and I appreciate this second chance that I don't even think of going back…hindi ko maisip na babalik pa doon sa dati."
Whether JM admits it or not, his friends said that JM is "weak" when it comes to love, that his failed romance with Jessy Mendiola (now Luis Manzano's girlfriend) contributed to his misery that drove him to seek solace in drugs.
"Kadiri ma-in love ngayon," JM told a friend in jest. "Mahirap humanap ng totoo, hahaha!!!"
Not sure if Rhian shared the feeling since Rhian has just broken up with her non-showbiz businessman-boyfriend.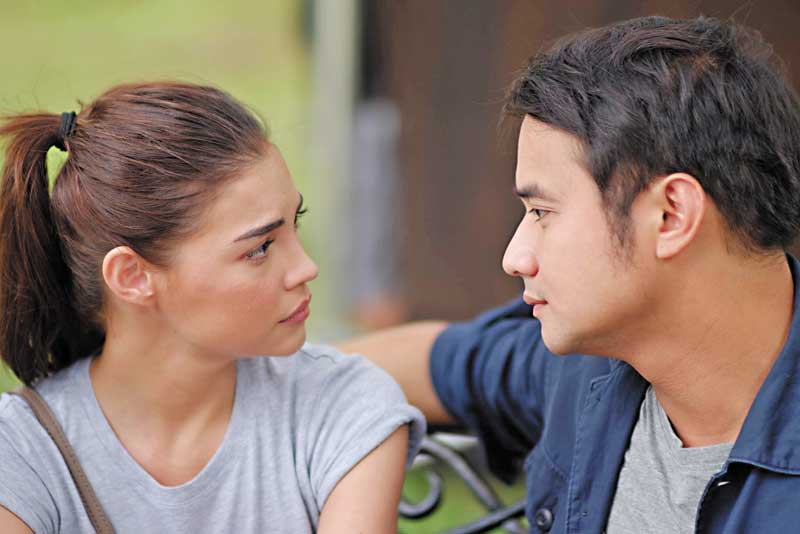 Rhian and JM in a scene from the movie.
Kung Paano Siya Nawala is the perfect vehicle for the fancy-free JM and Rhian. Written by Joel himself ("The director who is as good-looking as his actor," commented a respected movie editor), the story is about Lio (JM), a quiet and withdrawn young man who finds it difficult to connect with other people due to his affliction ­— face blindness, a cognitive disorder characterized by an inability to recognize faces. But the inhibited Lio finds himself opening up to the world when he falls in love with Shana (Rhian), a beautiful free spirit who has secrets of her own.
In keeping with the movie's theme, Your Funfarer asked Rhian and JM what their take was on the general belief that most (especially the new breed of) showbiz stars are afflicted with "face blindness," that they (deliberately?) turn "blind" to movie writers even if the writers have interviewed them several times.
"Guilty (as charged)," pleaded JM, adding likewise in jest, "I have nothing to say. I'm suffering from Stage 1 face blindness. Sorry!"
On the other hand, Rhian was somewhat defensive. "I remember faces but I don't remember where and when I've seen them. But you see, it happens when you meet hundreds of faces in your line of work. It turns bad when sometimes you don't even recognize your own face," adding, "I also experience memory loss. I completely forget when people ask me about the past, my past."
Selective memory loss, that is, because Rhian did recall something memorable from her past…involving JM.
"I was about 15 then and in high school," recalled Rhian. "During a visit to my aunt (who was then working with GMA), I saw this guy na medyo kalbo, chubby and wearing a hip-hop outfit. I learned that his name was Juan Miguel de Guzman, and for two weeks I filled my notebook with the name Juan Miguel de Guzman. I even Googled him. When I met him again, I was curious if he was the same Juan Miguel de Guzman whom I met years ago." And, turning to JM, she asked, "Do you remember?" JM replied, "I remember that I was in GMA at that time."
Thus "connected," Rhian and JM easily jibed when they started shooting Kung Bakit Siya Nawala.
Asked about the possibility of him falling for Rhian, JM said, "Why not? It's not hard to fall in love with a girl like Rhian." But, and that's the big BUT, JM hastily added, "nawindang ang buhay ko dahil sa pag-ibig."
So, not again, not yet, not so soon!
(E-mail reactions at rickylophilstar@gmail.com. For more updates, photos and videos, visit www.philstar.com/funfare or follow me on Instagram @therealrickylo.)