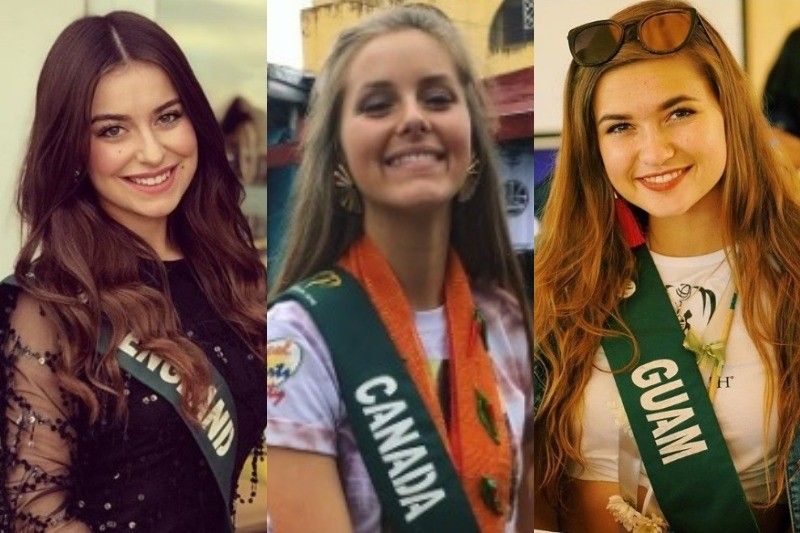 Miss Earth international candidates have come forward to complain about the sexual harassment they experienced during a pageant held in the country.
Instagram/Jaime VandenBerg of Canada, Abbey-Anne Gyles-Brown of England, and Emma Sheedy of Guam
#MeToo: Miss Earth 2018 bets accuse Filipino sponsor of harassment; organizer denies claims
MANILA, Philippines—At least three candidates of this year's Miss Earth International pageant have spoken against the sexual harassment they allegedly experienced in the Philippines throughout the competition.
In separate lengthy social media posts, Miss Earth bets Jaime VandenBerg of Canada, Abbey-Anne Gyles-Brown of England, and Emma Sheedy of Guam claimed they were sexually harassed by one of the Filipino sponsors of the pageant during a dinner at the Manila Yacht Club.
The complainants added hashtag #MeToo in their posts. #Metoo is a campaign originated by writer and activist Tarana Burke in 2007 for women to share their rape, sexual assault and harassment stories across social media.
READ: 'Weinstein effect' reaches Philippines, artists accused of sexual misconduct
Sexual favors in exchange of crown
All three beauties claimed one of the male sponsors asked them for sexual favors in exchange for the crown or for getting further in the pageant.
VandenBerg, Miss Canada, also said her number was given to the unnamed sponsor without her consent. She alleged the sponsor also asked for her hotel and room number.
"I enjoyed 50% of my trip but the other 50% was over shadowed by feeling exploited, vulnerable, unnerved & sexually harassed as I was approached by a sponsor on many occasions who asked for sexual favours in exchange for the Crown," Miss England Gyles-Brown said.
"He showed up to almost all of my events telling me he could take care of my needs and asked for sexual favours in exchange to get me further in the pageant," Vandenberg also said.
Some of them also said they were invited to Boracay and a private island in exchange for sexual favors and a dance.
Miss Canada and England did not name the sponsor but Sheedy, Miss Guam, said the sponsor was an Amado S. Cruz.
"The sponsor who's name is Amado S. Cruz became a problem for many of the delegates, including myself," Sheedy said.
Miss Guam alleged Cruz made sure that the team manager and security personnel were separated in other room so he can make his advances.
The Miss Earth beauties said other candidates also felt uncomfortable in the presence of Cruz.
Due to this, the candidates said they tried to address the issue by informing the team manager of Cruz's behavior. However, Miss England said they were only laughed at.
"Myself and Canada approached Team Manager to express our disgust only to be laughed at. Another official attendee of the night told me not to cry as I would ruin my makeup! There was no respect or compassion shown to myself or Jaimie," Gyles-Brown said.
"I felt traumatized by this experience and had many sleepless nights," she added.
They then spoke to Miss Earth Vice President Lorraine Shuck and complained about the sexual harassment.
Shuck, who works for Carousel Productions, Inc, the organization running Miss Earth and Miss Philippines Earth beauty contest, assured them that Cruz would not be attending any other event.
The candidates however said Cruz still went to the preliminary event and even the coronation night.
"I approached Lorraine Schuck who is the Vice President Of Miss Earth she informed me that the sponsor would be removed from all contact with contestants but this did not happen," Gyles –Brown said.
The English and American beauties said other delegates will still come forward to retell their experience.
"Since other delegates have posted, multiple other queens from past years have come out about the same behavior. I want to help put a stop to this sponsor being apart of the Miss Earth International Pageant because he has become a problem for years," Miss Guam said.
In her Instagram story, Miss Northern Ireland Christie Van Schawlkwyk expressed support to her co-delegates who have broken their silence regarding the supposed sexual harassment.
'There is no sexual harassment'
In a television report, Shuck said she collected the testimonies on the supposed sexual harassment incident for review. She denied the allegations and said the candidates were given security.
Meanwhile, Miss Cuba Monica Aguilar countered the claims of Miss Canada, England and Guam and said there was no sexual harassment during the course of the pageant. She said she wanted to stop the posts being made against the Miss Earth Organization.
"I have read the 'testimonies' of several candidates complaining about supposed sexual harassment. I can confirm there was no sexual harrasment happening in any shape of form," Aguilar wrote on one of her Instagram posts.
"Yes, some sponsors did ask us if we wanted to extend our visas to go to Boracay after the pageant, but no one was promised to get us further in the competition through 'sexual favors," she added.
Aguilar said she felt safe, citing that they were even given police escorts even during bathroom breaks.
For standing up for Miss Earth Organization, the pageant's official Instagram account left a comment on Aguilar's post and praised her for "handling the situation like a true queen."
Miss Earth 2018 concluded the pageant and held the coronation night on Sunday. Vietnam's Phuong Khanh Nguyen won the ultimate Miss Earth 2018.
READ: Karen Ibasco hands over Vietnam's first Miss Earth crown