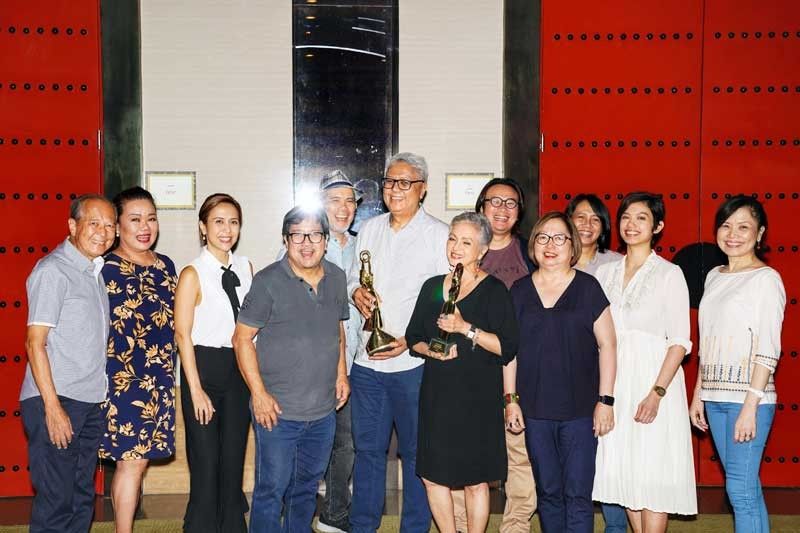 In photo, from left: Noel Trinidad, Dulce, Rachel Alejandro, Leo Martinez, Nonoy Gallardo, Ryan, Celeste Legaspi, Alemberg Ang, Girlie Rodis, Gay Ace Domingo, Lala Gallardo and Emmy Cayabyab. Ryan is holding his trophy from the FAP Luna Awards, and Celeste the Best Art Design award from the Asia-Pacific Film Festival.
FUNFARE
-
Ricky Lo
(The Philippine Star) - October 31, 2018 - 12:00am
First, a trivia: My "moment" with Ryan "Mr. C" Cayabyab.
It happened in 1995, more than 23 years before Ryan was granted an Order of National Artists Awards (for Music) and 17 years after he won the grand prize for the now-classic song Kay Ganda ng Ating Musika in the first Metropop Music Festival, beating Freddie Aguilar (Anak), Heber Bartolome (Tayo'y Mga Pinoy), Dero (Nonong) Pedero (Narito Ako) and Jose Mari Chan (Minsan Pa), among others.
We were hired as endorsers for Sharp (together with Ishmael Bernal and Romy Vitug) by then Sharp executive Mon Bermeo. The shoot lasted the whole morning at a Makati studio, directed by Yam Laranas (who became an innovative filmmaker who conceptualized All Souls Night, opening nationwide today, and directed Aurora, a 2018 Metrofest entry, both by Viva Films).
Direk Yam told us to be "convincing" in the TVC that lasted less than one minute on TV (aired for one year on TV Patrol) and to make viewers see that we believed in the product (of course, we did, we being Sharp-users, Ryan for the record player and me for the VHS machine). Ryan was a natural, wrapping it up in one take. And me? I did more than six takes before direk Yam said, "Perfect!"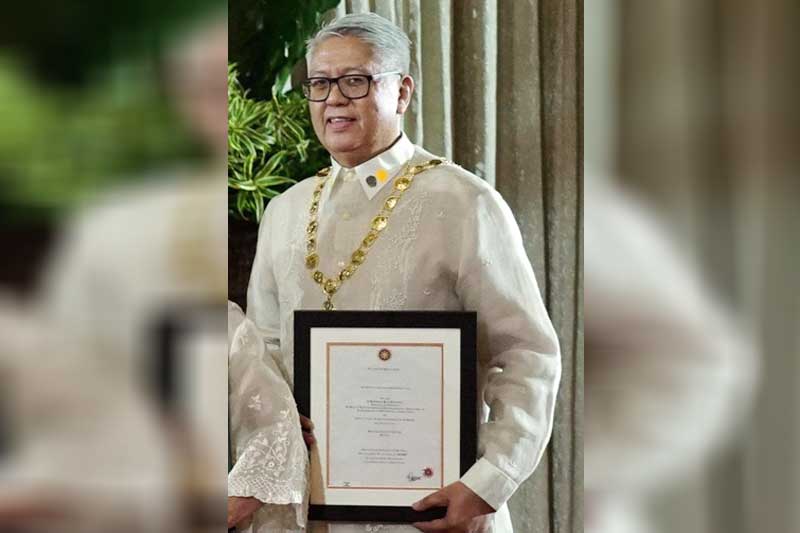 Team Ang Larawan is proud of Ryan Cayabyab's conferment as National Artist for Music.
I recalled that shoot with Ryan when he was conferred as National Artist and I could say (with pride, hihihi!!!) that I once worked with a National Artist, though not musically.
Rightfully beaming with great pride is Team Larawan because there are now two other National Artists behind the movie Ang Larawan ­— National Artist for Literature Nick Joaquin (author of A Portrait of the Artist as Filipino on which the movie was based) and National Artist for Theater Rolando Tinio.
Celeste Legaspi, the movie's executive producer along with talent manager Girlie Rodis and singer Rachel Alejandro, said that the conferment validated what she had always known when she first worked with Ryan, "Of course, he deserves to be our National Artist for Music! I met him in 1974 when we worked on a TV special of Jose Mari Chan. Ryan was a lanky guy, constantly playing the piano with so much happiness. I immediately came away convinced that he was special."
The award-winning Ang Larawan is one of the many collaborations that Culturtain Musicat (the company of Celeste, Girlie and Rachel) has done with Ryan.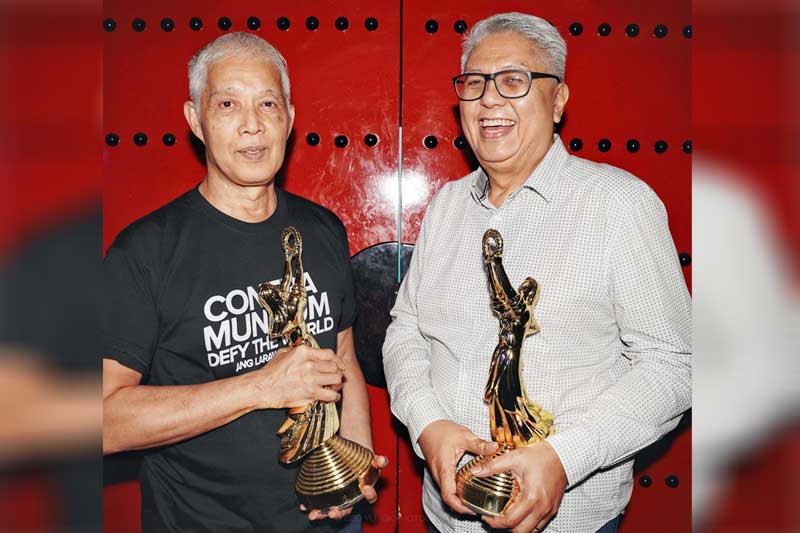 Ryan with director Loy Arcenas and (right) on the Sharp print ad with your Funfarer, Romy Vitug and Ishmael Bernal
"Three of Ryan's original musicals for stage (Katy, Alikabok and Ang Larawan) were with Culturtain Musicat," noted Girlie. "I also worked with him when I produced Celeste's concerts in the '80s ­— Komiks Konsierto, Sine Sine, and Tunog PPO (Philippine Philharmonic Orchestra)."
Girlie and Celeste are very close to Ryan. Girlie was at the wedding of Ryan to music teacher Emmy Punsalan and is godmother of the couple's son, Toma. Ryan is godfather of Celeste's son Ige, while Celeste is godmother of Emmy and Ryan's daughter Krina.
"Through the years, I most cherish the joy of all the shared meals, a lot of laughter and I can only thank God for being able to share magical space with Ryan. I continue to feel blessed by his constant generosity and limitless genius."
Likewise, Rachel feels fortunate to have given life to more than a few of Ryan's compositions.
Rachel said, "When I was 18, I starred in the musical El Filibusterismo and, a few years later Alikabok and Larawan. When people think of me, they may remember my hit songs. But for me, these musicals represent what I am most passionate about."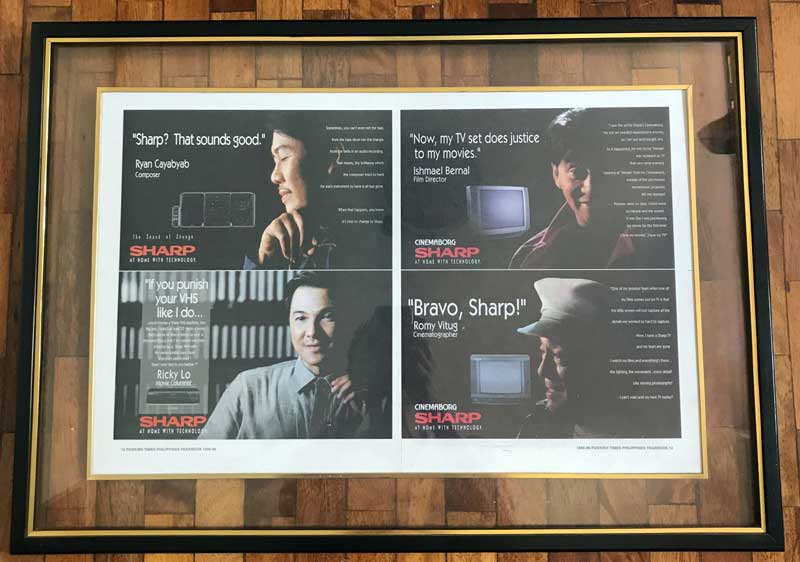 Larawan supervising producer Alemberg Ang added, "To work with Ryan is also an opportunity to experience the excellence of Original Pilipino Music (OPM). It is an honor to be given a chance to work with a genius."
Director Loy Arcenas strongly believed that Ryan's impact extends beyond co-collaborators and co-creators.
"We, Filipinos have been enriched by his artistry," said Loy. "Ryan's music will continue to inspire us and the many generations to come."