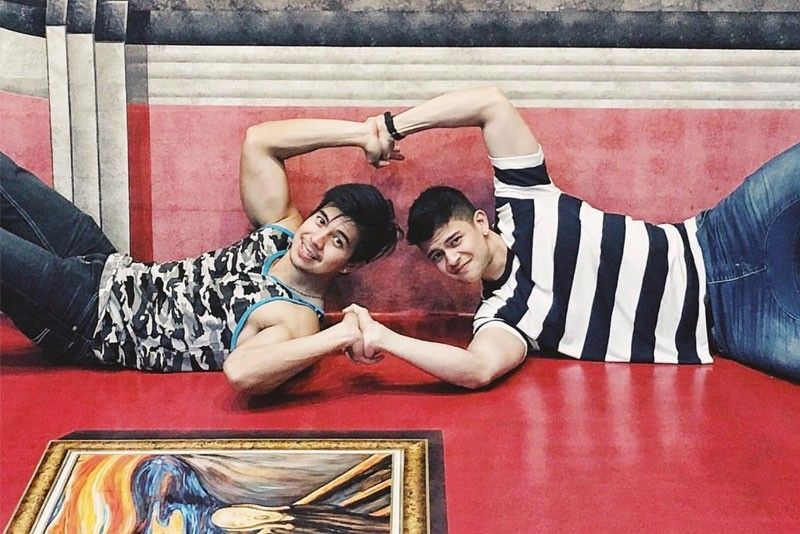 Rodjun (left) and Rayver Cruz have each other's support to reach their dreams
KAPUSO DAY
-
Angel Javier Cruz
(The Philippine Star) - October 25, 2018 - 12:00am
Showbiz, similar to any other business, is a quest for the most bankable personality, showcasing his or her acting, singing, dancing or hosting talent. Many are lured into this world of limelight and aspire to be well-respected artists in show business, thereby keeping the competition stiff. However, having a family member in the same business has its advantages, as in the case of brothers Rayver and Rodjun Cruz.
Although youngest in a brood of three, Rayver first entered showbiz as a young talent. His love for dancing paved the way in forming an all-male dance group Anim-E. Years later, brother, Rodjun, joined the group. Dancing is just one of the many favorites both brothers love to do together. Growing up, let us find out how this sibling bond developed.
During childhood, what memorable moments did you have among your brothers?
Rodjun: "As a kid, we would always spend the summer vacation and Christmas together, especially when our Papa was still around. Since we are all boys in the family, we would always play basketball and even Counterstrike. We are always together in everything that we do."
Rayver: "We would always have special gatherings as a family. My cousins would sleep over in our house and vice versa."
Between the two of you, who was the naughtier one? Who was more behaved?
Rayver: "Si Rodjun talaga! (laughs)"
Rodjun: "Dati tahimik ako, pero noong nag-GMA ako, naging makulay ang buhay (laughs). When I'm with my loved ones, I would show my funny side and even crack jokes. Ako talaga yung makulit kasi masayahin ako."
Rayver: "Rodjun is the life of the party."
What do you both usually fight over or fight about?
Rayver: "Since we're both guys, there are times when we have misunderstandings but not the serious ones. We talk and resolve it right away."
Rodjun: "We just have small fights, pikunan lang. Pero wala talaga, mabait kasi siya. Rayver is still the same. He respects me since I'm older than him. Our Mama and Papa have instilled in us to be respectful to our elders, and be patient and understanding with our younger siblings."
What are your hobbies/pastime apart from dancing?
Rayver: "Basketball and gym. Si Rodjun mahilig siyang mag-race."
Rodjun: "Mga Spartan Race, obstacles, sometimes (fun)run."
When it comes to romantic relationships, Rodjun admittedly first got into a serious relationship since he is the older one. However, both of them agree that Rayver had more relationships in the past than his brother Rodjun. There was even a time when both of them liked the same girl. "It happened in the past but of course hindi yung tipong igi-girlfriend namin," quipped Rodjun. "We have the same type of girl crushes before. We both like mestiza girls and siya talaga yung magaling makakita ng magandang babae. Whoever he admires, I admire, too," added Rayver.
?Rodjun is now engaged to his long-time girlfriend, Dianne Medina. In the past, Rayver was romantically linked with celebrities like Sarah Geronimo, Cristine Reyes, a Fil-German Bb. Pilipinas finalist and was recently rumored dating Kapuso actress Janine Gutierrez. As both seem to be happy and contented with their current love life status, the Cruz gentlemen are also quick to say that they both are attracted to God-fearing and family-oriented women.
When the other is down or in trouble, how do you show your support and care?
Rayver: "Rodjun is very supportive. He is always there every time you need him."
Rodjun: "Since we both grew up together, we know when there's something wrong, we know when there's a problem. Until now, we would always say 'I love you' when we talk on the phone. Yung 'onting usap o yakap, gumagaan na yung problema namin. Our mom is our source of strength every time we have problems."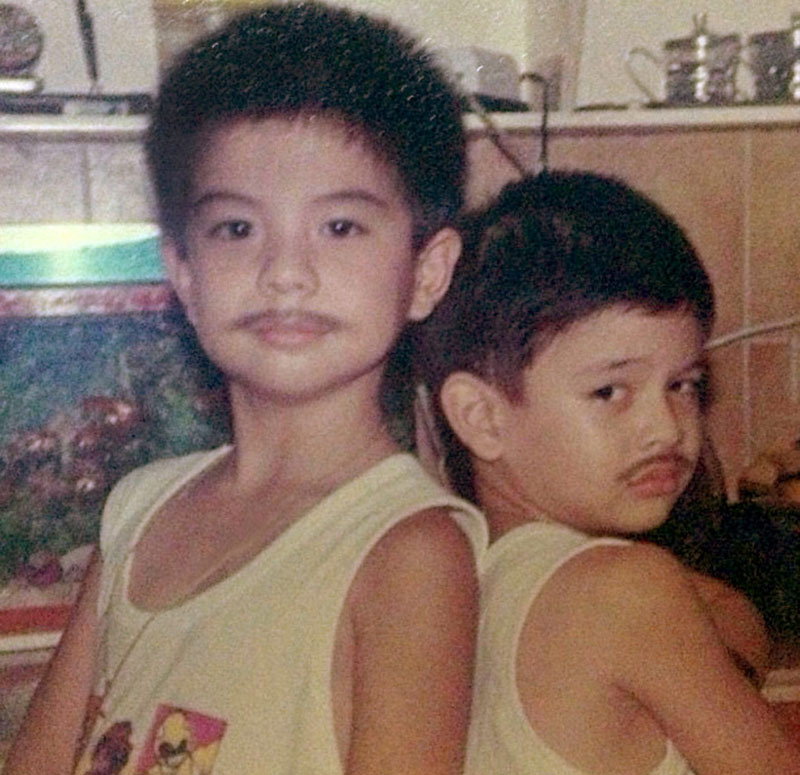 What best advice can you give to your brother at this point in your lives?
Rodjun: "Always remember that whatever happens, God is there to guide you. Be confident, happy and always give back to others. Share your blessings to those in need. Even if Rayver is younger than me, idol ko 'yan kasi napakahusay n'yan sa lahat ng ginagawa niya. Gift 'yan from God so i-share niya 'yan and pagbutihin niya lang palagi yung work niya. I'm always here to support him."
Rayver: "Being your younger brother, I will always have your back. Follow your dreams and I'm here to support your plans and endeavors kasi mabuti at masipag na tao si Rodjun. Kaya maraming blessings ang natatanggap niya sa buhay."
What are your plans in the next five years?
Rodjun: "My wedding is scheduled next year. I have a lot of dream roles and plans for my career. I love my craft and I want to have an award someday. I will continue to dance and sing habang bumubuo ng pamilya. After the wedding, I also plan to focus on my dream business na magka-gym."
Rayver: "Hopefully, like Rodjun, I plan to put up my own business. Five years from now, if I'm already stable in life, pwede nang mag-settle down kahit papaano, kung iuukol man ni Lord."
If you were given three wishes for your brother, what would they be?
Rayver: "First, I hope he would give me a nice birthday present. (laughs) Second, his dream house is going to be finished soon so hopefully I will have my own room. Third, sana bigyan niya kami ng maraming-maraming pamangkin."
Rodjun: "Long life so he could achieve all his dreams in life. I'm really proud of him. Of course, the gift of family, that we would grow old happy together and to travel around the world with our mom, our other siblings and our future families."
What is your message for your brother?
Rodjun: "I am always here for you. Whatever his decisions are, we will always be here to support him. We will never leave his side. Solid kami forever."
Rayver: "Don't ever change. Sana maging close tayo habambuhay, kung paano tayo ngayon hanggang pagtanda natin. I love you very much, bro."
?Blessed with good looks and god-like physique, Rayver and Rodjun have their own unique characteristics and expertise that make them stand out from the rest. Undoubtedly, these young men got what it takes to evolve and become better actors/talents in the Kapuso network.
As the Cruz brothers cruise their way through this fast-paced and ever changing world of show business, they have each other's support to reach their dreams. Together, their sibling love remains unbreakable and nothing can loosen the bond of brothers.